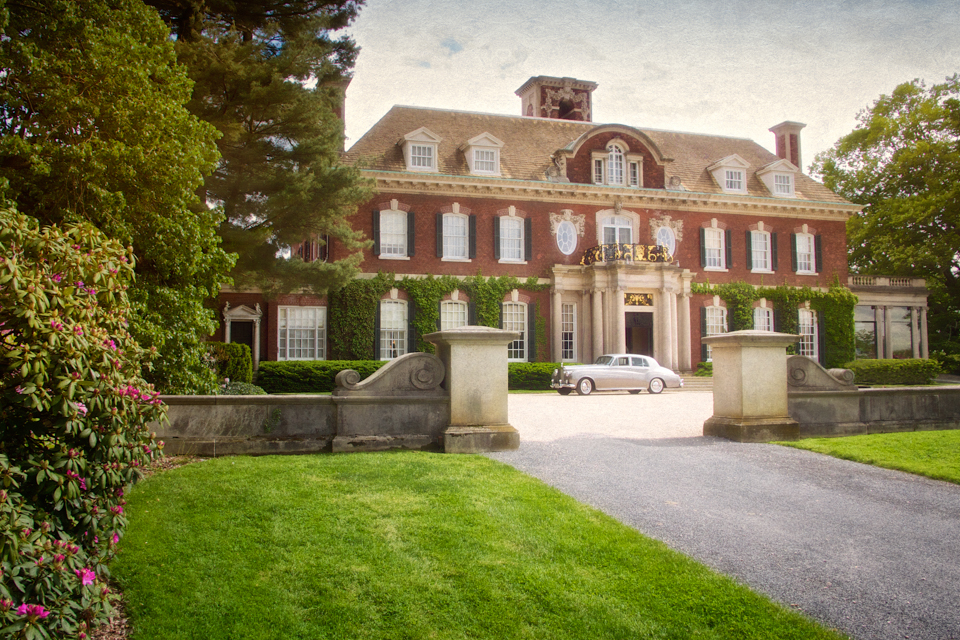 Above: Westbury House, Old Westbury, New York. To view more images from Long Island's gold coast jewel, click here
In a case of mistaken identity, Roger Thornhill was taken at gunpoint from a posh Manhattan eatery and driven out to a mansion on the north shore of Long Island, and plied with copious amounts of alcohol before escaping in a perilous, intoxicated drive through the winding roads of the gold coast.
This same gold coast mansion is rife with tales – werewolves, tragic love and gangsters. All false of course, simply the product of Hollywood's imagination. What they all have in common, as well as several other films besides those already described – North by Northwest, Wolf, Love Story and American Gangster – is to take inspiration from Westbury House, at Old Westbury Gardens.
Westbury House is possibly the most well-preserved of the original gold coast estates, most of which date to around the beginning of the twentieth century – stunning creations built to cater to the incredibly rich. Old Westbury Gardens is different from many of the gold coast estates in that it isn't built on, or with access to the waters of Long Island Sound.
Instead, the look and feel of Westbury House calls to mind the landed gentry of the English countryside, which is appropriate considering the inspirations for the house and grounds.
Henry Phipps, a shoemaker's son from England, was childhood pals with another immigrant's son, Andrew Carnegie. When Carnegie started U.S. Steel, he brought along his boyhood friend, who later branched out into real estate. It was a classic American tale of hard work, good luck and good connections. Jay Phipps, son of Henry Phipps, who had made his fortune in the steel industry, had bought over 175 acres of Long Island property, dotted with Quaker homesteads.
British shipping magnate Michael P. Grace had three daughters, known to Edwardian society as the three graces. Margarita "Dita" Celia Grace met Jay Phipps on one of his family's extended stays in England, and the two were married in November of 1903.
That same year, the Phipps family had rented Scotland's Beaufort Castle, and George Crawley, noted architect was a guest. Phipps was building a town house in New York City, and Crawley managed to claw his way into the project. As Jay Phipps was living in England during this time, he acted as agent for his father, working closely with Crawley. Jay had promised his bride a country house in America in the style of the great houses of England, so she might not feel homesick, therefore it was a natural fit for Crawley to design it.
South Terrace of Westbury House, Old Westbury Gardens
What Crawley came up with was a Charles II style home, with Margarita Grace overseeing the construction of the gardens. Over the coming years, Jay and Margarita raised four children in this home, living here from September to January of each year, including Christmas, and when they died in the 1950s, their daughter Peggie turned the estate into a botanical garden, open to the public. The gardens are not only beautiful, but full of immense variety. Margarita's love of horticulture has been expanded upon by the staff of Old Westbury Gardens, and though the equestrian side of the estate is long gone, there are always forgotten parts being brought back, such as the boxwood garden, once again restored to its former grandeur.
The art collection alone shows the impeccable taste of the Phipps, with originals by Joshua Reynolds and Thomas Gainsboro, as well as a commissioned portrait by John Singer Sargent. A fake bookcase gave way to Stradivarious and Guarnerios violins. The large double doors at the top of the back terrace lead into a full ballroom, and the spacious open air porch on the west side of the house had windows which rose up from the basement for when the weather turned inclement. When finished, Westbury House and Old Westbury Gardens was a brilliant combination of English grace and charm with American ingenuity.
Touring Old Westbury Gardens today is more than a step back in time. You don't get the feel of the turn of the twentieth century, because the gardens make everything feel new with each season. The arbors, the ponds, the terraces and the house itself act as a stage on which the cycle of life begins anew each spring. It's easy to be overwhelmed by the scale, but when you start finding the details – statues of greek gods, satyrs, fauns, figures from Greek and Roman mythology – sometimes apparent and awe inspiring and sometimes tucked away where you least expect them, you begin to get the feel of what it must have been like to live here. Even the daughter's thatched roof playhouse is as charming as a fairy tale cottage, and bigger than some of the apartments I've lived in. The stuffed animals still sit around the tea table, as though a little girl will come bursting through the door at any moment. Old Westbury Gardens feels alive, and still lived in.
That the estate is still intact and open to the public is a testament to the goodwill of the Phipps family, as well as the beauty which they created. It was a world which few, if any of us will ever live in again. It smacks of refinement and taste, as well as humor and an absolute love of beauty.
Learn more at the official site for Old Westbury Gardens.
The gardens at Old Westbury Gardens, Long Island, New York. Click here for more images of Westbury House and gardens