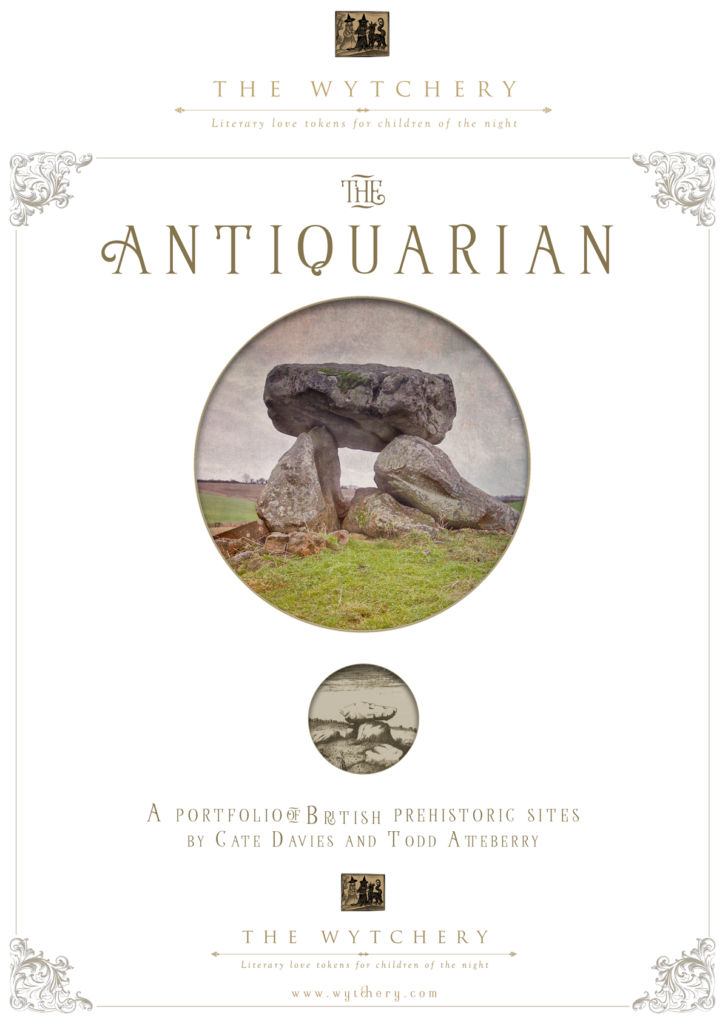 You've been walking through mud and briar, up and down hills following ordnance survey maps all day. Walking along the ridge you finally catch sight of your destination. To many people it's just a pile of rocks. But to you, there's a story to be told there.
These are the curious sites of Britain that have set the mind a wondering and haunted the landscape for thousands of years. More than dusty bits of history, these are places that are still full of wonder and mystery that continue to spark the imagination.
From the famous lintels of Stonehenge, to the largest stone circle in Europe – Avebury, to Wales and to Scotland up north, British artist Cate Davies and American Todd Atteberry capture these scenes with their own painterly style.
Each month also includes writings from early aquarians, like John Aubrey and William Stukeley, and includes some of the earliest antiquarian sketches.
Calendar is 11.7″ wide by 16.5″ tall, with large color images printed on 200gsm satin art paper with a tougher cover.
Choose the month you wish it to start on!
Tough wire binding and hanger with stunningly sharp digital printing.
Images are suitable for framing once the month is complete.
What do you get for the price?
In addition to a stunning wall calendar, you get the satisfaction of knowing you bought from independent artists, with tastes and thoughts similar to your own. These images are a labor of love, the locations are places that if you're reading this, you'd likely to want to visit.
January – Stonehenge, Wiltshire, Cate Davies, artist
February – Castlerigg, Scotland, Cate Davies, artist
March – Knowlton Henge and Church, Dorset, Todd Atteberry, artist
April – Glastonbury Tor, Somerset, Cate Davies, artist
May – Glastonbury Abbey, Somerset, Todd Atteberry, artist
June – Pentre Ifan Burial Chamber, Wales, Cate Davies, artist
July – Stanton Drew Stone Circles, Somerset, Todd Atteberry, artist
August – Stanton Drew Cove, Somerset, Todd Atteberry, artist
September – Avebury Stone Circles and Henge, Wiltshire
October – Silbury Hill, Wiltshire, Todd Atteberry, artist
November – West Kennet Avenue, Wiltshire, Todd Atteberry, artist
December – The Devil's Den, Wiltshire, Todd Atteberry, artist
THE ANTIQUARIAN NOW ONLY $30 VIA REDBUBBLE.COM
 Calendars printed and fulfilled through RedBubble who prides themselves on getting things right. If you do have a problem, they'll either organize a replacement, provide you with a store credit or give you your money back. Your choice.
The Months