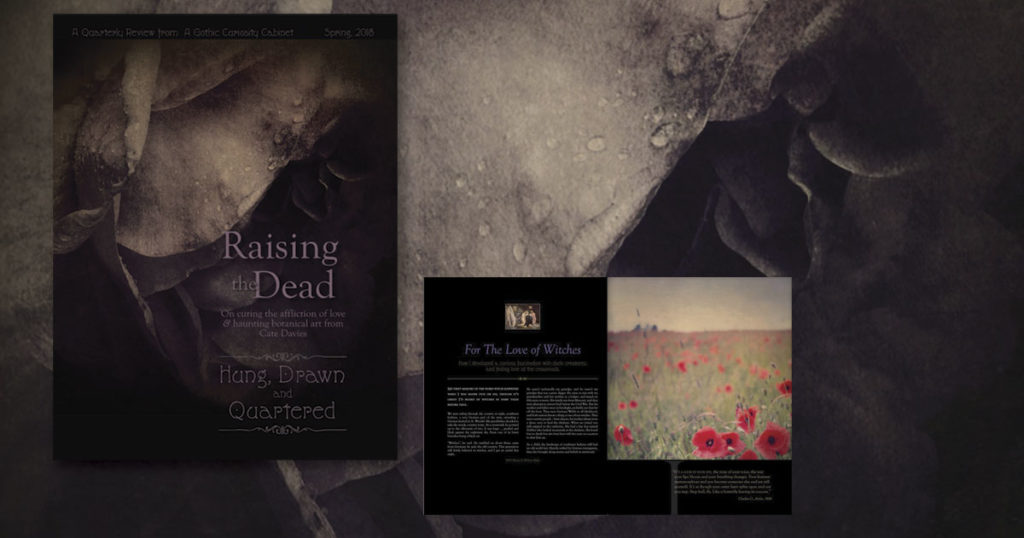 Love can't always be depravity, torture racks and snipping the heads off flowers … sometimes love turns dark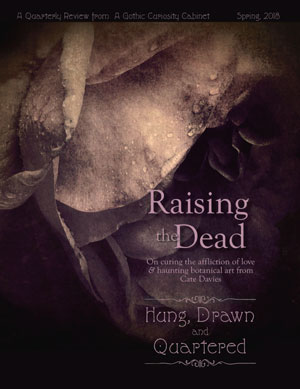 In the spring 2018 issue of our quarterly periodical, Hung, Drawn and Quartered, we take a look at the loss of love, and how to survive a broken heart. With essays from A Gothic Curiosity Cabinet as well as some new ones, penned especially for this publication, we look at the romantic poets, how the gods deal with undying love and heartache, lessons drawn from the romantic poets, the Addams Family and Bewitched and of course, sex.
Also included is The Witch's Gardener, or how I ended up tending the garden for my own witch. For fans of nature's poisons and hallucinogens.
With gorgeous art from Cate Davies of pretty little poisonous flowers that have a life of their own.

With 62 ad free pages, images in glorious full color with lots of black, printed on premium stock, 8.5×11 in, 22×28 cm
Articles include polished and edited versions of:
On The Dark Beauty of Love
Raising The Dead
The Sacrifice of Love
Exiled
On Byron
Christmas Card From Orpheus to Eurydice, Last Known Address Hades
The Artist's Wife: Catherine and William Blake
Why Do Lovers Leap?
The Love Letter
For The Love of Witches
On Pagan Sexuality and the Mating Habits of Goats
The Witch's Gardener
With twenty five full size botanical images from Cate Davies.