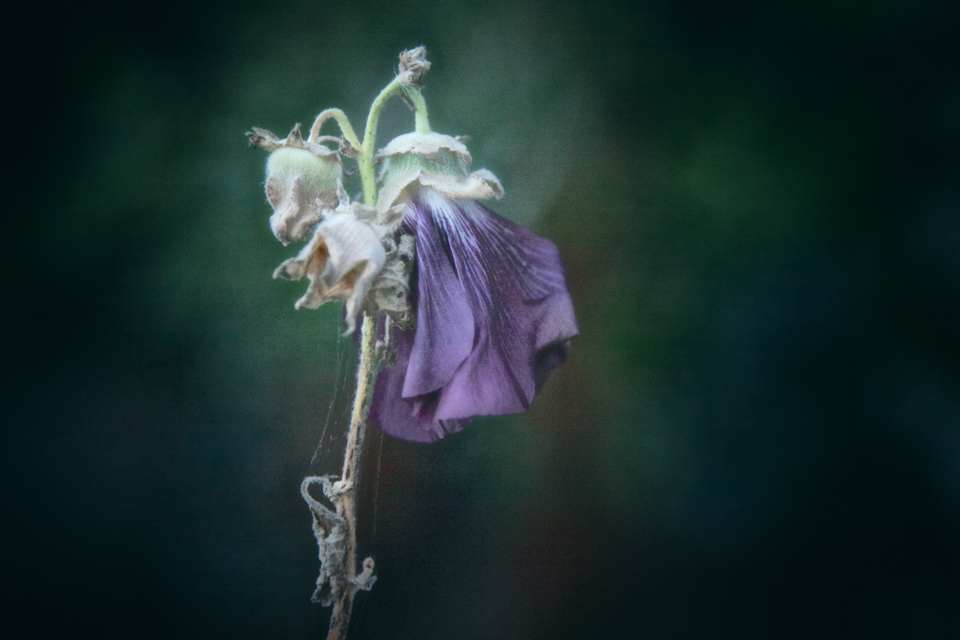 This is my second year of growing a witch's garden, and I look back at the first year as an experiment. Perhaps my biggest problem with last year's garden was that each plant lived in isolation. There's nothing more dull than a beautiful plant with a background of mulch.
A secondary consideration which led to starting over, is since many witchy plants are also quite poisonous – as often that's the idea – is that the plants shouldn't have easy access from the street, and curious little ones who are attracted to bright red berries.
Luckily there's a spot in our yard, between our garage and the swimming pool is a fenced in area, with one side open to a screened in patio. This keeps the future witch's garden separated from the rest of the yard, and a bit more secure. Also, the garage casts a good deal of shade in the area, so the plot, small that it is, features both sunny and shady areas. Since I do a lot of potting and puttering on the screened-in patio, the garden is now conveniently located.
Thinking back now, my first reason for moving the witch's garden was to separate poisons from edibles in the garden. In the end though, that idea kind of got lost, as I've decided on a cottage garden concept, which means the inclusion of some edible plants.
What is a cottage garden?
For those unfamiliar with the term, a cottage garden mixes an informal design, a combination of both ornamental and edible plants, and doesn't lose its appeal when what you've planted starts growing wildly. The idea is to create a cacophony of vegetation which bursts out at you – like your yard is vomiting blooms from the earth. Cottage gardens originally were just that, gardens planted next to one's cottage, and featured more in the way of herbs and vegetables, and as such I felt fit the concept of a witch's garden as well. Quite often witch's gardens weren't full of bizarre, esoteric plants. Instead, they contained many herbs and vegetables which found uses both edible and medicinal.
Okay, granted, there are a few plants in my witch's garden which serve neither purpose, but instead focus more on dark arts, if not outright sinister activities. I'm funny that way.
Start with structure when designing a cottage garden
The first thing you want to look at when starting a cottage garden is structure, which applies to any kind of decorative garden you might be planting. In my case the borders were already delineated – a six foot fence on the south, the swimming pool on the west, the patio on the north and the garage on the east. The garage serves as my recording studio, and has a small concrete patio with roof which would make for an ideal sitting space, and the entrance to the garden. The six foot fence has a gate. So the obvious structural design for my cottage garden would be a path, winding its way from the sitting area to the gate.
Last year I grew Sunflowers and Castor Beans alongside the fence, which went a long ways towards hiding the fact that it's a faceless, plastic privacy fence. I had the rest of the area planted in wildflower mixes from Botanical Interests, so a variety of plants are already in place, a few of them witchcraft or herbalism related. On the downside, you never know where they're going to spring up, and I find myself disturbed frequently when a gorgeous plant springs up in the middle of my pathway. Another drawback of the wildflowers is its damned hard to know what is springing up from the ground unannounced. Could be a weed, could be a Sweet William, and until they're established it's hard to tell.
So step one was laying out the path, which I did in what is probably the most simplest manner possible – creating the shape with two rows of brick, salvaged whilst digging up part of the yard for a potato patch. The fact that in my yard, six inches underground lies a bass of tumbled brick, and in some cases, two layers of carefully lain brick, makes for lots of digging when expanding the main garden. But it also means a ready supply of older style bricks.
Clearing the landscape makes for a great winter project for new gardens
The next step was getting rid of debris, which meant two propane tanks in this case. These large, steel tanks had been set on a layer of stone, enough to cover one stretch of the path. So more digging, but the rocks are nice and helped to fill in low spots in the path.
By late winter I was ready to plant some bulbs and lay in some of the plants from elsewhere in the garden. Since the fence already cast a shadow, it didn't take much thought to realize that some of the denser, taller plants such as Castor Beans should go back there again. Also, Mugwort and Hollyhocks, both of which are traditional in a cottage garden and grow quite tall. I had three Belladonna plants from last year which I knew I wanted to replant, so I setup an area next to where the Castor Beans and Mugwort would be growing. Near here was a small area I converted into a bed for the Wolfsbane and Monkshood. Next to the Belladonna was a curve in the path, which visually makes for an ideal spot for foxglove, with their wild colors forming the heart of the garden.
An advantage of this setup is that it keeps poisonous plants separate, which is less of a danger here than elsewhere in the garden. Though to be honest, I'm mainly sticking with herbs in the cottage garden, with the exception of some Brussell's Sprouts in a container, and Scarlet Runner Beans which I intend on growing up the fence.
Adding moon garden elements to a cottage garden
I love the night. I've been trying to develop an affinity to daylight, but mostly to me, the sun is simply something that must be endured. So I needed a place equally interesting at night as well as by day. The solution came whilst ordering seeds from Alchemy Works last December. I'd noticed they offered seeds for moon garden plants, and last year I had quite a bit of fun with Moonflowers, as well as a bush with small yellow flowers which opened each night at sunset. I determined that the area nearest the seating area would be the moon garden, with the plants growing more dangerous as you made your way down the path.
Creating focal points in your cottage garden
One of the most basic rules of composition is that you have to have a focal point – the place where one's eye is naturally drawn. Since I have a curving path, the ideal location for the focal point would be where the path curves before disappearing from site, as paths naturally draw the eye. Most of my time spent out here, besides pulling weeds of course would be sitting on the patio, so eye level would be lower than if I was standing. What I needed at the focal point was a great wash of color, about three foot tall or so. As luck would have it, I had already decided on this spot for my Foxgloves. As Foxgloves are rather dramatic when in full bloom, it was a good, if instinctual choice.
In gardening, if you can't move it, use it
Another thing to consider when planning your cottage garden, is what elements are already in place which would prove prohibitive to move or eliminate? In my case this would be a rather large butterfly bush, which has grown somewhat out of control. The silver lining in this is that it casts a bit of shade in what would have otherwise been full sun, so plants which thrive in mottled sunlight would thrive here.
Wild versus tame in a cottage garden
Since one of the key elements of a cottage garden is a lack of formal structure, in the end, I decided to keep the area surrounding the bush somewhat wild, shorter flowers and more leafy stuff, which gives it more of a natural feel. In other words, an ideal location to plant some faerie garden plants and flowers. Adjacent to this area is one of the few plants which managed to stay green all winter, Wormswood. As it grows rather bushy, it makes a great edge to the wilder part and the more cultivated area. I also planted a couple of Tansy plants here, which has both wicked and beneficial uses. This ensured some substantial vegetation in what would prove to be an area quickly overgrown with weeds and wild plants.
This leaves me with three new beds, two of which are adjacent to the seating area. As I'd learned that one of the highlights of a moon garden is nighttime scents, I decided to make two of those the moon garden element of my garden. And as the third is somewhat isolated from the rest of the garden, it's an ideal spot for some of the more baneful herbs.
As the photo above shows, things are coming along nicely. The path still wants either some mulch, gravel or grass, and I'm in dire need of getting ground cover going to choke out grass and weeds. But the bees are multiplying, as well as hummingbirds, lots of frogs and even an adolescent rabbit or two.