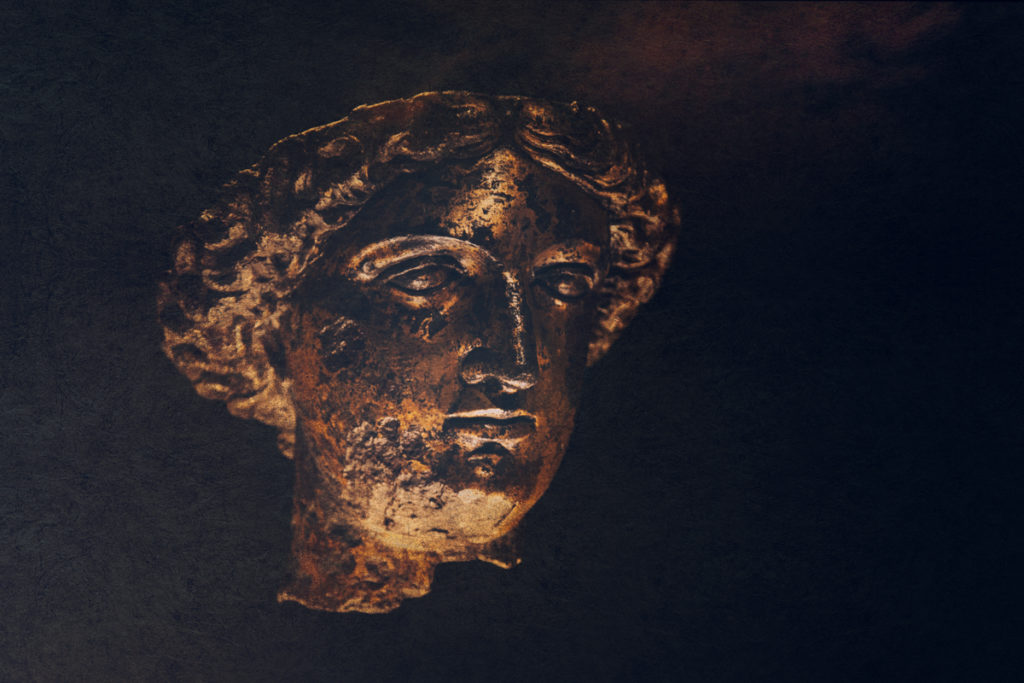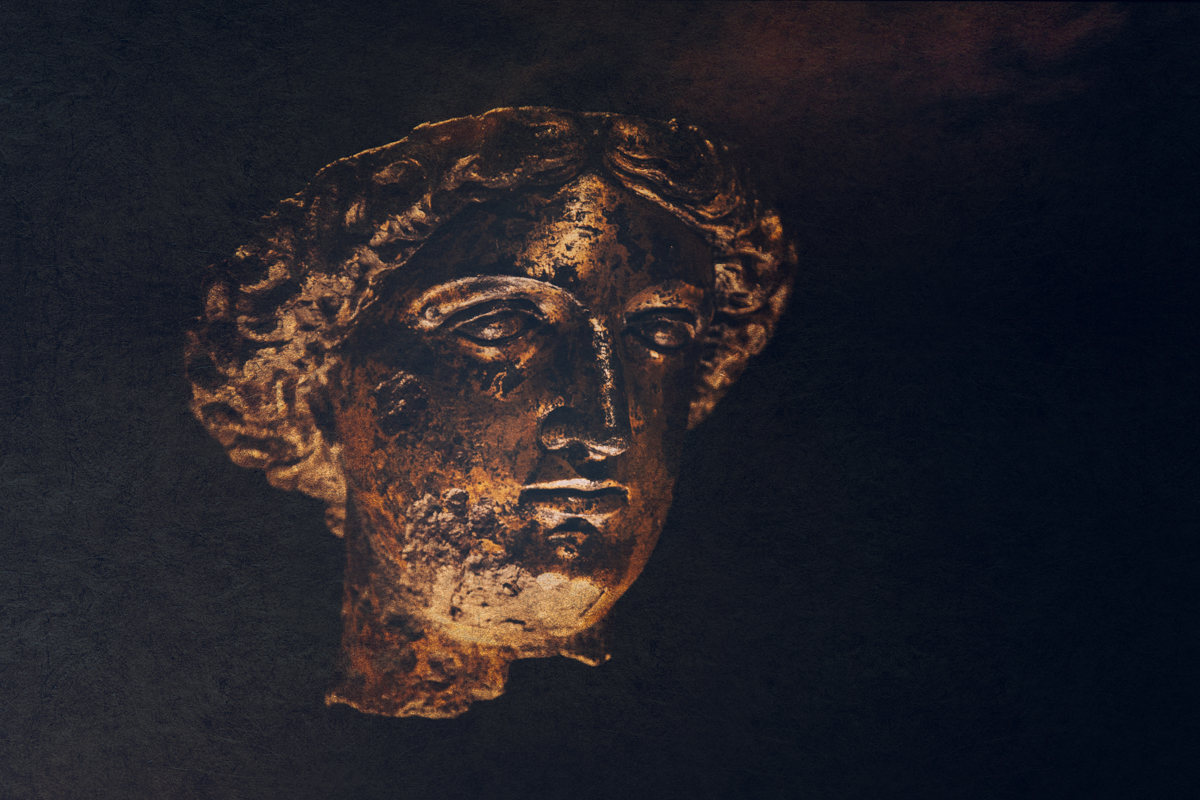 Top: Gilded head of a Minerva, found in Bath, Somerset. Originally atop a statue larger than life, she would have looked out from her temple next to a sacred spring onto the altar where sacrifices were made in her name. That the gods require living sacrifice should be a warning to us all, that not all divinity is indeed sweet.
+ + +
I cringe when I hear people say namaste. I can't help it, it's a reflex with me. Partly it's the trendiness of it. I hear it from a lot of Buddhists. Many of these people are attracted to Buddhism and the belief that it's not a religion. So they can be spiritual but not religious. It's the growing modern concept of dealing with the soul by eliminating the superstition.
Trouble is, namaste is a Hindu term, and there are 33 millions gods of Hinduism. It's a religion, and namaste is a recognition of that.
It'a usually translated as "I bow to the divine in you," which is ideally worded to avoid any connotation to gods. But the divine relates to the divinity, which is indeed of the gods. And the saying is true, for the gods are reflections of us all.
It's quite often argued that the gods are nothing more than an attempt to explain human behavior. Venus is the goddess who embodies love for us, Hera takes us down a matrimonial path, we get drunk with Dionysus and go to war with Ares.
But Ares didn't lead the United States into Iraq, not did Athena. People did that. We no longer ascribe to the gods what humans do for their own self interest. And yet those tendencies are of the gods, and as such, part of the divinity inside us, that we forget when we mindlessly namaste the shit out of each other.
My favorite warning about gods comes from Jethro Tull … "he who makes kittens, puts snakes in the grass."
Many of the ancient gods were quite amoral, they did what they did and the concept of right or wrong didn't come into play. They simply did what they wanted for their own ends, their own entertainment. Being gods, that makes those actions just as divine as actions which make the world a better place.
Minerva was a goddess of war. She was the daughter of a titaness, Metis, whom Jupiter had swallowed whole after lying with her, when he remembered the prophecy that he would be overthrown by his own child. Metis didn't take this too well, and while in Jupiter's belly, forged a suit of armor and weapons for the daughter that grew within her womb. The constant pounding of the forge led to a headache, so he consulted Vulcan, who split his head with his hammer, and out burst Minerva, fully grown, in armor and bearing a sword.
Minerva's cult grew from that of the Greek Athena, and it was by the Romans that Minerva was brought to Britain, where this head of hers was found in Bath, Somerset.
Minerva was responsible for many wondrous things, but she still kept her hand in the art and machinery of war. She was gracious to those she defeated, but even in that she could have the wrath of a god. When Arachne boasted that her weaving skills were better than Minerva, the goddess challenged her to a competition. Unfortunately for Arachne, the judge was Minerva, who declared herself the winner, and as a punishment for daring to speak the truth, turned her into a spider.
Jehovah is no better. He destroyed Job's family and almost drove him out of his mind, just to win a wager with Satan. The lives destroyed in the process didn't matter. All that mattered was proving he was right. That's of course just one of a multitude of times Jehovah showed that especially when there is only one god to rule mankind, god becomes a bit of a dick.
But this behavior is universal to the gods. Bad behavior as well as good, is divine.
So is it any surprise that these tendencies towards the horrific exist in us as well? The tendencies towards destruction that are found in the gods and inside ourselves are just as spiritual as those which lead us to happiness.
Once I fell under the spell of Venus and fell in love. At times it felt as though we were but pawns on the chessboard that the gods were using for their entertainment. It was a love affair years in the making and when we came together, worlds collided and we were launched into the ether. We married the night we met, not legally obviously, but in the circle at Avebury, where these things are consecrated by the gods. It was legal to us, for we both believed totally in it.
Then suddenly it was gone. But a different god moved another piece on the chessboard, and once more we found ourselves together, engaged again and this time we were going to do it legally. It was a relationship built on faith, my faith in her. I saw our love as sacred, for I saw the divine in her. It wasn't an illusion, that part was real.
Faith is a necessary component of the sacred, and it's blinding. It allows you to only see the side of the gods they wish you to see. I'll be honest … she dumped me five times in two years, nullified a marriage and had broke one engagement already. As she said many times, she's not good at commitments. I knew all this, but I chose to believe.
I chose wrong. She dumped me again, this time permanently and quite ruthlessly. The gods freely change their minds, and take away their promises.
To add insult to injury, when she saw I was at my lowest point, she plunged the dagger even deeper. I was lucky, one of the gods was looking out for me, and I'm still alive.
Cold hearted? Calculated? Who can say? You don't question the gods. They don't allow it. Your voice only reaches Olympus if they choose to allow it. My number is blocked on her phone.
I have a new found respect for Job now. I just don't share his faith in divinity, having seen that which you can only see once the blinders of faith fall away. My goddess was entirely too human.
We curse the gods in the end, but our fate is in our hearts, we still love them. Because they live inside us.
The divine truly is inside of us all. How you bring it out is up to you. But gentle reader, be forewarned. Behind that sweet, peaceful smile you see in the one you love, there is in fact a god or goddess. Just remember, sometimes they have fangs, hidden behind that smile.