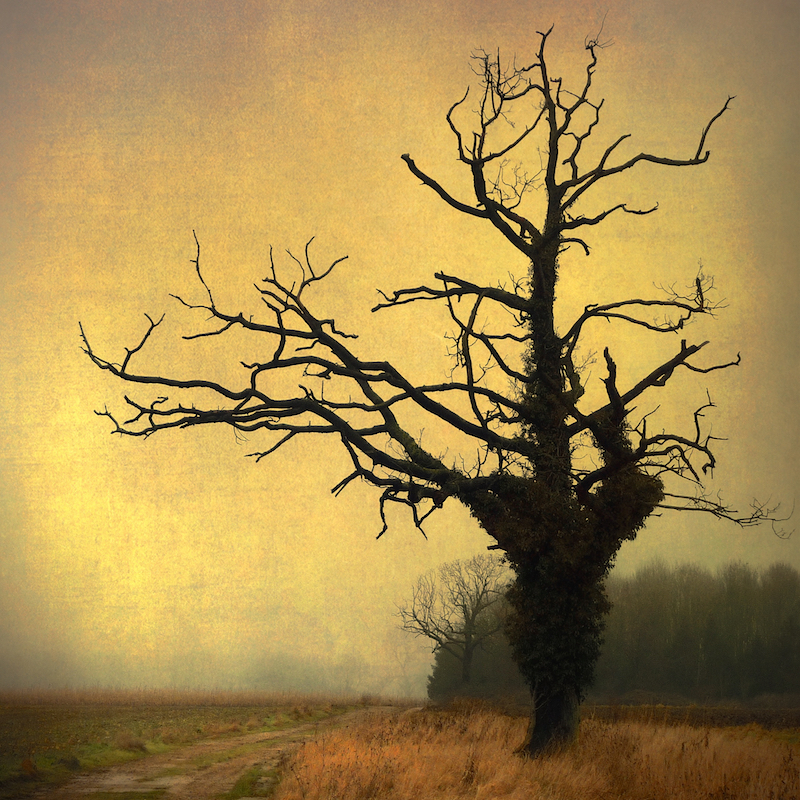 The Dance, Someplace in Britain by Cate Davies. Click to order a fine art print of this image
I was very young, there was a full moon, riding with with my grandmother and grandfather to a small town in southwest Indiana for a harvest celebration. It's small towns around there, German heritage, it was another age. Superstition had a stronger hold than science for my grandparent's generation. Perhaps that rubbed off on me as well?
We came to a crossroads. A barbed wire fence and some scraggly bushes bordered the gravel road. A tall tree loomed overhead, hanging from its branches, silhouetted by the moon was a black cat. A horrifying site for a myriad of reasons.
"Witches," my grandfather said. "They came over with the Germans."
That's likely where my association with witches and trees comes from. Though it could be in my DNA, our European ancestors certainly associated witches with trees. Belief in witches as malignant forces is ancient, as is the archetype of their gatherings. It could be a house, it could be a mountain such as The Brocken in Germany, or it could be a tree.
Is it the branches, like twisted arms reaching down to snatch us up, looking menacingly human? Is it the roots, often bubbling up at our feet from the ground below? The leaves, green in summer, all golds and red in fall, or missing entirely in the winter … the skeleton of summer? Is it the way they sway in the breeze, the creaking of limbs their own soundtrack?
Trees are still sometimes used as field markers on old farms, the ones not eaten up now by corporate farming which likes broad swaths of landscape, free of obstacles, free of character.
But sometimes a tree survives, alone, a sentinel. It could be a clump of trees, like the locusts covering the barrows overlooking the stone circles at Avebury in Britain, or the yew tree forming a tunnel into the entrance to the henge at Knowlton. Some British trees are old enough to have names, like Gog and Magog outside of Glastonbury, ancient and nearly dead, once thought the last remnants of a procession of oaks lining the road to Arthur's Camelot.
Or it could be a singular tree, taking human form that catches the eye of the photographer, like in The Dance by Cate Davies. Of singular shape and size, it appears to have frozen in place when the music stopped abruptly.
Or my own favorite tree. It stands in the middle of a field near here. I'd seen it out there for years as I hiked the local woods, grew fascinated by it. I stalked it, gradually getting closer as one would a stray cat they're trying to become friends with. It took on a life of its own before I finally walked up to it and introduced myself. And found it had been watching me too.
Some trees have a life of their own, and many stories to tell. If we only listen.
+ + +