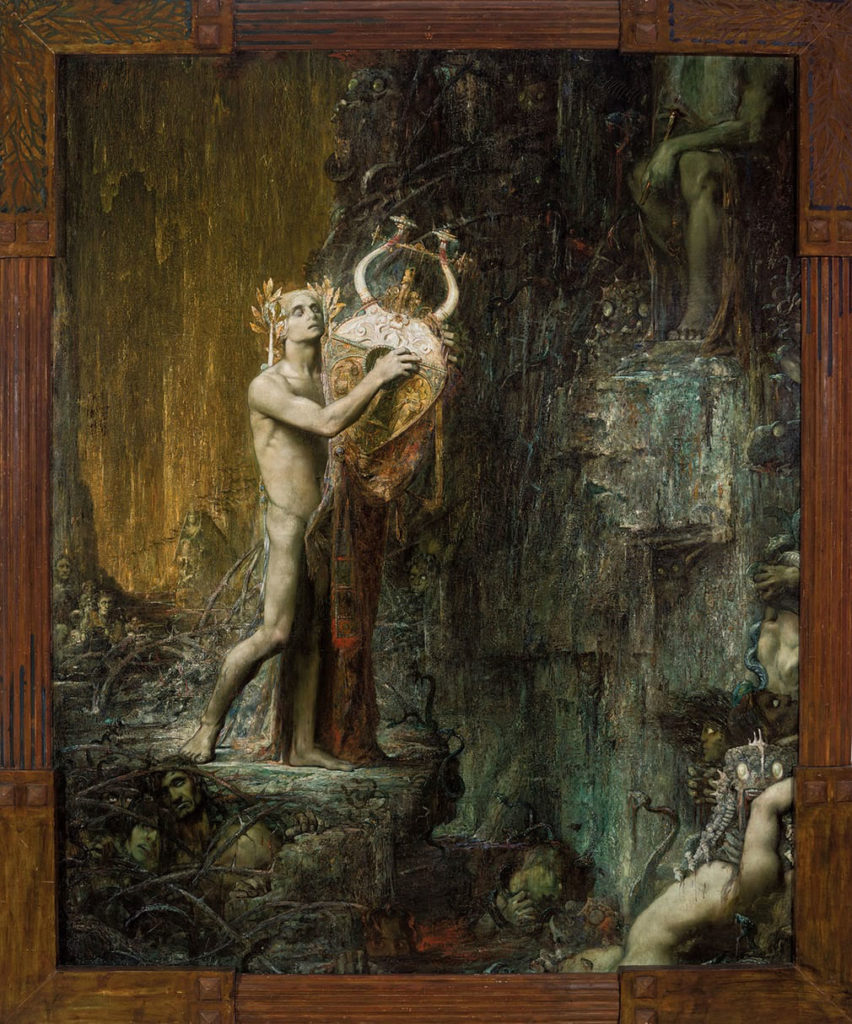 Top: Orpheus in Hades, Pierre Amedee Marcel Beronneau
Editor's note: This is my website, so I get to do what I want. Occasionally I write fiction, though this was going to be a nice scholarly article on Orpheus and Eurydice. Instead I got to wondering what happened to Eurydice afterwards? Too lazy to look it up, I started to ponder, what if they keep going in various incarnations, like Sisyphus and his rock, for eternity. What if this is their curse? What if after all was said and done, Orpheus decided to send a Christmas card? This is that, not the scholarly article. For those opposed to reading, a shorter video synopsis is included at the end.
+ + +
And now, retracing his steps, he evaded all mischance,
and Eurydice, regained, approached the upper air,
he following behind,
when a sudden madness seized the incautious lover,
one to be forgiven, if the spirits knew how to forgive:
he stopped, and forgetful, alas, on the edge of light,
his will conquered, he looked back, now, at his Eurydice.
In that instant, all his effort was wasted, and his pact
with the cruel tyrant was broken, and three times a crash
was heard by the waters of Avernus. 'Orpheus,' she cried,
'what madness has destroyed my wretched self, and you?
See, the cruel Fates recall me, and sleep hides my swimming eyes,
Farewell, now: I am taken, wrapped round by vast night,
stretching out to you, alas, hands no longer yours.'
She spoke, and suddenly fled, far from his eyes,
like smoke vanishing in thin air, and never saw him more,
though he grasped in vain at shadows, and longed
to speak further: nor did Charon, the ferryman of Orcus,
let him cross the barrier of that marsh again.
Virgil, First Century B.C.
+ + +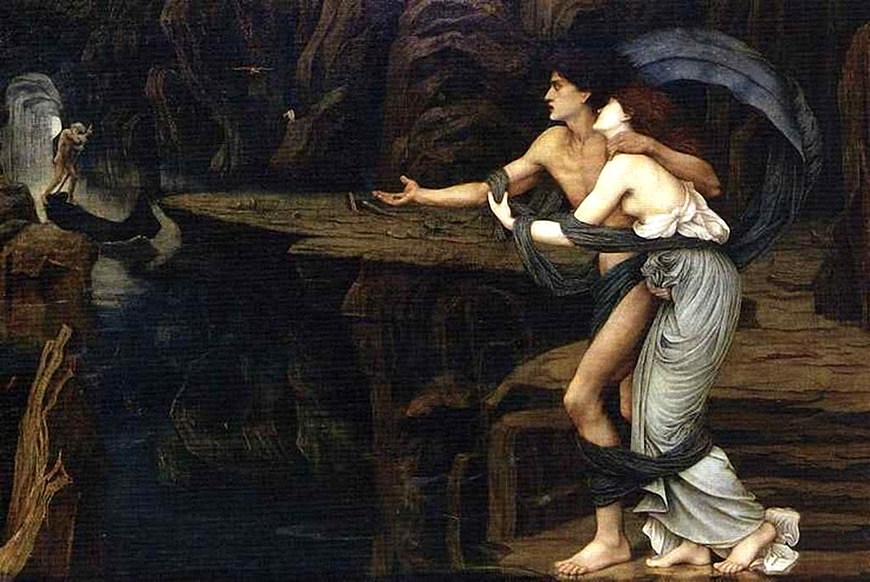 My Eurydice,
How many incarnations has our story been told now? How many lives have we touched since the poets set down our tale however many thousands of years ago? When will we finally get it right and put an end to these lives we torture as we relive our tale through them? When will our story get the ending it deserves?
For it's an amazing tale of love so true, that when faced with the loss of his beloved, a man found his way into Hades and not only survived, but secured the release of his one true love.
That it failed once is of no consequence, for he that would walk through the gates of hell for you won't be the kind of man who walks away. It's why you chose me to begin with. That it's failed generation after generation doesn't matter either. Because there's always a next time to get it right.
For love, true love is eternal. You convinced me that this was true love the day you called me your beloved, you convinced me that it was eternal the day you called me husband, and you've never managed to convince me either was a mistake. Just that it's a bit fucked up.
Instead we inspire the tragic. We don't even give hope or comfort to those who pray to us, who find their lives entwined in our story. All they find from us is endless night and endless sorrow. That's not why we're here. We're here to prove the stories wrong, that there can still be something new in the universe, that occasionally someone can march into hell for a heavenly cause, break the rules and get away with it. Because even the gods have to bow down to love.
That's the gift mortals were given after all, to create something new, something beyond our boundaries. We're given the gift to surprise, even ourselves.
It's essential we do so, for the lives we alter multiply with each generation. In my own child, I see the same strains of loving without fear, without caution and with a firm certainty that the love he feels is destined to be. We can't keep leading them down paths to disaster, without also showing them the way to salvation.
These lives which we inhabit become a prosopopoeia for our story, another setting for our tale, told ad infinitum, never varying, never altering its course for a different ending. Lysander spoke the truth, "the course of true love never runs smooth." But in the end, even Shakespeare on occasion had to relent and let his star crossed lovers find their star.
After so many generations of losing you for nothing more than being human, I have every right to rail against the universe, and those flashes of wrath which you've seen from me I could feel were deserved. But in the end, I hate myself because of them. Because I set a higher standard for myself, than you do for me.
The poets never got the story right … beginning with Virgil.
For the underworld wasn't your prison, your tomb. It was your sanctuary, a place where you could be excused from the tribulations of being human. Where you could be safe, shielded from your disappointment. If you don't commit yourself to taking a chance, you can't be let down if it fails.
By the time Virgil set down our story, it had already been lived countless times. You had gone through many names as man tried to untangle our tale … Hecate, Persephone …  the poets were busy simplifying that which was complicated, trying to connect the pantheon of gods and goddesses that passed through us, as we pass through mortals now, to try and tie up the strands to include every name, even those which were nothing but duplicates.
In the process, the story was altered. The meaning was lost. We became a cautionary tale about the dangers of love. Virgil saw me as weak because I came to Hades with intent to leave with you, rather than die for you and live underground.
Fuck Virgil, he never lived underground.
It's simple, I have mortal blood running through my veins, as well as that of the gods. I value this life, I value the time I spend here and I have an unshakable belief that there is no greater sin to the gods or to ourselves, than to waste time. Our original intent has been lost, for our intent was to love, with passion, without boundaries set by any mortal. But instead born out of our love for each other.
Yet this brutal repeating failure complicates the story, because life isn't simple, and confusion is compounded by love.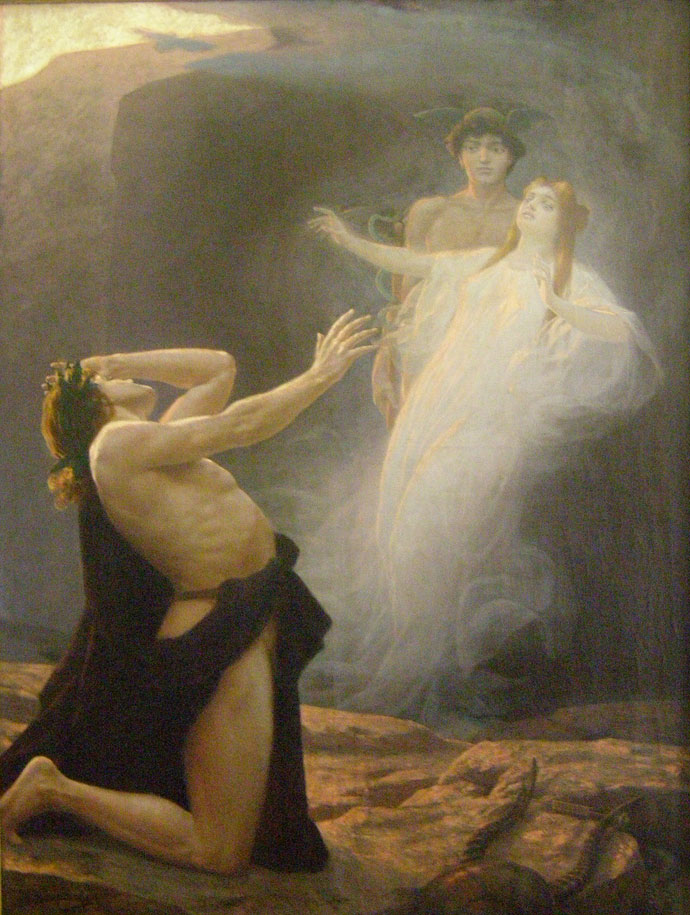 It wasn't Pluto who tested me as I led you out of the underworld. I was there, I saw what happened, I was the one begging for your release. When he heard my song, he was happy to see you go, happy to see you rejoin the life you were destined to live. That's the power of our story.
No, it was your test of my faith that even in darkness and silence, you were following me, that I could know it and believe it. To fail would be unworthy of you, a sign I could never do what you needed to be happy.
It wasn't what I did while we were together that forced you into the underworld. You were already there. It was my failure to meet your standards after I'd already lost you that keep us apart. A person shouldn't be judged on how they respond to having the foundation of their life torn out from under them. For in our case, I set that foundation so deep that when it came crashing down, it took everything I had with me,
I more than anyone else know your criteria, and I have to say, you need to lower your standards a bit. Because they're set too high, and the wrong standards to begin with. They don't ensure that I or any other man can make you happy, but serve to make certain that no man can ever fully try before you lose faith.
Because when were you ever happier for any length of time? In whose arms have you ever felt complete? Who has called to you from inside your heart as I have? If there is a fate, a destiny waiting for us all, we are immortal proof of that. For our story doesn't end in this incarnation, beautiful though it was. It merely bides time as we run out the clock on this lifetime and embark on another.
There are the incarnations where we never find each other. I despise those the most, the endless searching, that endless nagging that something is missing in me. There are lifetimes where I know you're out there, where there are times I feel you close, where I could be looking at your face, brushing up against you in the crowd, but as you don't recognize me, I can't find you. There are lives when I feel you searching as desperately as I am, entire ages we've spent out of sync, alive at different phases of our lives.
So being born on different continents didn't make this one seem particularly hard to me. Nor to you in the beginning. You trusted me, that whatever obstacles stood in our way we could overcome. I couldn't help but believe they could, for I know what lies inside me, that which you've never allowed me to prove. Because I fail a test that grows more impossible each time you force me to take it.
It was I that persuaded Charon to ferry me across the Styx, who lulled Cerberus to sleep, who expressed so clearly the pain of your loss, that the lords of the underworld gave their blessing to your escape. Did you really think it would be so hard for me to get a job and insurance in your country, after that? Hell, I've stood before Pluto, argued my case and won. I think I could handle the immigration man.
There are no rulers in the underworld now. It got too crowded, too filled with people and the old gods ain't what they used to be. As man's belief in them waned, so waned their power. It's rare to see a god touch a mortal and have them feel it now, unless the mortal believes. For humans, belief has become a tradable commodity. We can shirk our believes as quickly as we can shirk our knickers to satisfy our lust. We trade in our beliefs to justify actions which we know in our hearts are wrong.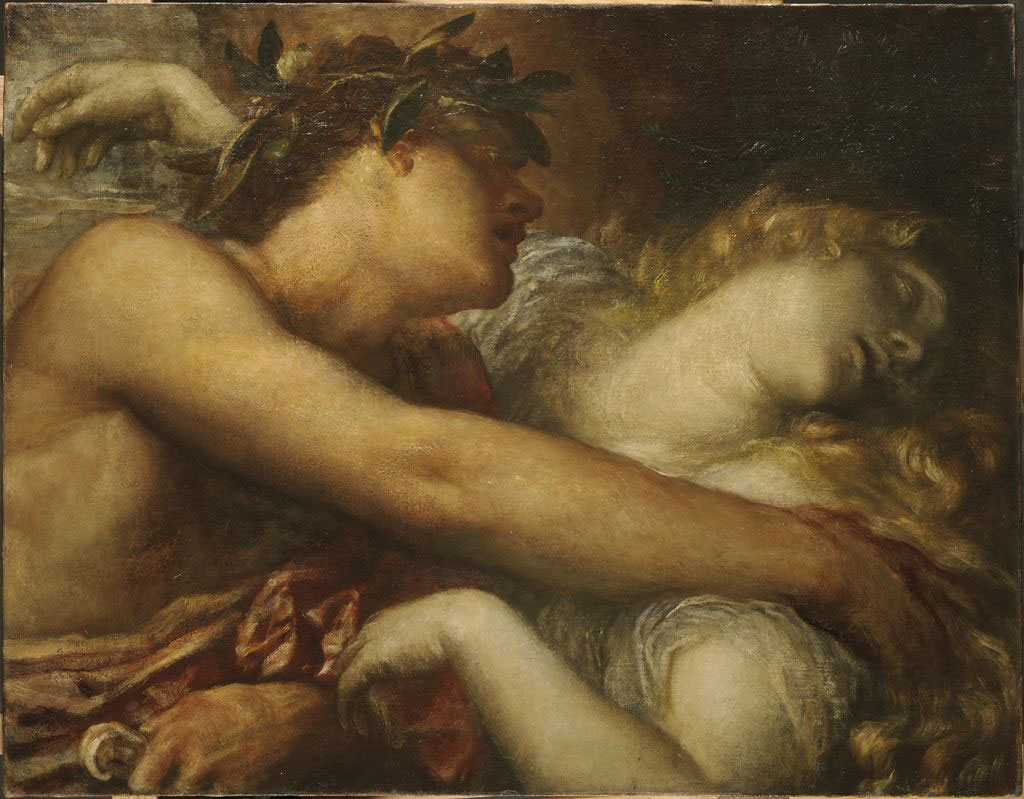 As a human there often comes a time when we face someone so utterly reprehensible that we long to end their lives. It's guilt that prevents it. That and not wanting blood and brains splattered on our shoes. It's not that we see there could be goodness in their soul, it's that we don't want to carry the guilt if we decide later it was a mistake.
Guilt is still the one tool left for the gods to wield, and they strike me hard with it. Yet I've never seen anyone so taken apart by it as yourself, when you force yourself to shut off the good you find in others to block the pain of being yourself, fallible.
How I've longed to suck the guilt from your soul, because no act that you've committed has ever been as despicable as the way you sometimes see yourself. It's more than you can bear to hurt another soul, but you live on this planet, and sometimes we hurt the ones we love.
It's how it's supposed to work, because the ones that love you are able to see the truth, to find forgiveness and keep their love for you alive.
The gods still use guilt to keep us locked up, and we can't always see their hand at work. But we can feel it … a pang of guilt over something done in the past, which seemed right at the time but ended up causing so much pain … the gods will use that, implant it in your thoughts as your feet seek to leave the earth and fly.
It's accompanied by a whiff of incense, the bleating of a goat, a feather floating in the air or a leaf falling from a tree, to give it a hint of the divine, of the supernatural, which is about all people seem to believe in now that's not scientifically proven.
We can believe in ghosts which we can't see or hear, but refuse to believe in the god who sits across from us on the train, flipping through the Evening Standard and watching us over the top of the page.
That's why it's so hard for you and I.
We're not blessed with clear memories of lives that came before. At birth we have nothing more than a wordless feeling, that we've been here before, that there's something we must do, someone we must find.
We never really know our divinity until we find it in each other. We feel it, we might even believe it, but we can't use it till we meet and see it reflected in each other's eyes. Your eyes have gone black for others, but I was the one who could see the colors in the blackness.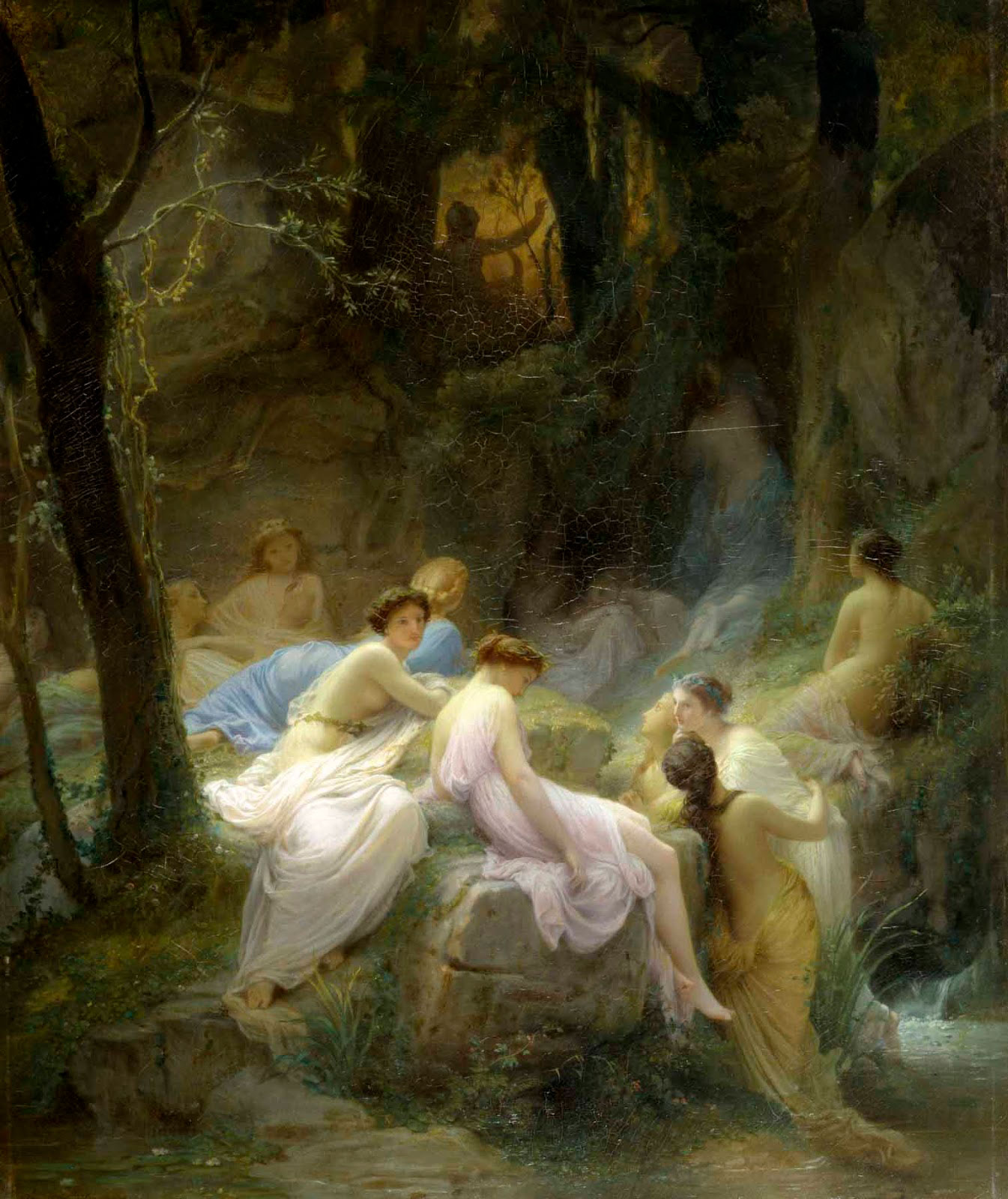 What could he do? Where could he turn, twice robbed of his wife?
With what tears could he move the spirits, with what voice
move their powers? Cold now, she floated in the Stygian boat.
They say he wept for seven whole months,
beneath an airy cliff, by the waters of desolate Strymon,
and told his tale, in the icy caves, softening the tigers' mood,
and gathering the oak-trees to his song:
as the nightingale grieving in the poplar's shadows
laments the loss of her chicks, that a rough ploughman saw
snatching them, featherless, from the nest:
but she weeps all night, and repeats her sad song perched
among the branches, filling the place around with mournful cries.
No love, no wedding-song could move Orpheus's heart.
He wandered the Northern ice, and snowy Tanais,
and the fields that are never free of Rhipaean frost,
mourning his lost Eurydice, and Dis's vain gift
Virgil, First Century B.C.
+ + +
The old gods live on, and they still use us for our entertainment. When this incarnation fell apart, I sought to gain distance, to at least live this one out happily and perhaps contentedly. I tried what you try, to run and to forget. But I got to the borders of that landscape and was thrown back. To deny my love for you, once attained is to deny all that I know is true, all I believe is true.
It's to deny the belief in gods, the belief in love, the belief in magic and enchantment, to deny the belief that there is any kind of order to the universe, no matter how arcane and hard to distinguish. It's to deny faith exists within me. It's the most egregious sin of all, to deny the beauty and all that I found wondrous in you.
It is in short, to deny not only who I am, in this incarnation and all previous, but it's to deny that souls exist in mortals. It's to relinquish all that makes me human
All in order to avoid the pain, which is in fact, the only common denomination in all of humanity. There are people who never know the love of a mother or father, who never have a full belly, whose lives are mercifully cut short to spare the pain, and those who never know any form of happiness at all. There are those who never know love in any form, let alone the type of all consuming love we've known.
The one thing we all have in common, is that at some time on this earth, we feel pain. I accept it, I embrace it and I'll suffer untold torments of the damned for you.
I trusted we would succeed this time because as you said, I know you better than anyone. I know what lies inside your heart. I know the strength you find in love, the creativity and the magic. You're not fully mortal. You were a nymph, you have divine blood running through your veins, just as I have it running through mine. It's why this is our destiny, our curse. We can't escape it because it's who we are, no matter what era we find ourselves, no matter whose body. We've seen right through each other – as we really are, not as we've chosen to believe, so you might fear me, as I might you.
I've watched as we've conquered our demons one by one, getting ever closer to that day when we write a new ending to this story. This was the closest yet, for there was nothing to keep us apart, except that final test. That I would have doubts you would follow me out of the darkness into the light were well founded.
For there is nothing wrong with doubts, even your doubts in me, providing your faith outweighs them. To have faith without wanting assurance is in reality, taking each other for granted. You never wanted for assurance from me that my love was there, that my belief in you was still strong. You never could have doubted that if you said "come," I would be there.
For fuck's sake, I'm the one who followed you into Hades to pull you back out again. Do I seem like the kind of guy who would abandon you over a trifle?
Faith deserves to be tested, for love without faith is nothing at all. But faith is a two way street. You can't demand faith from me without having faith in me as well. Without having it in yourself. It wasn't a lack of faith on my part which pushed me away. It was the lack of faith that you still saw us as who you saw us as the last time we lay in each other's arms. When you were close enough to recognize who I am, and who you are.
In this lifetime, at last, there were no ties holding either of us down, preventing us from taking that next step, from where you found yourself stuck after that first leap, so many years ago. I was the one who had to take the risk for I was still fully mortal, who had to gamble everything, who stood to lose the most from failing, but I had no fear of that. Only the fear we would never get the chance to try. I had that faith, because for once, you were weren't living the story as it was written. You were proving it wrong.
Until the moment I stumbled which come on, that was wholly predictable after all this time, and you went back to the script.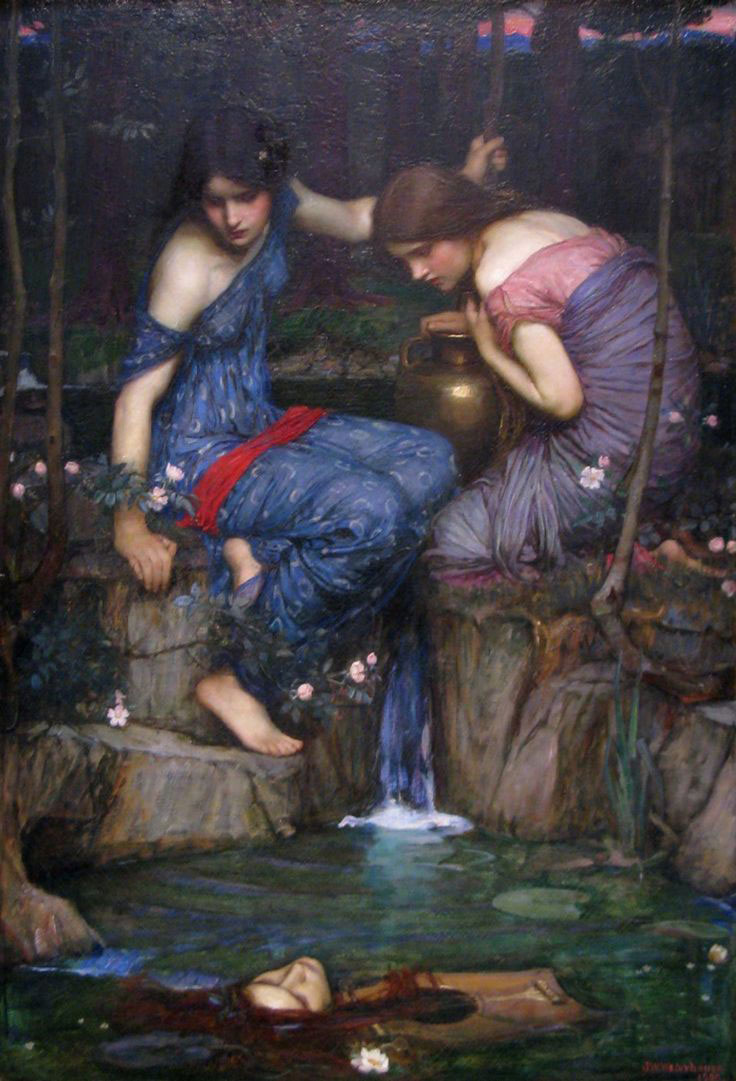 The Ciconian women, spurned by his devotion,
tore the youth apart, in their divine rites and midnight
Bacchic revels, and scattered him over the fields.
Even then, when Oeagrian Hebros rolled the head onwards,
torn from its marble neck, carrying it mid-stream,
the voice alone, the ice-cold tongue, with ebbing breath,
cried out: 'Eurydice, ah poor Eurydice!'
'Eurydice' the riverbanks echoed, all along the stream.
Virgil, First Century B.C.
+ + +
I always do the same thing, come back to the river Styx, sit here on the bank and play my lyre, singing the song others have written for you in my name. For my song has no words, it has no rhyme, it's nothing but tears.
Besides, my voice has grown weary, my song far less sweet than that which tamed wild beasts and melted the heart of a goddess or two. I sing on but I've grown weary of it, weary of the sound of my own voice, the sadness in it, the sense that time is standing still.
For me it is. It's sitting here, waiting for this lifetime to run out so I can start anew. For I wasn't one of the other men in your life, who could bear to walk away. Because I know you, and I knew your heart, and I knew even when you pushed me away, it's not what your heart wanted. It was your mortal head.
I could stand losing your heart, losing your hand of love if I could keep your hand of friendship. And perhaps someday, if I prove myself, I'll find that it happens.
But I'm weary of proving myself in ways that really don't reflect who I am. I don't mind being tested, but it's always the wrong test. I'll always have the mortal in me, always be at least part human, and never again be a god. I don't need to be tested to prove that, I fully admit it. The real test is what kind of man am I? That's a test I've yet to face from you.
And that's the test you face, that you've set up for yourself. Can you ever overcome your fears and doubts in yourself, to trust what you once believed was true, and never could quite shake?
For I fear the reality is you're not afraid I'll fail you, but that you'll fail yourself.
I have faith in you, but it's a test you have to face. For you know to fail would mean you'd be unhappy in whatever life you chose. If you fail yourself, I'd never be able to make you happy, and you're safer in the underworld.
That's the value of living in the moment, as long as the moment doesn't strain your soul, you can always be happy. As long as you don't look forward, or back.
So here I sit, awaiting the celebration of that Christ child again. Like most people I only really got what Christmas was all about when I was little. We grow out of the magical stage and into a role as perpetrator, enabling the belief in the enchanted for a child. We stop wishing for that miracle for ourselves, because we stop believing in the existence of miracles. You broke my heart at Christmas, and last Christmas you restored it. This Christmas we were to finally break into the light, leave the underworld behind and admit to our marriage in the world of men.
That would have made me whole. Instead I faced nothing but uncertainty whether you'd ever walk freely from the dark, and increased certainty that whatever the test would be this time, I'd fail it. And so yes, I broke the script and set off to the gates of Hades alone. I had dreams that you'd break the cycle as well, and I'd hear your footfall running to join me – not following behind, but this time at my side.
For that's the only way we'll ever pass through those gates together.
Instead the sound I heard was what I expected, just the way the story is written – the gates of hell slamming closed, taking the sound of your voice once more from me.
In short, I'm not doing much for Christmas this year.
Where are the Bacchantes to tear me limb from limb and to still the pain of this life, to pull my head from my shoulders and toss it into the cool depths of the river? My head needs those cool depths. Jesus, I wake up with a pounding head and shaking hands, morning after morning, and yet even the hangover can't still the grief at your loss.
I give more than a passing offering to Bacchus myself, trying to obliterate thought and reason, the pain and sorrow of what life has become, wandering in endless night for my lost Eurydice. Alcohol, drugs are just other forms of homeopathic medicine. They inflame passion and they kill passion. As above, so below.
And yet the Bacchantes refuse to come do my bidding, to still the pain, perhaps because they know even my severed head would still sing your name, as it did so long ago. Long life becomes the curse itself, more time to remember that which you'll never forget.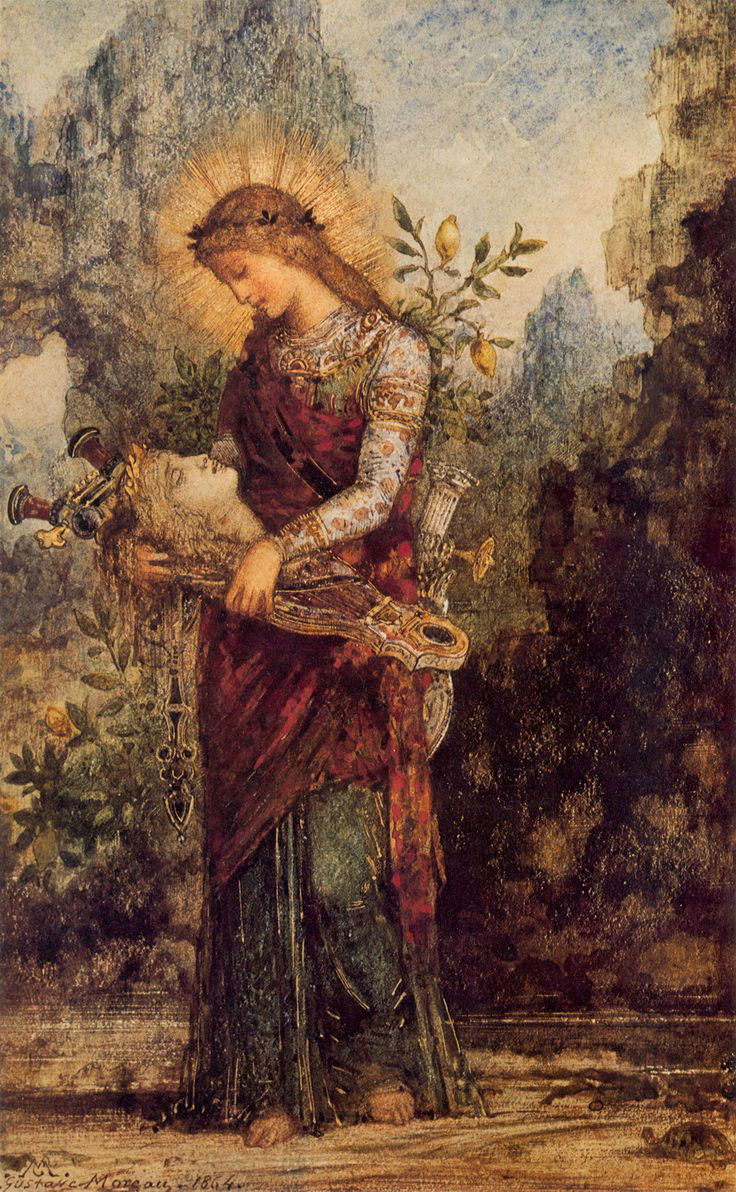 It is said that those whom the gods would curse, they would first make mad.
It was madness that pulled us together, madness which kept calling us back, for love is madness. It's not reasonable, it's not sensible. It's passion incarnate. That's the curse the gods put on us long, long ago. It's the curse we relive time after time, in age after age.
You can't change your nature, and my nature was that I was born to love this way. In love I devoted my life to you, and no pain that I knew would come after could have prevented me from walking into Hades last year to try once more to bring you to the light.
I'd do it again in a heartbeat, but next time I refuse to follow the script. Next time I carry you out so we can go through the gates with our eyes glued to each other, where we find strength together, Where we can see each other for who we are and what we are.
It could be in the next life that we meet again, it could in a whole new era, but regardless, I know it will happen.
That's the thought that carries me through as I sit on the banks of the river, still playing that same old tired song, written long ago in ancient Greece.
In the end we are destiny's fool, and it's my destiny to be cursed by love. I would rather be a fool for love, and a fool for you than live my life in a way that closed my heart to what it knew to be its salvation. It's just we don't all get the happy endings we pray to the gods for.
But someday we will. When we cross the river together.
As always …
Yours,
O
+ + +
Editor's note redux: This is a lot to read, so we compiled a video version of it, complete with a touching Christmas song, as a way to spread our unique brand of holiday cheer. More moving Christmas sonnets in this vein can be found here. Thanks to archive.org for the video of Christmas lights in Chattanooga, TN, and for the incomparable piano skills of keyboardist. Md.E.