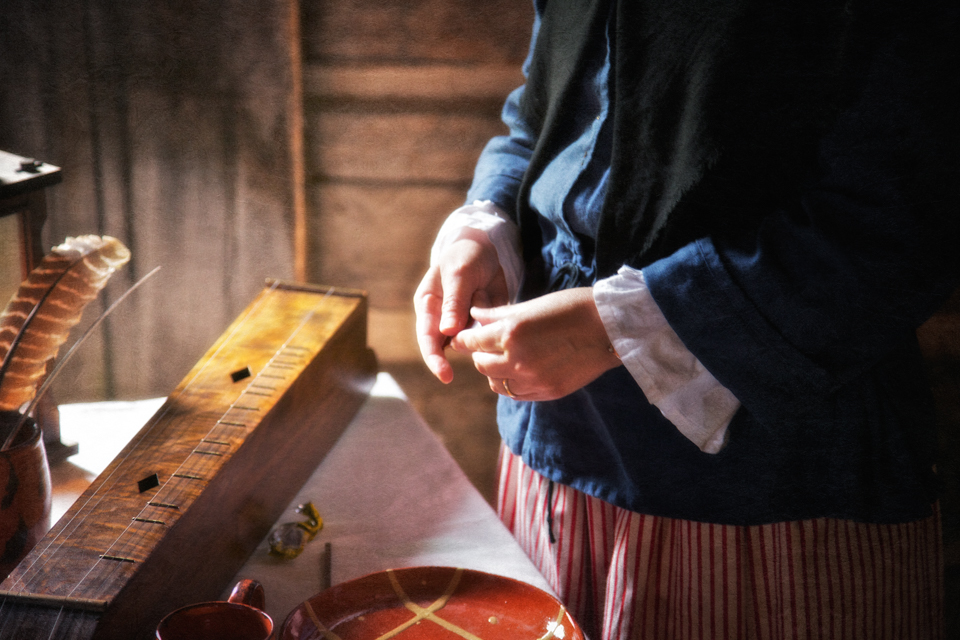 Above: Hands and the Scheitholt, Ruth Wintczak, Heritage Artisans Week 2010, New Harmony, Posey County, IndianaSo call me a geek, but I love historic re-enactments. Give me people in period costumes, an antiquated setting and the smell of wood burning and I'm happy as a pig in um, whatever pigs are happiest in.
After moving back to the midwest last month, I was already missing Old Bethpage Village Restoration on Long Island, or the ability to take a flying trip to Philipsburg Manor in Sleepy Hollow, New York, or Old Sturbridge Village and Plimoth Plantation in Massachusetts.
So I was downright gleeful to find Heritage Artisans Week 2010 in New Harmony, Indiana, about a 20 minute drive from my hometown. According to their website, Heritage Artisans Week gives tri-state students a chance to learn and get hands-on experience about life in the 19th century and New Harmony's rich history. Each year, a few thousand students and geeky adults like myself attend the five day festival in the historic district of New Harmony, Indiana.
If you know nothing about New Harmony, you should know whenever they do something there it will be tasteful. My neck of the woods isn't known for good taste, and it's not particularly picturesque. Sure, there are rolling hills in places, lovely farm scenes, some interesting towns, but it's not exactly a tourist destination.
New Harmony is the exception to the rule. New Harmony was founded in 1814 by George Rapp and his Harmonist followers, in an attempt to form a utopian society. One could assume that even the stern Rappites found the muggy, midwestern summers too much, and they went back to one of their earlier settlements in Pennsylvania. When they left, they sold the site to the Welsh Utopian Robert Owen, and William Maclure, who added New to the former name of Harmony. Their utopian experiment lasted from 1825 to 1829, but split up due to quarreling amongst the residents. However, the town did become a center of science, thanks to the work and connections of Maclure and David Dale Owen, son of Robert. The tradition continues today under Jane Blaffer Owen, who made it a personal quest to restore New Harmony and make it a center of the arts. It's perhaps her spirit which drives the town toward relentless perfection and taste.
I made it to Heritage Artisans Week on Saturday, the last day of the festival. Under threatening skies, the crowd was light and the mood among the participants laid back. After a week of dealing with school children, it was probably a relief to have a smaller crowd and the opportunity to mingle with each other, many of whom are old friends, frequently running into each other on the re-enactment circuit.
New Harmony is an ideal setting for an event like this. The log cabins restored from the early days of the community provided ideal locations, and shelter from the rain. As the wind picked up and tornado warnings came and went, those in the tents cast a wary eye skyward, but shrugged it off as part of the trade. Each one I spoke with was friendly, well-informed about the ins and outs of their crafts and the history behind them. The one regret I do have about the event, was I got so involved with conversation on the particulars of native american bowmaking, and then later with Deborraha Burnett of the No Sweat Soap Company, purveyor of fine lye soap (www.nosweatsoap.com), that I forgot my stated purpose of being there – taking photos. And before I could get back to the task at hand, the clouds closed in again, and the sponsors pulled the plug on the festival.
Still, it was a good chance to reacquaint myself with New Harmony, a place you'll no doubt be seeing a lot of on this site.