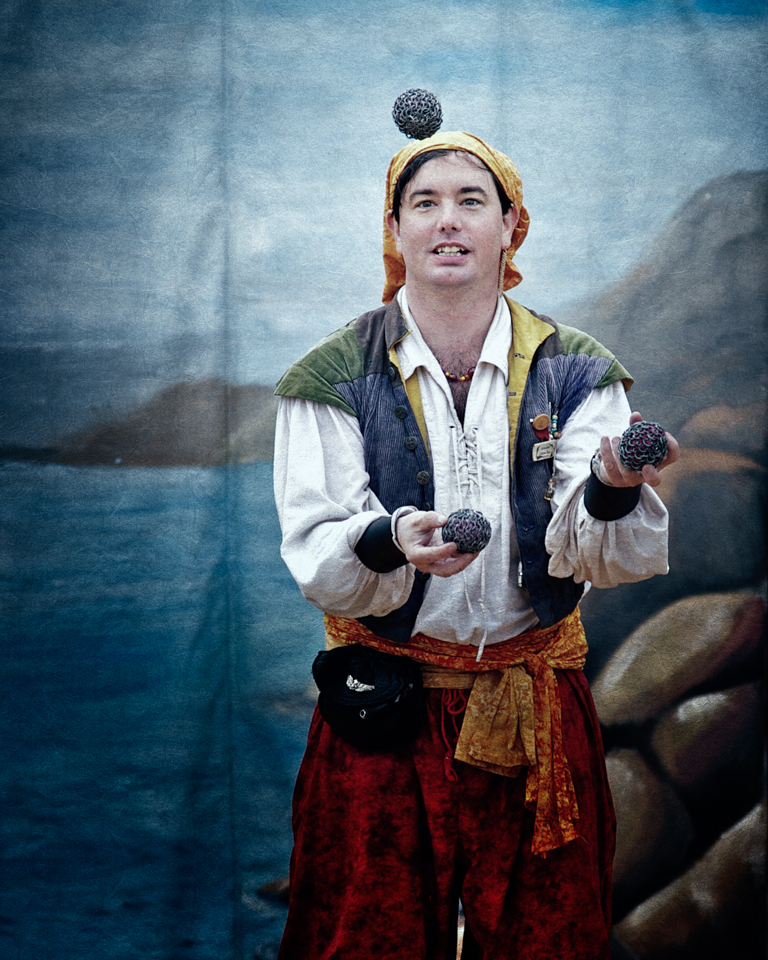 Renaissance fairs and medieval festivals are the red-headed step children of historical re-enactments. The reason is painfully obvious in the United States – there basically was no renaissance or medieval era over here. Compounding the fact that for example, the Civil War lasted about four years and the American revolution around eight, the Renaissance lasted about three hundred years, the medieval era a whopping one thousand years.
Historical reenactments pride themselves on authenticity, but how do you manage to create a cohesive event, accurate in detail for a period of time that spans a millennium?
The short answer seems to be, you don't. Most Renaissance fairs and medieval festival I've attended are short on realism and long on fun. Which perhaps in this country at least, is how it should be.
The History Trekker attended the Fishers Renaissance Faire near Indianapolis, Indiana this past October, held on the sprawling grounds of Conner Praire. So sprawling in fact, that golf carts and trolleys were on hand to haul people from the main parking area to the actual site of the event. Once deposited at the gates, you pass through and go not back in time, but rather come face to face with it, in a setting that never quite leaves the tackiness of the twenty-first century.
The authentic tries to push its head through the din – but for every group playing or singing historically accurate music from the period, there are a couple other groups playing music of the celtic variety, which in some cases will date all the way back to the 19th century, but usually contents itself with material which became popular post 1960. For every authentic medieval sword, there are a dozen fantasy swords, often with dragons wrapping themselves around the hilt and blade.
But hey! It's fun. You can't go wrong with a Punch and Judy show, a joust, Queen Elizabeth working her way through the crowd with her retinue. Day-to-day period demonstrations abound – things domestic in nature tend to dominate with a blacksmith thrown in for good measure. But let's be honest, people cooked every day, but seldom engaged in sword play or pitched battles. It's hard to begrudge a juggler who tosses in distinctly modern jokes when portraying a medieval entertainer when you're laughing and when the kids love it.
But isn't it time that we accepted one little piece of reality? Jack Sparrow is a movie character based on a ride from a twentieth century theme park. The movies were certainly interesting, but is it necessary for adults to dress in Jack's costume and do really bad imitations?
I think not.
Still, it was all good fun and good entertainment, Captain Jack aside. And the little person I took along with me, as well as myself had a good time. Which was not only good enough for us, but good enough to ensure that we make the trip again next year.
If you go: Fishers Renaissance Faire is located on the grounds of Conners Prairie, located in Fishers, Ind., just six miles north of Indianapolis on Allisonville Road (exit 5 from Interstate 69 or exit 35 from Interstate 465). Welcome Center parking is free.
Learn more:
http://www.fishersrenfaire.com