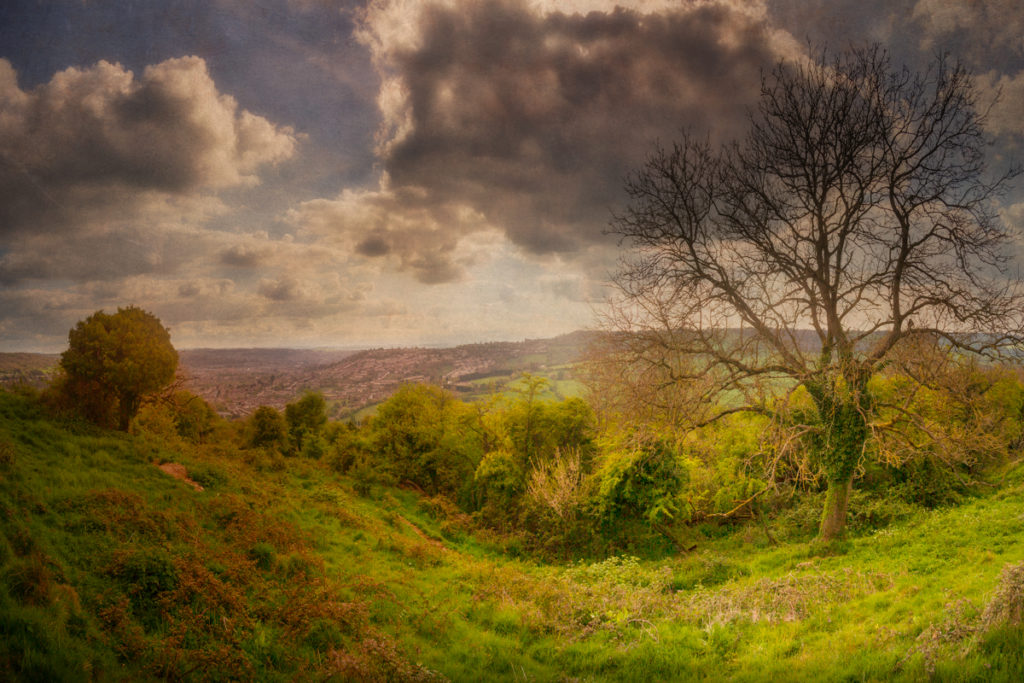 Dear H.,
I've got unfinished business in Bath.
I don't know why I was drawn to it to begin with, even before you. It just seemed like I needed to go there. When I'm there I feel like I'm looking for something. I felt it when I was there 20 years ago, I felt it when I was there with you, three years ago today. When I was there in April with you I felt it with utter certainty. I feel it now.
It feels like something is waiting for me there. Hidden. It could be enchanted. Could be danger. Could be beautiful or ugly. The feeling is unformed, but it feels like destiny. Something big happens in Bath.
I don't know that it's the town. I felt it stronger on the surrounding hills. It's where I stayed that first time, but on the opposite side.
I felt it from atop Brown's Folly as well, but more so on Solsbury Hill. It's not just the song, there's something magical up there. You looked very happy. I can't say I've ever felt more complete. I felt I just had to stand in the center of it  … but that wasn't it either.
It's not that I haven't finished with the place, I haven't started.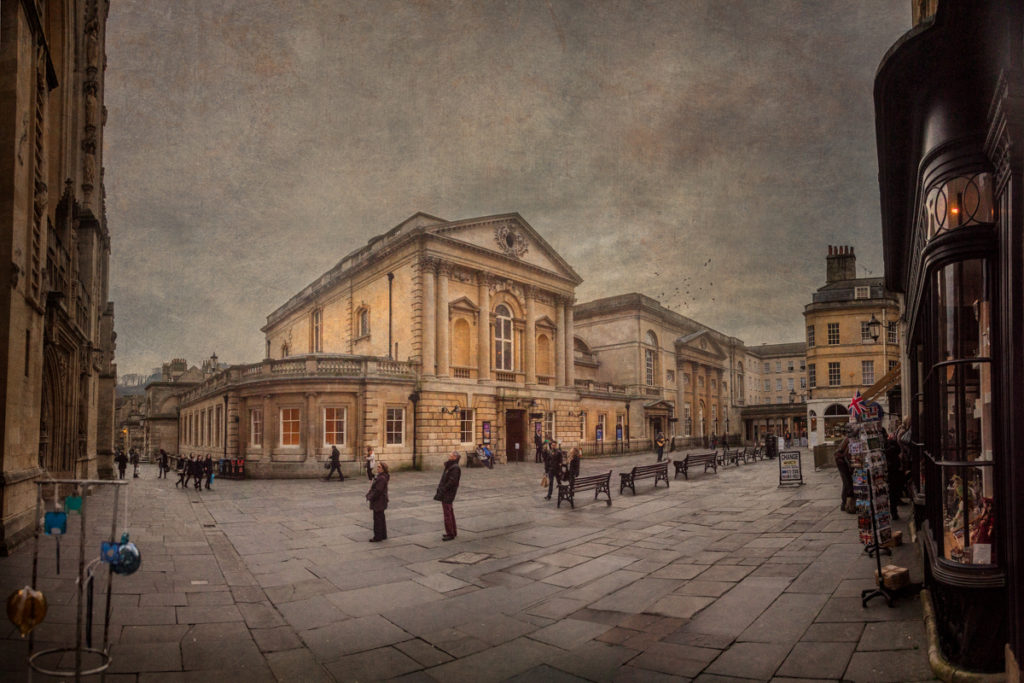 I had a similar feeling once in Newburgh, Indiana. It's an old river town, on the river Ohio. It was very late, all the shops were closed, even the bars and restaurants. It was close to Christmas and cold – ice coating the brick streets, show shoveled to sides of sidewalks.
There was a shop, a small one I'd never noticed before and in the window hung a sign that said Christmas Town. At the same time I saw it, I saw my reflection.
All it took was the word Christmas, the typeface, the colors and the materials to set off a buried memory.. It bounced around inside me, setting off triggers I recognized but couldn't quite place.
I stood there for the longest time, trying to form what was unformed and it swamping me. It was a memory that likely went back to childhood, but I never could pull it out.
That's the way I feel when I think of Bath. I saw some photos recently of a Christmas celebration going on there and it came rushing back. Unfinished business. A part of me lies on those hills, down in those streets, looking out over the river. Watching that lady sitting alone on a park bench in the square.
There was the hallway in dad's nursing home I'd walk down when you and I were apart … the sign on the door read "Bath," and I always felt like I could walk through that door and be there again.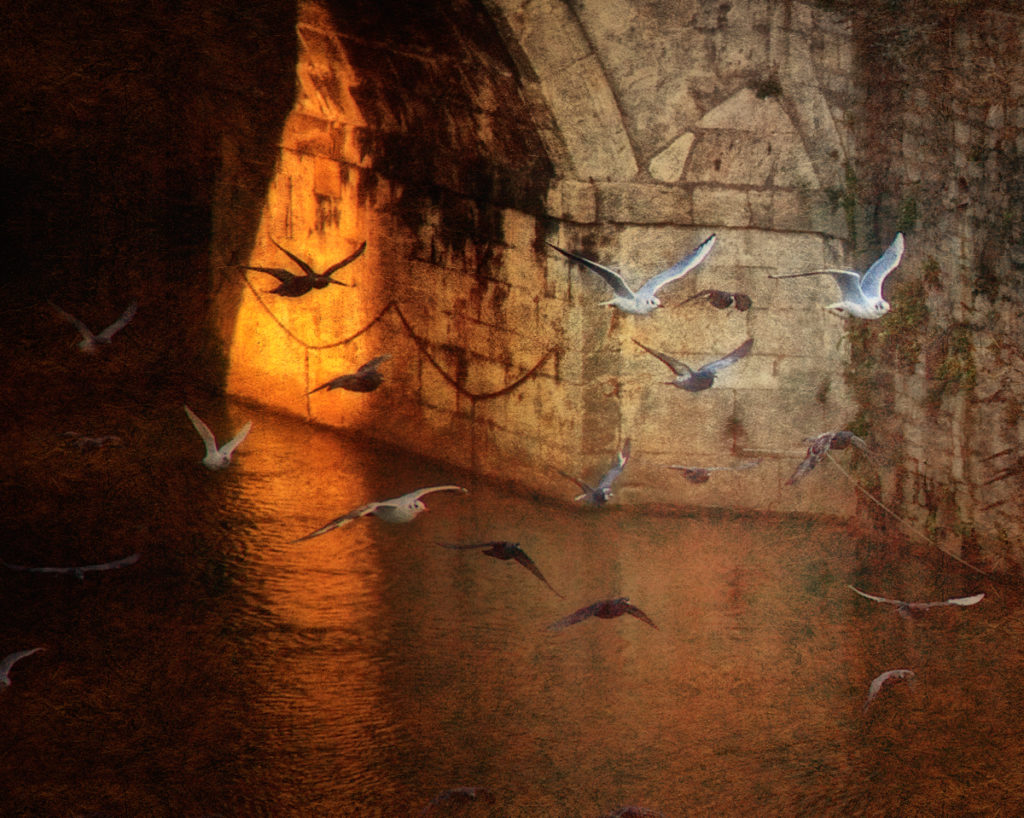 Then last spring, suddenly I was there again, happy as a tourist that afternoon. But that didn't feel the same as sitting above it later on, looking down and wondering "what am I seeing? What am I feeling?"
Then I'd turn my head and you were there and I lost track of what I was doing. Your smile was more important than answering a question it isn't time to answer yet. Not even time to ask.
Whatever pulls me there, also in a way pulled you there as well – you told me that. I can't believe that things like that just happen for no reason. And I've got fuck all else to do in the meantime … so why not figure it out?
How exactly do you go about a quest like that? Look inside? Check the classified ads for Bath? Coming events? That's where Sherlock Holmes would start, but that was a different era. Or does that era still exist in Bath? Does Moriarty still place clues in the penny advertisements? You laid it out before me, but it's up to me to find out. That's kind of exciting, and excitement has been in short supply.
It's times like these I miss you most. A new adventure to figure out … one that goes forward. One that doesn't make any sense, that can't solved by logic. My first one alone.
When I figure it out, I'll let you know.