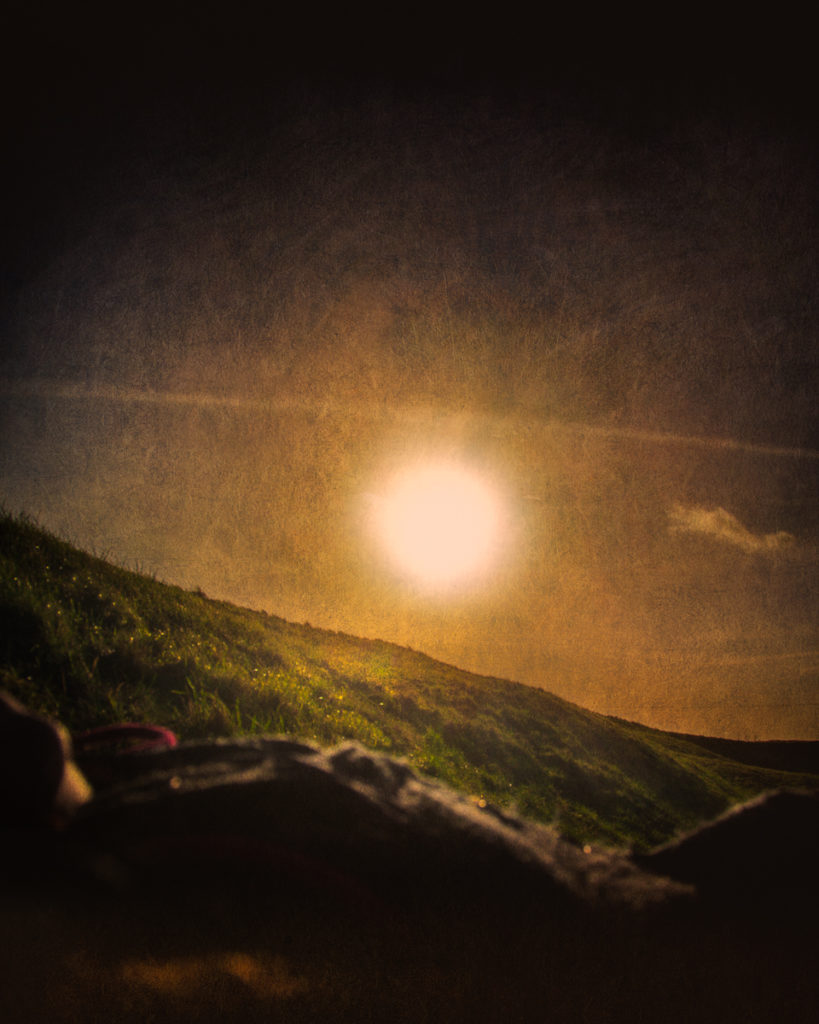 Top: In the grass at Knowlton Henge
There can be a dark side to living and loving with passion – the loss of the one you adore. It's Byronically ironic that the poet known for breaking hearts never shied from expressing the pain he found in his own.
Love seldom comes in easy to open packages, with a single sheet of instructions and the only tool needed a screwdriver. The world is less hospitable to enduring love than even in Byron's day. There are more complexities, more snake pits to fall into and it's easier than ever to walk away when things get too hard. Married couples once were preoccupied with the simple business of survival, and as our lives grow easier, there is less reliance on each other.
The mantra of our society is to not lose yourself in a relationship, whereas once that was the idea. The romantic poets of Byron's age spoke of growing together, one heart, one soul, one awe inspiring life. That's not losing yourself, that's opening your heart to hold more, something more beautiful than what you can be alone.
The point was to feel and to experience with every fiber of your being. What emotion outweighs love? What greater feeling is there than taking the hand of our beloved and leaping into the unknown? What is the price you're willing to pay for that leap of faith?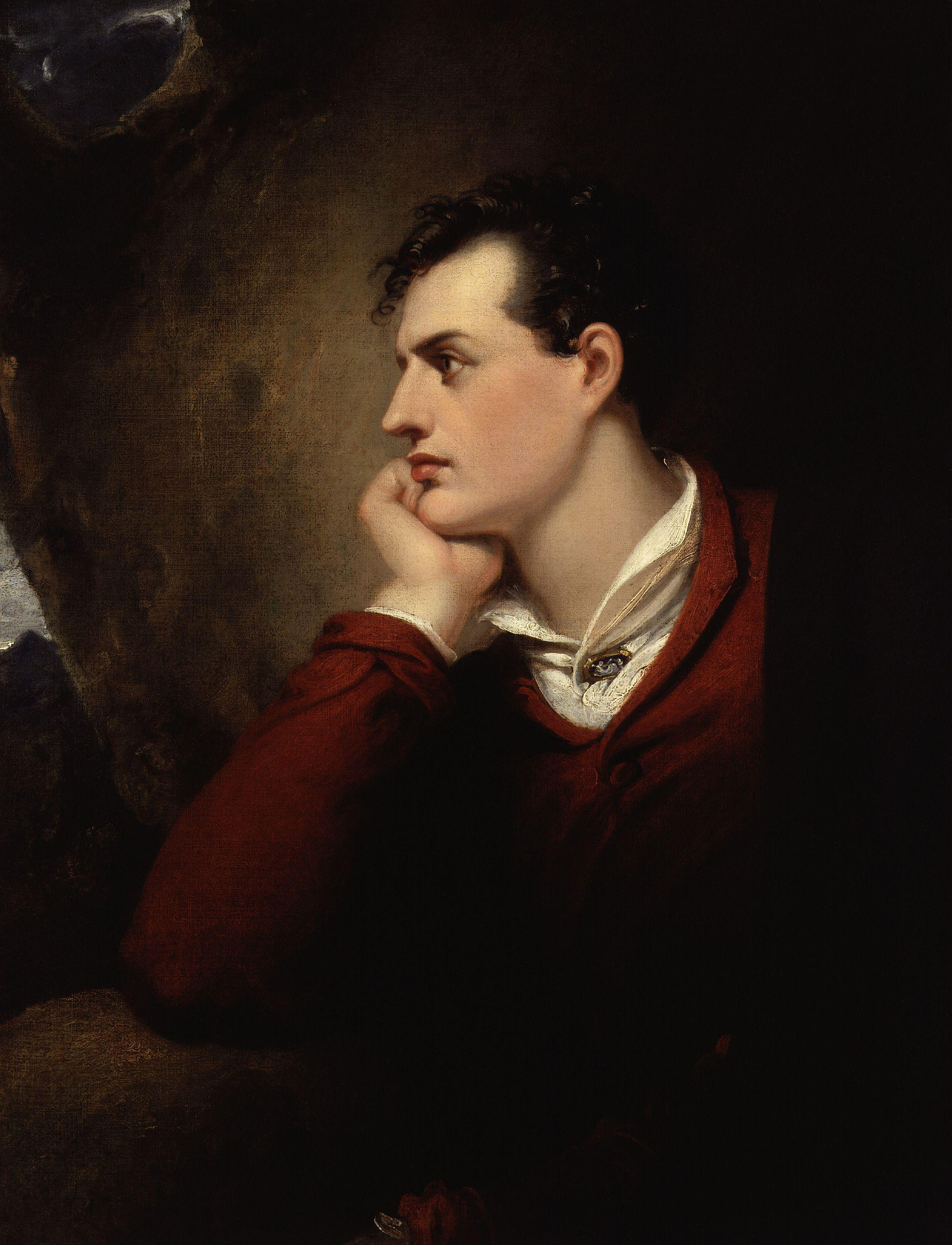 For me, I was willing to pay whatever it took. The parts of me that were truly essential would come along. The rest was easy to let go of. I was drawn by a woman's love so intense and obsessive that she oozed poetry. For the first time, I lived the life I wanted to. Then one day she was gone, taking with her that new life I'd become a part of.
When that happens, all you're left with is the pain, and to ponder the question, is that pain too high a price to pay for the experience?
Byron wrote "The great object of life is sensation- to feel that we exist, even though in pain."  That echoes the sentiment of Alfred Lord Tennyson, who wrote "tis better to have loved and lost than never to have loved at all"
The loss of your love is an illness, it's visceral. You feel sick in the pit of your stomach, your nerves are shot, insomnia, lack of appetite, apathy and lethargy. There is no cure except perhaps time and even then, some loves prove to be chronic. If you do heal there are scars you carry the rest of your days. "What deep wounds ever closed without a scar? The hearts bleed longest, and heals but to wear, That which disfigures it."
Byron wrote in Childe Harold's Pilgrimage, "The heart will break, but broken live on." 
It's in stillness and silence that the awful work of heartbreak begins. Though the love might be ripped asunder in passion and violence, it's the quiet that comes afterwards that ushers in the the real pain. The thoughts of a lover who occupied the mind are impossible to pull away from, like touching the hot burner of a stove, over and again with no control over your own hand. You can't run from these thoughts, you can't hide for they seek you out with a hundred reminders each day. The bed where you lay, the sweet notes written on a scrap of paper and kept for always, the songs, always the songs. With every passing day there's a new element added to the horror of it … the missing of her, the forgetting those details that made your life a tapestry of beauty, the day she becomes a part of someone else's life.
But I believe that yes, it is better to have loved and lost, than never to have loved this way at all. Byron wrote "sorrow is knowledge, those that know the most must mourn the deepest, the tree of knowledge is not the tree of life." 
I always tell my kid not to feel bad to see someone hurt this way. Because to hurt this badly, you had to have loved equally, and had that much pleasure. It's a fair trade.
"It is only by enlarging the scope of one's tastes and one's fantasies, by sacrificing everything to pleasure, that the unfortunate individual called Man, thrown despite himself into this sad world, can succeed in gathering a few roses among life's thorns"  ― Marquis de Sade
It's this desire to live and love passionately, fully, that leads to the pain. "The thorns which I have reap'd are of the tree I planted," Byron wrote. We think sometimes that it would be easier to walk away from this all consuming love, to love in a manner more befitting this age. It's a shallow age, we love the glittering surface and look for black and white answers now. Earnestness is frowned upon, sarcasm is the communication tool of the day.
It wasn't always so.
Stanzas to Jesse, Lord Byron, 1807
There is a mystic thread of life 
So dearly wreathed with mine alone 
That Destiny's relentless knife 
At once must sever both or none 
There is a Form on which these eyes 
Have fondly gazed with such delight 
By day that Form their joy supplies 
And Dreams restore it through the night 
There is a Voice whose tones inspire 
Such soften d feelings in my breast 
I would not hear a Seraph Choir 
Unless that voice could join the rest 
There is a Face whose Blushes tell 
Affection's tale upon the cheek 
But pallid at our fond farewell 
Proclaims more love than words can speak 
There is a Lip which mine has prest 
But none had ever prest before 
It vow d to make me sweetly blest 
That mine alone should press it more 
There is a Bosom all my own 
Has pillow'd oft this aching head 
A Mouth which smiles on me alone 
An Eye whose tears with mine are shed 
There are two Hearts whose movements thrill 
In unison so closely sweet 
That Pulse to Pulse responsive still 
They Both must heave or cease to beat 
There are two Souls, whose equal flow 
In gentle stream so calmly run, 
That when they part—they part?—ah no! 
They cannot part—those Souls are One.
If we can't believe in the poems, the novels, the art which we love and made us who we are, then what good is art? If art leads us to believe, to trust, to hope and have faith, if it leads us to take a leap into the dark, then art has value.
If all art does now is entertain, distract and while away the hours till death, then there are no higher aspirations left in us.
When our love songs becomes a fantasy, art becomes little more than advertising. Fuck that. I'll stand with Byron just as he stood with the Greeks, to the death. For once you've lived your dream, death holds no sting. You grow amazingly fearless in heartbreak, when all your fears have come true. Because you know that no matter how bad it gets, you've survived the worst it, and you still live.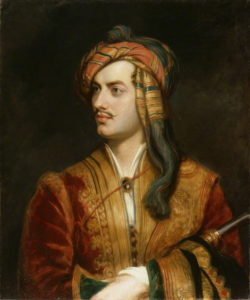 Byron also wrote "Like the measles, love is most dangerous when it comes late in life." As we grow older we know ourselves better, know what we want and perhaps more important, know what we don't want. To take that leap in the face of self-knowledge means all your experiences, all you have ever believed finds culmination in that love. When that love breaks, the ties to who you were are broken.
It becomes more essential than ever to find who you are inside, or risk losing yourself forever.
Even as a broken mirror, which the glass
In every fragment multiplies; and makes
A thousand images of one that was,
The same, and still the more, the more it breaks;
And thus the heart will do which not forsakes,
Living in shattered guise, and still, and cold, 
And bloodless, with its sleepless sorrow aches,
Yet withers on till all without is old,
Showing no visible sign, for such things are untold.
Byron sought to forget, and perhaps there is wisdom in that. But I do not wish to become what Byron became. He wrote "I will keep no further journal of that same hesternal torch‐light ; and, to prevent me from returning, like a dog, to the vomit of memory, I tear out the remaining leaves of this volume." 
It's a sort of death, to lose the love you've sacrificed your life for. It's in that death of the soul that you find the way to go on. You'll never be the person you were before. The thoughts, dreams, hopes and memories that melted your heart will only lead now to pain. It's only by letting go of all of that that you can go on, and not carry a car load of baggage with you. After the death there's a resurrection, not a reinvention. You have to learn to see anew, but you can't lose the best part of you, the part of you that was born in that love.
The pain will fade in time, the darkness will pass. Or perhaps not. Perhaps the scars that Byron spoke of never fade, perhaps the old wound never heals. I'm fine with that too. I'd rather love from afar, honestly and with passion and have it unrequited, than to slip back into the grey, ashen world of acquiescence which she kissed from my lips.
There is beauty in pain. We find who we truly are in heartache, when all is stripped away except the core – raw and quivering like a heart on a plate. We look in the mirror that horrible morning after and who we see staring back is who we are.
Perhaps for some, love is an illusion too easily broken. Yet some of us continued to love, because we  looked in the mirror and loved who we had become.
And we kiss it goodby, then go off to seek life once more, with even more hunger for it than before. You know you're ready to move on when you've lost the bitterness, the anger, that overwhelming sadness, when you stop seeing her as the devil she became in your heartache, and see only a woman again. It's alright to still love her, but it's alright to open your heart further as well, to hold new love.
Stanzas To A Lady, On Leaving England
by Lord Byron
'Tis long since I beheld that eye
Which gave me bliss or misery;
And I have striven, but in vain,
Never to think of it again:
For though I fly from Albion,
I still can only love but one.
As some lone bird, without a mate,
My weary heart is desolate;
I look around, and cannot trace
One friendly smile or welcome face,
And ev'n in crowds am still alone,
Because I cannot love but one.
And I will cross the whitening foam,
And I will seek a foreign home;
Till I forget a false fair face,
I ne'er shall find a resting-place;
My own dark thoughts I cannot shun,
But ever love, and love but one.
The poorest, veriest wretch on earth
Still finds some hospitable hearth,
Where Friendship's or Love's softer glow
May smile in joy or soothe in woe;
But friend or leman I have none,'
Because I cannot love but one.
I go – but wheresoe'er I flee
There's not an eye will weep for me;
There's not a kind congenial heart,
Where I can claim the meanest part;
Nor thou, who hast my hopes undone,
Wilt sigh, although I love but one.
To think of every early scene,
Of what we are, and what we've been,
Would whelm some softer hearts with woe –
But mine, alas! has stood the blow;
Yet still beats on as it begun,
And never truly loves but one.
And who that dear lov'd one may be,
Is not for vulgar eyes to see;
And why that early love was cross'd,
Thou know'st the best, I feel the most;
But few that dwell beneath the sun
Have loved so long, and loved but one.
I've tried another's fetters too,
With charms perchance as fair to view;
And I would fain have loved as well,
But some unconquerable spell
Forbade my bleeding breast to own
A kindred care for aught but one.
'Twould soothe to take one lingering view,
And bless thee in my last adieu;
Yet wish I not those eyes to weep
For him that wanders o'er the deep;
His home, his hope, his youth are gone,
Yet still he loves, and loves but one.