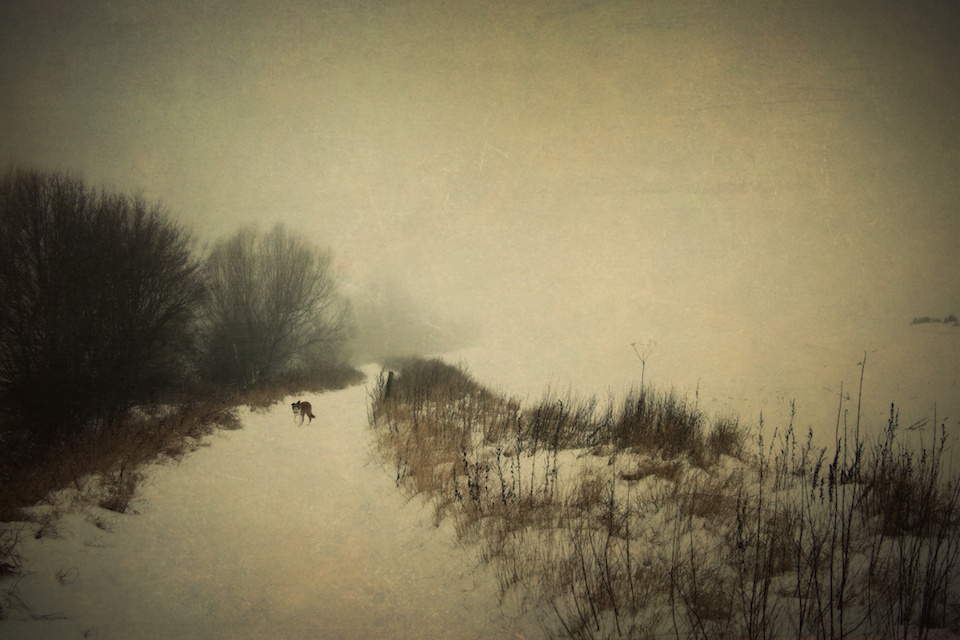 Path along the River Lark in the snow with my little friend, Bury St Edmunds, Suffolk. By Cate Davies. Click to order a print
With snow comes silence. The barely perceptible sound of snow falling at night, when all is silent and the world is asleep.
I love snow, day and night. But it's during the night when it's most magical, when the tiny shards of light reflect on the surface, like glitter sprinkled over a white carpet. A snowfall at night lights up the landscape, dimmer than the sun, brighter than the moonlight – a whole other kind of light. A light born in silence.
Unless you're in the country snowfalls lose their charm quickly. It's shoveled, plowed and turns quickly to big piles of ashen grey. We've forgotten how to play, too hung up about getting places, when the only place we need to be is outside to build a snowman, snow angels, a fort, to bean your loved ones in the head with a snowball. The joys of bundling up and if you're with a loved one, the joy of unbundling and finding the warmth within.
I pity those who live more than walking distance from a country snowfall.  There's too much to see, too much to take in and you need the silence to push away the distractions.
Or as in the case of today's image from Cate Davies, a special friend. I asked her what she loves about the snow … "How it all just looks white but then if you look closely it's so intricately beautiful. And cold."
The cold, that's part of the charm isn't it? Death is only a short time away if you don't find your way to heat, if you don't have enough layers. You feel it on your face, working its way in through our eyes, your breath. And yet we tempt death to find the beauty in the blinding white.
+ + +
Maybe that's the charm in ghost stories at Christmas? It's an old tradition, predated by winter tales, which are as old as humanity probably. There's something about being hemmed inside by the cold, nothing but a fire, friends and family. My guess is it started with the kids … they're a captive audience and it's so much fun to terrify the wee ones before bed. But in reality, it's the rest of us that love the thrill of ghost stories as much as the kids.
I'll be talking about this Wednesday night, as the guest of Greg Bakun up in Minnesota. His show is called MN GhostBox where they cover a wide variety of topics in the paranormal,
Metaphysical topics, Bigfoot, UFOs, miracle and whatever else. Greg also likes to include paranormal evidence on his show whenever possible.
I can't say I have evidence, other than what I've seen with my own eyes. But I'll be sharing that, as well as how the tradition of the Christmas ghost story came about, and where it can still be found today. If you're good boys and girls we might even read a story or two.
MN GhostBox airs live every other Wednesday with the following week as an encore episode on www.para-x.com. The live show is at 11pm EST/10pm CST/8pm PST. At www.para-x.com, you can join in the chat room and be a part of the conversation.
+ + +
Here's another Christmas ghost story for your holiday horrors …
This one from British author Algernon Blackwood and it's particularly creepy … The Kit Bag
Click here to read The Kit Bag by Algernon Blackwood
And since winter is almost here …