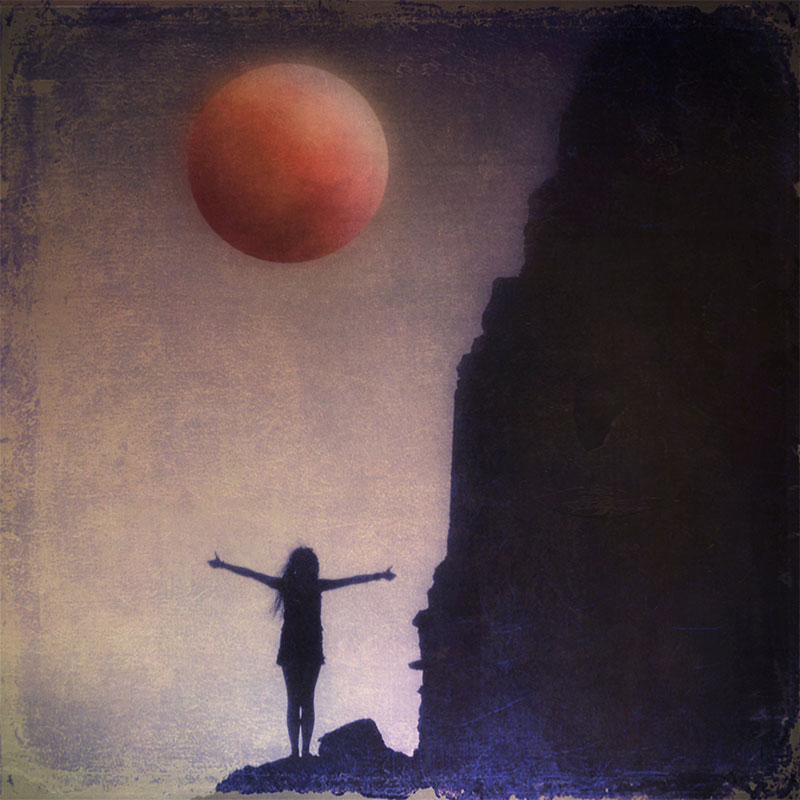 Blood Moon by Cate Davies
IT WAS THE BLOOD MOON a couple years back. UK photographer Cate Davies was dying to see it, but it wasn't visible there that year. I was supposed to send her a photo of it. It was cloudy, I was lazy. I took a picture of it from my phone through my window as I went to bed. It was a feeble effort.
So she imagined it instead. What she imagined is my favorite image on the Wytchery site. It's the magic and majesty of the moon, not the reality. Though perhaps her reality of the moment was far more real than mine, even if it was in the imagination.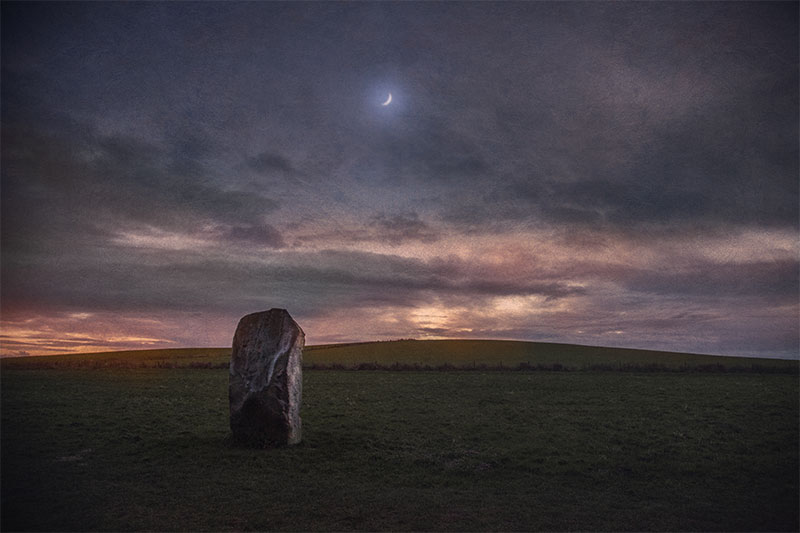 IT WAS JANUARY OF THIS YEAR, and I was tromping around Avebury in Great Britain. Usually I have a plan when I walk out the door. Today I just decided to go "that way."
I walked along the river Kennet from Avebury, a fairy tale setting sprung to life. The summit of Silbury Hill started peeking over the horizon. There was a bend in the river, an arched stone bridge spanning the water … it was idyllic.
It was an amazing couple of hours, a beautiful sunset from the heights, looking down on Silbury and below me, West Kennet Avenue, the procession of stones four thousand years old that lead to Avebury.
I scrambled down the hill as dusk fell. The clouds that had made the sunset so spectacular let the heavens through in tantalizing glimpses … a patch of stars here and there shining in the blue. And then there is was, over the stones, the moon rising to meet me.
The moon is how I tell the time, the long time. Each new cycle forces me to ask, what did I do this cycle? What did it find within me? The crescent reminds me to start in earnest, whatever has my fancy at the moment. Because the peak is always coming, and it's always just days away.
It's the mismatched madness of the world that makes it an interesting place. So we offer an American moon by a British artist, and a British moon from an American artist.  Both images are available from The Wytchery as fine art prints for your walls.
Blood Moon by Cate Davies
Moonrise Over West Kennet Avenue by Todd Atteberry