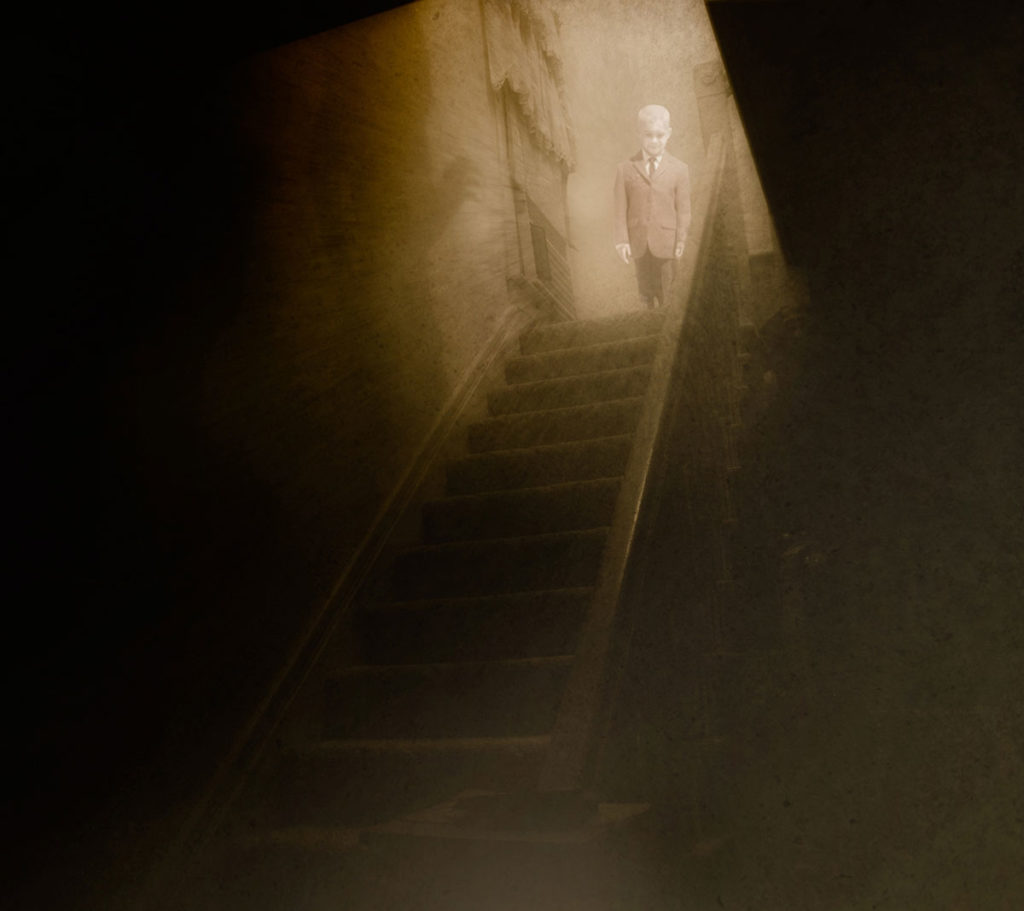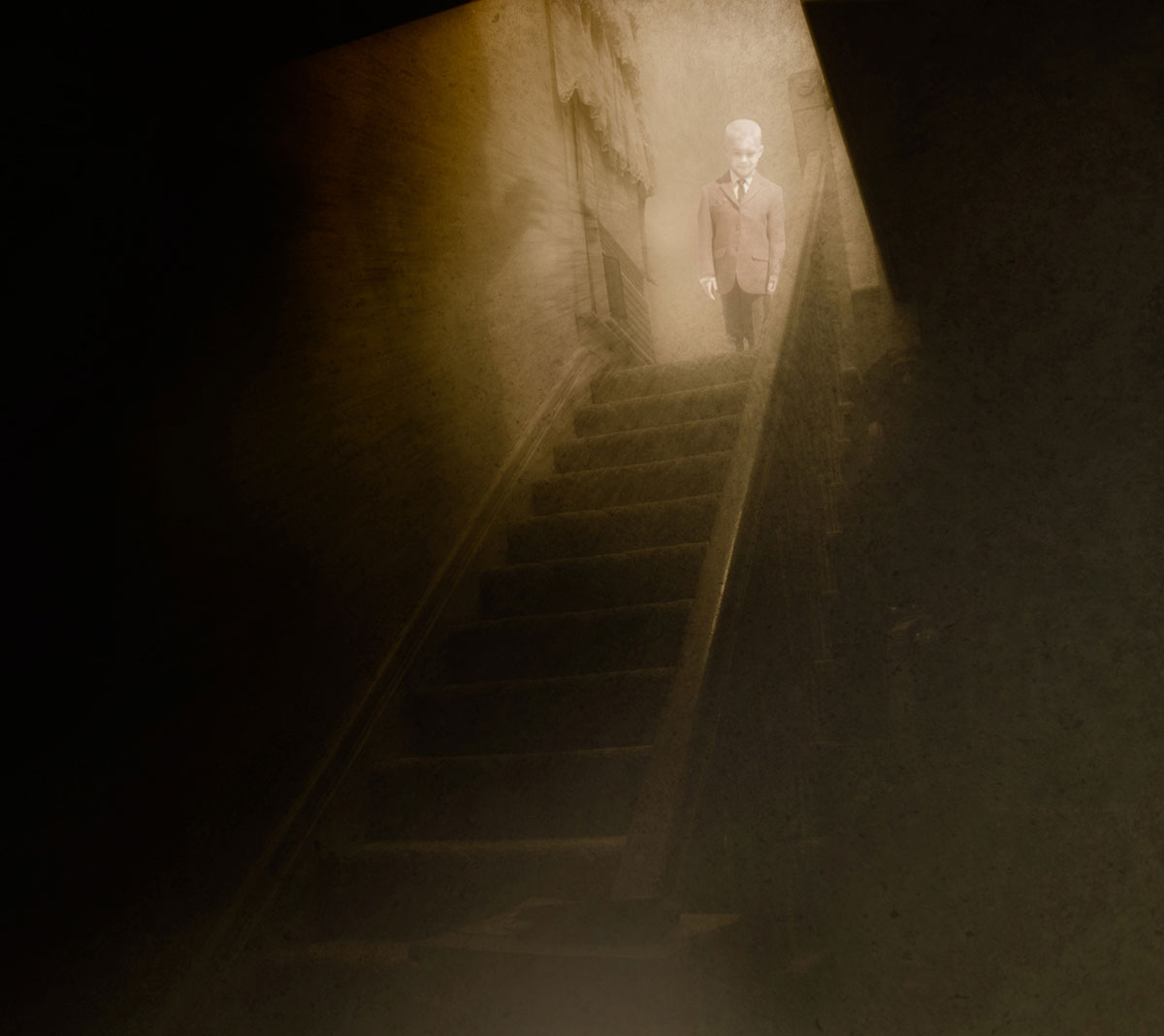 Author's Note: This is the first in a series of pieces on my childhood home. It's my own story, more or less. I did fudge a few details to protect the innocent. I'm in the process of whipping it into shape, to stay or to sell it and go. It's like This Old House with ghosts, and if anyone has any ideas, I'm open to suggestions.
My sister is dead set against telling the ghost stories from the house. She doesn't believe them, and she's worried it could drop the property value. I believe it might actually increase it. Might make the stories more suspect, but I was the one who lived them. I don't need convincing.
And yes, that's me at the top of the stairs above. My line produces cute kids. Often times I'd find myself at the top of those stairs, scared shitless and needing to go downstairs to tell my mother. Which meant walking through the darkness, down a staircase in which I'd already seen a ghost twice. Makes for an interesting childhood.
Anyway, welcome to my home.
+ + +
There are ghosts here. The house is full of them. Some ghosts never leave.
At least that's what you get from the books and the films. A ghost might be seen once, then again thirty years later. But if it's seen, and remembered, the tale lives on for generations, even though the ghost might have only been there for a few seconds.
Then again, I've seen the white lady at the George and Pilgrim Hotel in Glastonbury, and she's been around for a few hundred years at least.
I'm the last one alive who has fully claimed to have seen anything in this house. A few have felt things, someone who was dear to my mom felt her come up from behind and pat her cheeks with cold hands, just as she used to. Which of course could be a memory replaying, but that's just a ghost of a different type.
I was working downstairs a few months ago and my hair kept falling in my face, and she was nice enough to brush it back once even.
And then there are the footsteps. My kid heard them at Christmas. I told him he was probably imagining it. Then we both heard them. Boots on hard wood floors. We're not the first to hear those.
A friend of mine said he saw a man in the dress of an engineer on a locomotive standing there, watching me a few months ago. But there might have been weed involved.
A few of us saw shadow people over the last couple of years, or brown ghosts as some call them. That could have been mom, based on location and the fact it seemed to be a bit short. Moved way too quickly for her though. Still, that seems to have dropped off. I felt her around for a while, but it felt like she left around Halloween the year after she died.
I moved into this house a bit before my second birthday, with my parents and two sisters. I lived here till I was eighteen, and once for a bit shortly after. I saw shit then. After that, I never wondered if ghosts exist, It was a certainty, and amongst my earliest memories. I moved back about ten years ago. I haven't seen shit like that since.
I was in high school before I ever slept with the lights off. It's not that I was afraid of the dark. I was afraid of what was in the dark. Which is ironic, as most of the time what I saw and experienced happened in the daylight, or as often as not. But I didn't really think about it much then.
My dad never would sleep upstairs in our house so their bedroom was downstairs. Mom convinced him to move the bedroom upstairs once all the kids were gone. He did so, but if he was here alone, he slept downstairs in his chair.
My Granny Bert was the first to see a ghost here. Sitting in the living room shortly after we had moved in, she saw the man who used to own the house walk through the living room and out the front door. She wasn't one for ghosts or believing in things you can't touch or see. But she always believed she saw him passing right in front of her.
He lived here with his wife and daughter. She said his daughter wasn't right, she was kind of funny. Harebrained. Didn't say any more. Honestly, I don't want to know the history of the house. I know how the imagination works. This place scares me enough already. I do know from looking at the census records that the harebrained girl got married, moved out, then a few years later back in with a little boy.
I saw the ghost for the first time just before I turned five. I didn't even know what a ghost was at the time, and didn't know to be afraid. But I knew it was wrong, that it wasn't supposed to be there. As time went on I saw it on other occasions, but only once in the house. I saw it on the lawn and a couple other places, once several miles from here, in a graveyard. It was then I starting thinking it haunted me, not the house.
Later I had a reason to be certain. But that's for later.
My sisters originally had the back bedroom upstairs, then during a storm one night a certain strange incident which they claimed not to remember, and my mother never could explain, caused them to vacate that room. I remember it, though I was very young. My sisters were crying, my mom trying desperately to quiet them and dad pacing around the room, while the storm raged outside.
Which left the room to me, as I was too young to know anything about ghosts or fear anyway.
Eventually I learned to fear, and so I lay in bed every night, my eyes pinned open, watching and waiting. I never drifted to sleep, but rather I would be too exhausted to stay awake any longer. Some nights the fear was too great, listening to the noisy silence of the house, the only comfort was the sound of my father snoring. Aside from that I was alone in the world.
Many was the night I had to face the terror of rushing from my room, through that door, never knowing what was waiting on the other side. Some nights that's all it took, knowing that nothing was there. And I could turn around and go back to bed.
Other nights I had to make the descent down the stairs, through the darkness of the hallway to my parent's bedroom and wake up my mother. I knew what her response would be, to tell me that nothing was there, and to go back to bed. But I had to find my way through the darkness anyway, just to be able to say those words …
"Mommy I'm scared."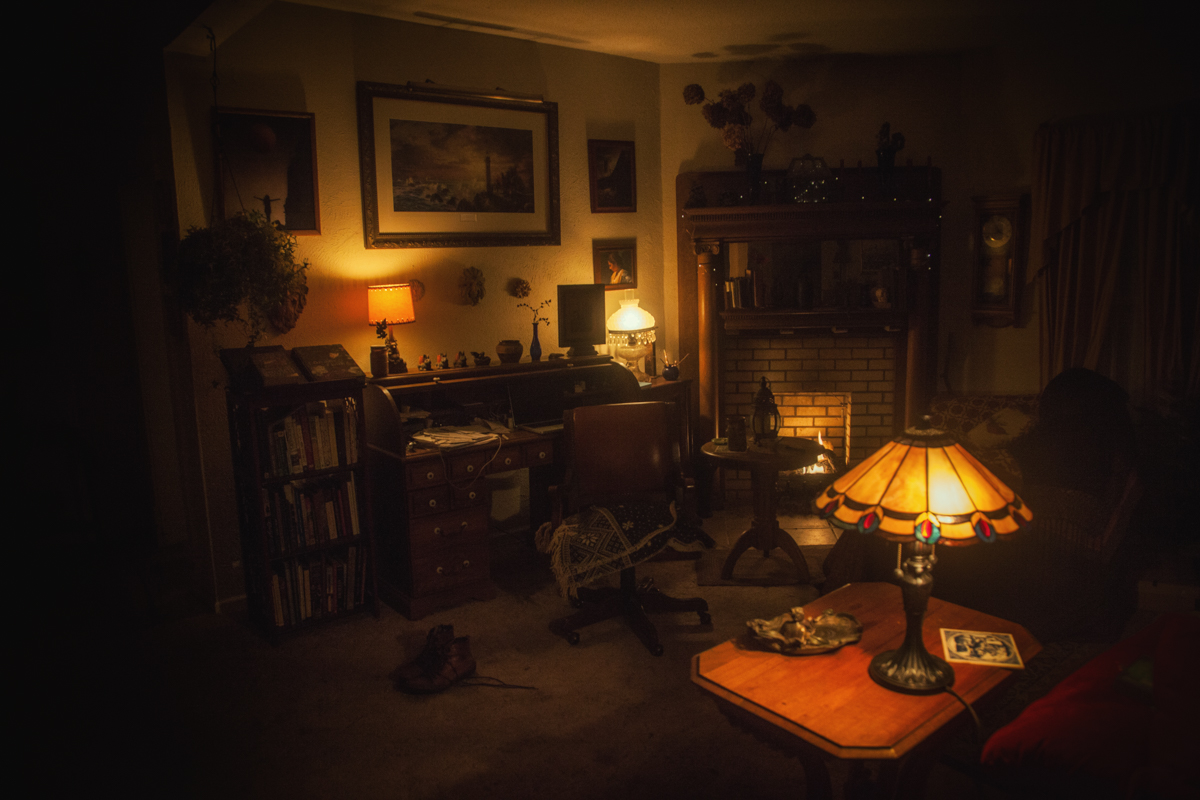 + + +
This is the living room, or half of it. The half I live in. The house is too big to heat, so I spend a lot of time near this fire. It's not much, it was built for coal, now it's gas and not very efficient. But if you're close enough you can feel it on your skin, which gives the illusion of being warm. I've gradually moved some of my stuff downstairs, hung new pictures, got rid of mom's fucking angels.
It needs paint, and it needs the carpet yanked up. But there are issues with the floor so for now, I live with the stains. Those are my parent's stains, and I can identify every one of them. Every horrific incident in their declining years, as age overtook coordination, the falls, the blood, the piss and shit.
The first Christmas I remember, the tree was where my desk is now. I remember my two sisters and how excited they were. I was still a bit young to understand Christmas. It was still a bit mysterious to me, this man who came down the chimney, when our chimney was sealed up. He knew all about me, even things my parents didn't know.
It kind of creeped me out. I didn't care for him whenever we'd meet. I didn't like having to sit on his lap. It seemed like a test of bravery.
I remember my lost sister in this room most of all. I don't remember her much upstairs. That was their room and I was to keep out. So the only times I was in there was when they were gone. Snooping.
But I remember her here, as a little girl. More of a feeling than actual memories I suppose. It's also where my crib was, and she used to guard it and talk to me. I miss her.
That's what family ghosts are, people we miss so much they become real. To the left of my desk used to be a green chair where my grandpa always sat. He wasn't really my grandpa, but that's long and confusing. A few times I called him that, and I meant it. And he called me his grandson, so that's all that counts.
He went mad and ran everybody off. At his funeral, there was only me and one other person who had known him for more than a couple years. I was the only one in my family who went, though they knew him for over fifty years.
Where the couch is, which isn't in the photo, is where my crib was.  That was the first time my mom saw anything here. She was outside on the front lawn, and looked in the window and saw someone standing over the crib. She ran inside, nobody was there. She said there were just wet footprints on the floor.
Of course she didn't tell me this when I was young. I was over thirty and long gone, but still pissed that she knew there was something there and always sent me to bed to face it again. She said she thought it was all just her imagination.
Guess she didn't collate her imagination with Granny Bert seeing a man in that same room now, did she?
There was a hall here, but it was torn out along with the porch. The smaller rooms would have been easier, and cheaper to heat, or to cool. There are sliding doors encased in the wall, cherry wood. Having access to those would make summers cooler. On a windy night such as this you can still hear them rattle on occasion. The wind vibrates the floors upstairs even. You can feel them bounce, like a boat on the sea. Makes the floors squeak and pop as well. Sounds like footsteps.
The house doesn't need ghosts. Its nature is spooky enough.
+ + +
I never intended on staying here, just a few months till I found someplace close to my son, about an hour from here. I had moved from New York – talk about culture shock. I went back east for quick trip and when I got back, neither of my parents could walk. The doctor said this was just the new normal, part of the aging process. I checked into it, it was a mixup with medication, prescriptions and multiple doctors. I knew if I moved out mom and dad needed to go into a nursing home. I couldn't do that to them.
So I stayed. Mom went into a nursing home for a short period and died two years ago this month. Dad was in a nursing home for a little over a year and died two months ago. I'm a bit raw.
A friend of mine warned me about staying with them and doing this. His sister did the same with his mom. She died right after her mother. It wears you down, it becomes all consuming. You never sleep through the night, but are usually up several times, helping them to the bathroom, fetching a glass of water or medication, picking them up off the floor, taping together wounds. Years of that.
Sleep deprivation does funny things to the mind. Your decision making abilities go a bit haywire and you can take on many of the characteristics of a speed freak. Your metabolism slows down and eventually your necessary bodily processes begin to lag.
Work becomes difficult, my business dwindled to almost nothing. Lack of sleep, lack of real exercise damaged my health. Then I fell in love, had a family, but I lost that too. Not directly because of my parents, but because I had to come back here. If only I would have stayed …
In return, I got the house, a house in a small town in the middle of nowhere. Plus all the expenses of the house which I never wanted to live in, which I am afraid to live in even now. Till I met the love of my life, I never knew where I wanted to live. I just knew I didn't want to live anyplace close to here.
There's truth in those old haunted house films. A house sucks you in. Even if no one else can see the ghosts, even if you can't, you can feel them. And just like the films, they want you to stay. They preferred it when I had a family here, but they'll take me.
I've only felt at home in two places. This was one though that was years ago. The other is forever closed to me. It's not just that I don't want to leave, it feels safe here in a way. And there's no place I want to be, that wants me there.
But I know in my heart, this place is a trap. If I stay now, I'll never get away.
There are no jobs for me in this town. My occupation doesn't exist here. The nearest place I could work is an hour or so away. A town I've lived in before …. I'd rather stay here with the ghosts I think.
So it makes sense to get out, while I still can. That means selling it, and this isn't a town where houses go quickly. If you want anything close to the actual value, it's a year or two on the market. If you don't stay in it, it falls apart, or becomes a meth lab. If nobody's living there, you can't insure it. So if the meth lab explodes, you lose everything. The value of the land wouldn't pay to have the ashes of the house removed.
It's a great house in a lot of ways. It was built in the 1880's probably. Once it had a nice porch but that was enclosed to make the living room bigger. That breaks my heart. They had another room built on a few years back which breaks my heart as well, for different reasons. It's where they had their bedroom those last years. I won't talk about the shit I saw there. I never wanted to go back in there, then my step daughter stayed there for a while and made it pure again.
She's gone now too, one of the living ghosts. I don't go in there now except to get things from the closet.
Which is a shame It's the biggest room in the house, huge closets, a king sized bed, lots of storage and the only efficient air conditioner and fireplace here. But I can't bear it, even just for a few minutes.
I lost her and her mother a couple months back, shortly after dad died. She said I drove her away, and it's partly true. We were to be married at Christmas, I was to be moving in with them, but what I didn't realize, no, what I convinced myself wasn't true, was that to her that was just an impulsive suggestion.
They were going to move here, and for a short while they made this house a home again. It was a miracle, from the gardens to the porch, they left their mark everywhere. There are things of theirs I simply I can't remove.
My step daughter hid strands of tinsel in various places around the house, along with obscene drawings on post it notes. I still find them tucked away.
They changed their mind. Never really said why, each blaming the other. But as I've learned since then, or as they told me, people change their mind all the time. Just get over it.
There was no discussion of me going there after that, or the wedding. That was off limits. I knew dad was dying, I wanted a plan to escape here. I was desperate for ideas. She wanted me to stay in the house for two more years, in case her daughter wanted to go to university here. Two more years alone, apart from them, and trapped in this house.
She wanted to live here, but it was just impossible to uproot her life, for her roots are too deep. Okay, even she didn't want to live in this town, this part of the country, but the house was a draw for her. She looked perfect here. I can barely look at the garden part of the garden, where I stood and watched her watering plants, knowing for certain I'd never seen a more perfect sight in my life.
All the thoughts of her I had before are intact, and those were constant then, enough for me to change my life for. They haven't slowed down … she's still right over there watching me type. I can't see her, but I can feel her. Many of my most beautiful memories of her happened in this house. I can never forget that. She made it her own.
Anyway, that's enough of that, this isn't her story. They think me mad, and it's funny, when all that shit was going on I was completely sane. At first it was a relief. She ran from me, I ran from her. Till I hit the borders of actually losing my feelings. I couldn't do that. That meant losing who I am.
The madness came later. It's a constant struggle. There's a lot of pressure, settling estates, hearings with Medicaid, unpaid bills, trying to build up a business again, trying to clear out this house. When the enormity of the loss set in I was prepared. I had stashed back a supply of my parents pharmaceuticals, knowing at some point in the future I would need to medicate myself. That time came. We're all sane when we sleep.
I managed to break free of those. I'm on St. John's Wort and Star of Bethlehem now. The drinking has subsided as well. I drink my absinthe in the traditional manner lately, with water and sugar rather than straight.
Which means having to deal with those thoughts. I lost the love of my life and the love of a child, almost overnight. I'll never see them nor hear their voices again. They still live, but they've made themselves dead to me. That kind of pain is staggering, and you can't stagger through the rest of your life. You eventually have to deal with it.
Then there's the rest of the loss. When I walk through the old dining room in the dark, where their bed used to be, I still expect to hear my mom speak. When you'd come in at night after doing God knows what, you had to walk right past their bed. Close enough where she could grab you, and some nights she would. The other nights she'd wait till you were right beside her and say, "where you been?" You kept moving, trying to get your back to her to say "just out," so she couldn't smell whatever noxious substance was on your breath. Move too quick and she made you come back. There was an art to it.
I still hear her voice, though I know that's in my head. Same for dad. It was just him and I here for a few months. At times it was fun. Most of the time it was a struggle to keep him off of the floor and out of danger.
They had a doorbell they'd ring if they needed something, I had the chimes for it in my rooe. I still cringe when I hear a doorbell. There's nothing like coming down the stairs into their room and seeing mom's leg busted open to the bone. Except perhaps seeing it often enough that it becomes commonplace.
Occasionally I remember growing up here. There's my dear lost sister playing her flute on her bed in the afternoon, which was just about three feet from where I sit now. There's the scampering of our dog's feet on the wood floors. They're carpeted now, except I've started pulling that up where I can.
It's funny, you remember the sounds of a hardwood floor, or even tile floor years after hearing it. When I first saw the floor again, I could tell you instantly which boards squeaked. I remembered the sound of the tile up here before I even stepped on it. I was surprised – I thought it was wood. But as the carpet came up and I saw that checkerboard pattern, a part of my childhood was restored.
I still sleep with a light on, though that's from years of needing to fly out of bed whenever that chime went off. Or is it? it's a small light, doesn't really illuminate. It's just something to focus on when your eyes pop open at an unknown sound, or a thought too horrifying to face with your eyes closed, where your others sense are more alive.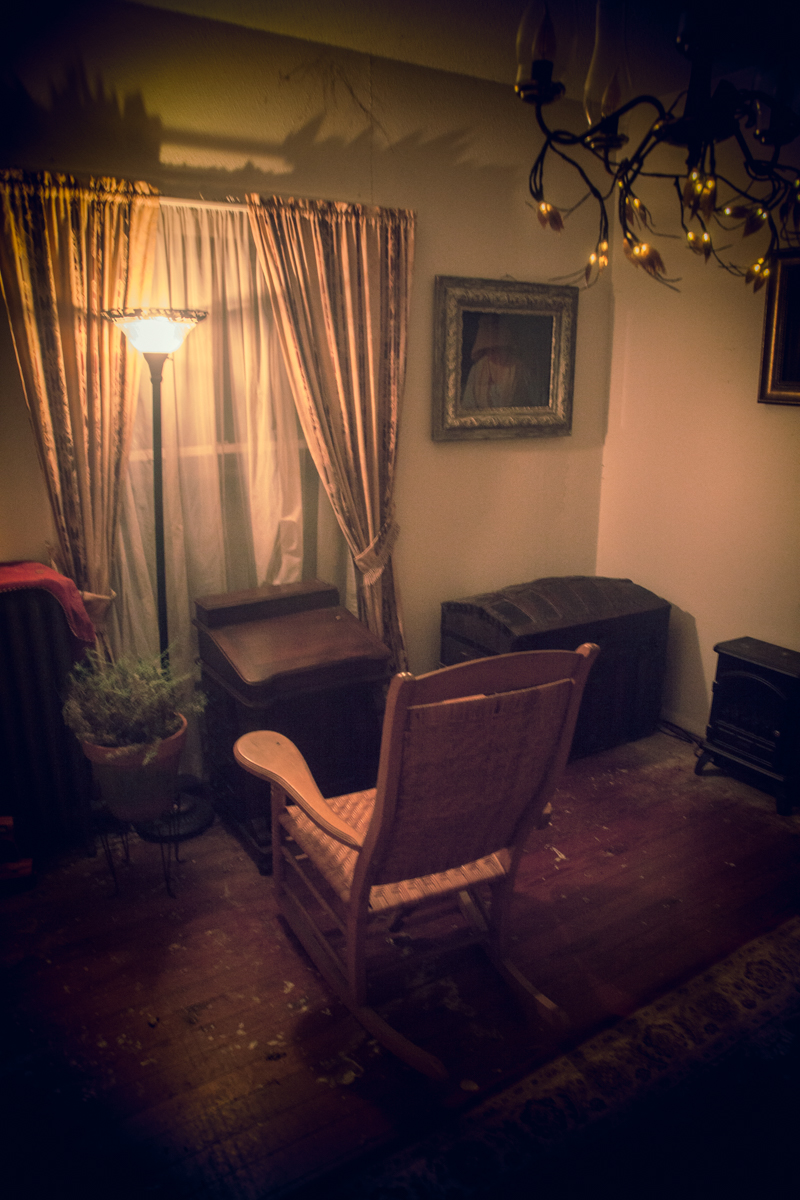 + + +
It's a very blustery night, a good night to bring these ghost back to life. There are too many for this chapter.
It's why I developed a fascination with the supernatural. It was quite natural to me. Apparitions, unexplained noises and poltergeist activity – I had experienced them all before I was ten years old. It not only makes a person believe, but we have insight when other people are claiming to see things. You can kind of see it in their eyes when they're telling the truth. It's the same look people get when they're telling you that something they saw wasn't a ghost, but know in their hearts it really was.
The dining room. This is where their bedroom was during our teenage years. The gatepost to the rest of the house, where you had to pass mom.
It's also the sunniest room in the house. This is my stuff. The captain's desk, the sailor's trunk – it's in danger of getting a nautical feel. This is the room the carpet came up in. There was a love seat in here. I kept seeing a photo from the summer we shared the house as a family in my mind whenever I came in here. The family sitting on that love seat, draped over each other. I couldn't bear walking on the same floor they had, and the carpet got pulled up. I planned on doing it anyway, but it became imperative that it was at that moment.
It's obvious dad didn't put down a drop cloth before painting the ceiling and walls. The wood floor isn't that nice of wood to begin with. For this project I have to balance budget, time and final result. My ex's house had painted wood floors, and I loved that house. Aside from this house, it's the only one where I felt completely at home.
Painted floors would be a lot cheaper than sanding them down, staining them and sealing them. It will also be a lot quicker. It does mean bringing in painful memories, but I can deal with that. The memory of that floor grows increasingly distant.
I had a thought in here tonight as I took the photos.
I was in the graveyard of the old Dutch Church in Sleepy Hollow, New York. I was taking photos, and as I lowered the camera, out of the corner of my eyes I saw a man standing there in a revolutionary war costume. Not just colonial era, but a soldier. It was very clear, but it was very quick. Ghost sightings tend to be a second or less. This was fast for that even, so easily explained by the imagination,
The first time at least, The second time, months later, nearly the same spot I saw the same thing. It likely faded just as quickly, but this time it was familiar, so when my eyes caught it, they knew where to look, and I saw more detail.
That my mind knew instinctively where to look, because it recognized him, meant something was actually there. That I was able to see more details confirmed this. The common denominator was having the camera to my eye.
Which also happened in another location in Sleepy Hollow, where I had the camera up and heard a laugh, which was heard by the person with me in the house.
And I remember this now as I stand in my dead parent's bedroom in the most haunted house I've ever been in, on a blustery night with the camera up to my eye. Sent goose bumps my arms. But nothing was there.
The kitchen feels clean. Never had any weirdness in there … I take that back. A couple months ago I was changing the liner of the trash can, Had just finished, picked up my drink to go upstairs and smelled dad's after shave It's cheap after shave, awful stuff. I said out loud, though there was nobody else there, "I bet dad just died."
Got the call to come to the nursing home, right away, by the time I got to the top of the stairs.
But otherwise, never had any issue with this room, except the border that goes around it near the ceiling. It has to go, which means painting the walls. That's fine. I'm painting the dining room as well.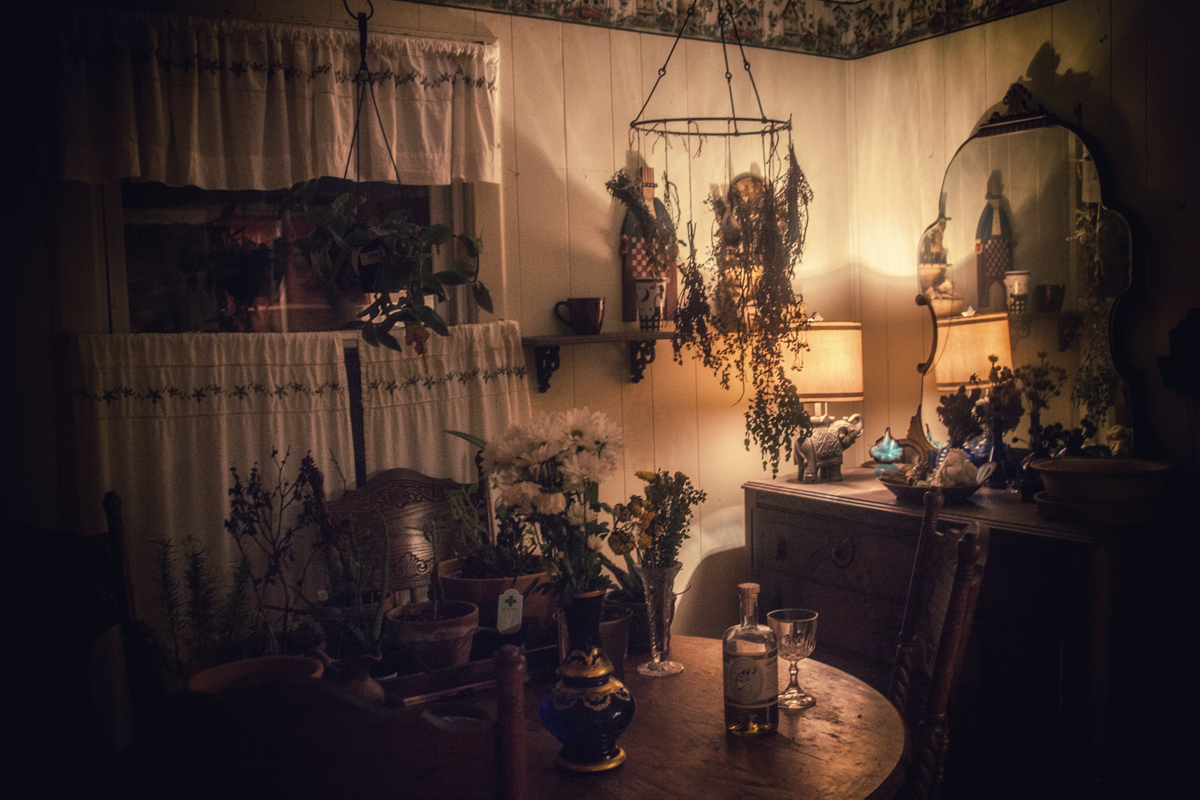 + + +
So that's the downstairs, and an introduction to this place.  I have a choice to make, which is either put the house up for sale, or stay. There are advantages to staying, if everything else can be worked out. If I stay, I can't stay with it like this. It's my parent's house. I have to make it my own.
I've never had my own house, someplace permanent. True to my nature, I'm going for a look that the Addams family would feel at home in. There is after all, a dungeon.
The downside to that of course, is I'm already quite often scared shitless in here. That doesn't help. But since Disney decor doesn't do anything for me, I'll stick to the gothic. It's more period anyway.
I've got a start with the furniture and decor. What it needs now is paint, scrubbing, a bit of carpentry work and imagination.
If I decide to sell it, all those things would go towards raising the value, or making it sell quicker. So either way, it's work that needs to be done.
As I do it, I'll update this story, because there's a lot to tell, and I never have gotten around to telling it.
In the films, the way a house pulls you in is usually through something there  … a room, a piece of furniture, something to make you stop and wonder, and you feel like you belong here. Like the house is actually welcoming you. I didn't feel that for years, but I feel it now. Except it's not just a house, it's a presence. Something palpable, something alive, or rather yearning to be alive. Part of the key was turning off the air conditioners and prying the windows open, letting it breathe again.
I think I awakened something then. It felt like that when I pulled up the carpet. How many people have walked across that wooden floor as residents of this house? All but one sister and I are dead now. By age alone, it has the potential for ghosts. But to be honest, I think the next family that moves here will likely see nothing at all.
If they do, it's likely to be me.
Real ghost stories and the places that inspired them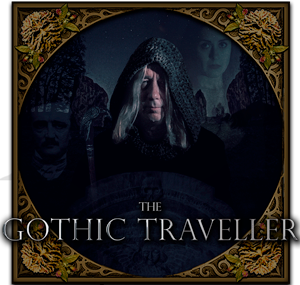 Pick a destination