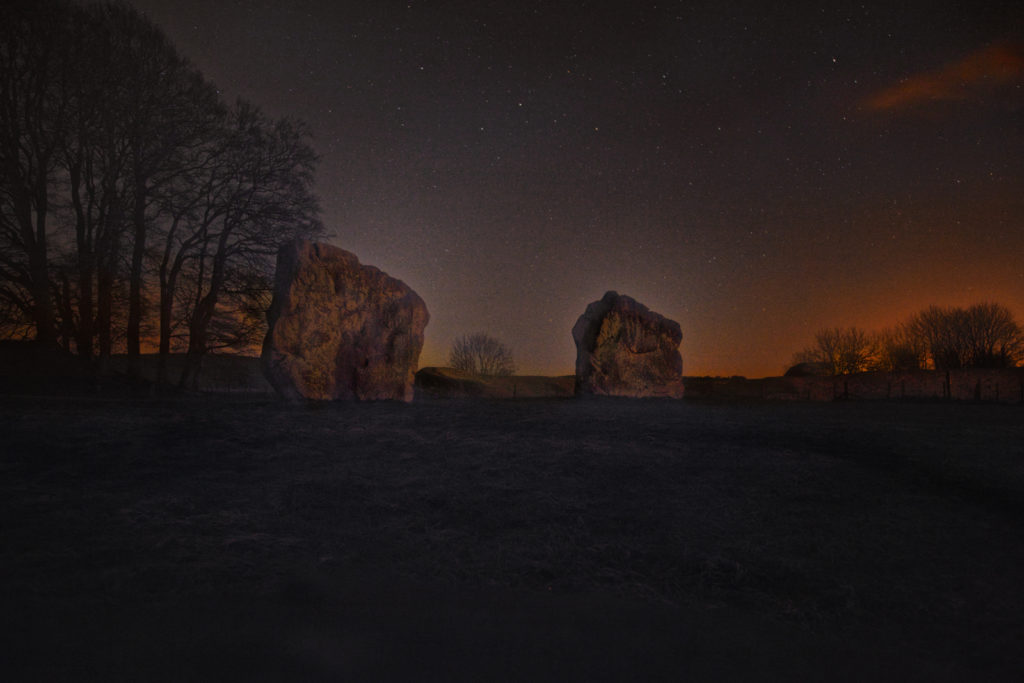 Entrance to the Avebury henge
Hair stands high on the cat's back like
a ridge of threatening hills.
Sheepdogs howl, make tracks and growl —
their tails hanging low.
And young children falter in their games
at the altar of life's hide-and-seek
between tall pillars, where Sunday-night killers
in grey raincoats peek.
Down to the stones where old ghosts play.
– Ian Anderson
+ + +
Avebury alone, after nightfall, when the henge and stones turn to blackened silhouettes is a dark and mysterious place. With your back to the village you can probably come as close as you're likely to find to time travel. You walk among shadows with nothing but the howling of the wind for company.
Avebury at night is like being in a museum after hours. Except at Avebury you're unprotected. There are no security guards, no security cameras standing between you and whatever is conjured up nightly inside the neolithic circle. It's my guess that the ghosts of those who died long ago still wander there. It's just a question of being in tune.
Or in the case of cell phone reception, standing on the highest ground available, which is the embankment, facing the moon and praying. For those coming from America and with ATT, it's best to just put a message that you'll be unavailable for the length of your stay. You don't come to Avebury looking to tap into the modern world, and at Churchyard Cottage, where we were holed up, there is no internet, no television, no phone. We kept the heat low, the fire burning in the fireplace and stayed locked away from the world. We had a life to plan and a marriage to celebrate.
Text messages do come through in bursts when you find yourself suddenly in range. Some use dowsing rods to search for ley lines. My guess is that someday they'll use cell phone reception for the same person. There's an app for that I'm sure.
In my little corner of the world back in America, things were in an upheaval. Just exactly why I had come to Britain and what I was doing there was being hotly debated. And not entirely accurately. Normally this would fall into the category of "things I do not give a fuck about," but my family had heard tales and wanted answers. So I braved the cold January night and went looking for more than one bar on my phone.
A word about Churchyard Cottage … you walk out the door, through the gate and you're in the graveyard of St. James church. It's as close as I've come to sleeping, intentionally, in a graveyard. Standing at the gate, to your left is the church and Avebury Manor. You can see the grounds from where you stand, but alas, I saw no lady in white, one of the manor's resident ghosts.
To your right is High Street and a block or so away, the outer circle. Pass through the turnstile and you're inside the henge and at the mercy of the magic of Avebury. It's a visceral feeling to step from the relative safety and civilization of High Street and into the monument.
I finally found a signal and in the process found something else. I had the place to myself. Standing on the embankment overlooking the circle, I could see down West Kennet Avenue, the ridge obscuring Silbury Hill as well as West Kennet Long Barrow beyond. There were a few people still awake in the village … golden light shining through the windows of houses, a few spotlights on the Red Lion, now closed for the evening. Otherwise, except for the occasional car coming down the A4361, I felt as alone as I've ever felt.
And it felt amazing.
It's tough to tell your mother and father that you got married the first night of your trip, to the most wonderful lady in the world who they'll both love. And they did grow to love her. I think it was my voice that night, because to stand on the bank of the circle and break that news to them which would undoubtedly lead them to a nursing home seemed the most natural thing in the world.
But not that night. They were talking of disowning me. The lady did before they had to.
Nobody knows what the circle at Avebury was built for, but it was certainly built for something. What magic is conjured up by its shape, what powers are unleashed by it's geometry, what primal madness is encoded in the mathematics of the place? The rain came pelting down and I tried to get a few night shots with my camera, but I was overwhelmed and not remotely comfortable. You feel more in the wild in the midst of the Avebury henge at night than you do in any dark forest. The sounds of wolves baying in the distance, a giant hound growling in the foreground, none of these things would be out of place.
But it's the silence of Avebury which is most unnerving. There's something there, slouching ever closer behind your back. And it was with a quickened pace that I finally found my way back to Churchyard Cottage and the safety of her smile and the fire.
"The woman who first gives life, light, and form to our shadowy conceptions of beauty, fills a void in our spiritual nature that has remained unknown to us till she appeared. Sympathies that lie too deep for words, too deep almost for thoughts, are touched, at such times, by other charms than those which the senses feel and which the resources of expression can realise. The mystery which underlies the beauty of women is never raised above the reach of all expression until it has claimed kindred with the deeper mystery in our own souls."
– Wilkie Collins, The Woman in White
+ + +
Hecate had been reading Haunted Wiltshire by Keith Wills. It was then that it occurred to me, I hadn't done any research for this trip. It actually first occurred to me as I was packing, so I tossed a few books into the bag to wade through later. Which wasn't necessary as Churchyard Cottage is loaded with books of local interest. I found it unnerving that I hadn't done my homework. But in truth, my purpose in coming here wasn't research, it was to meet Hecate. Nothing else was of any consequence. Besides, she's an excellent guide.
"It seems our front garden has ghosts," she informed me.
"Anything creepy?" I asked. "There's nothing worse than a boring ghost, unless of course it's a happy ghost."
"The creepiest would be the monk. Tall, hooded, possibly the victim of murder back in the days when Avebury Manor had monastic ties. That would have been somewhere between 1114 and 1551. In 1249 a number of monks from Avebury were incarcerated at Marlborough on suspicion of murder. The first documented sighting was in 1557 when a maid at Avebury Manor saw him standing in the dining room. He's been seen a number of times in the garden since, as well inside the house."
"But!" she exclaimed, "in recent days, as the curator of the Keiller Museum was locking up for the night, he saw him standing amongst the gravestones. As there had recently been a spate of 'mischief,' those darn miscreants, the curator decided to quiz the hooded figure on the matter. When much to his surprise, the figure began coming towards him, which creeped the curator out to no end. He started backing away from the figure which disappeared into mist. How's that"
"Okay, not bad," I had to admit. "You can't complain about an aggressive ghost."
"Then there's the lady in white," Hecate continued. "She's on the aggressive side as well."
I'm always intrigued by stories about ladies in white. There is perhaps no other more frequently cited spook than women wearing long, white dresses, night dresses or even burial shrouds. When looking for the origins of spooks and other clangers of the night, I first look to popular culture of the time. For the lady in white, there's The Woman in White by Wilkie Collins, written in 1859. I was debating to myself if Lucy in Bram Stoker's Dracula was described wandering through the graveyard in white, which was published in 1897, or whether I just have that image in mind from the films, when the clanging of bells erupted from the church steeple … what was it, a wedding? A death? It wasn't a long, slow tolling, but the sound of bells that only multiple hands can create. After a few seconds it stopped, only to start again a few minutes later. Our eyes met, neither one of us finding the answer we were looking for there.
The answer to the mystery lies with the Salisbury Diocesan Guild of Ringers, an appropriately ancient sounding name for an ancient tradition. The bells in St. James Church were cast in 1773. Over the years the bells had become unusable, as the stocks which held them had rotted, making it difficult to ring them. A group of local people decided to fix this, so they were sent back to Whitechapel and recast, this time into six lighter bells back in 1981. Since then two more have been added, and every Tuesday night, starting at 7:30, members of the guild convene to practice their art.
And it is an art. For those of us who live in the states it's a sound we've likely never heard, and it stirs an ancient note in the soul. In America we're damned lucky to hear a single church bell. In the town where i live, it's not even real bells, but a recording of a calliope played at roughly the volume of a rock concert to inundate the town with gospel music.
But the true art is more than a sound to waft across the landscape. It was a code everyone understood. It summoned, it warned, it celebrated. And in the stillness of the Avebury night, it was another kick in the pants back in time.
"After the first glass of absinthe you see things as you wish they were. After the second you see them as they are not. Finally you see things as they really are, and that is the most horrible thing in the world. I mean disassociated. Take a top hat. You think you see it as it really is. But you don't because you associate it with other things and ideas.If you had never heard of one before, and suddenly saw it alone, you'd be frightened, or you'd laugh. That is the effect absinthe has, and that is why it drives men mad. Three nights I sat up all night drinking absinthe, and thinking that I was singularly clear-headed and sane. The waiter came in and began watering the sawdust.The most wonderful flowers, tulips, lilies and roses, sprang up, and made a garden in the cafe. "Don't you see them?" I said to him. "Mais non, monsieur, il n'y a rien."
– Oscar Wilde
+ + +
It's a couple of nights later and we're celebrating in front of the fire. I can't say what we were celebrating, but spirits were high. There was a half bottle of absinthe left, and we seemed hell bent on finishing it. Ernest Hemingway wrote ""Whiskey… does not curl around inside of you the way absinthe does." And he wasn't far from the truth.
Absinthe has taken on an almost mythical mantle over the past couple decades. It was a favorite of the Parisian artists of the 19th and early 20th centuries, a group lionized for their wayward ways and gusto for life. One of the prime ingredients in absinthe is thujone, which if taken in high enough quantities, will give a person what might be called mystical visions. Absinthe is also known to cause quite a few medical issues if one becomes addicted, and it's easy to get addicted. There's a persistent rumor that the thujone, which is a byproduct of the wormswood used to flavor the alcohol, eats holes in your brain.
Because of all this, absinthe had been banned in the states for decades. It's now legal, providing you use a different form of wormswood, which contains less thujone. Actually the truth is much more simple, and much less glamorous. The reason absinthe causes a high rate of addiction, and damage to the body is because it has an incredibly high alcohol content. The most popular brand for sale in America seems to be Absente, and Grand Absente clocks in at 138 proof. In Avebury we're drinking Trenet, a European absinthe, which is a lightweight at 120 proof. The general recommendation is equal parts absinthe and water, but Hecate is insisting we drink it straight.
For those wanting the taste test, the Trenet goes down smoother, obviously. And stayed down much better than an equal amount of the standard Absente which I had a few weeks after being back in the states. That particular evening's indulgence came back up with some violence later on in the evening however. Trenet likely has more thujone, but it's still such a small amount, it probably has no effect on you whatsoever. So much for the myth.
"But!" you might say. The absinthe those Parisians were drinking in the past had a much higher level, which is how impressionism was born. Nay. Even then the buzz was generated by the high alcohol content and good spirits, which is a great combination to create legends.
"Give up your life completely to the task; sit daily for six hours in the Old Absinthe House, and sip the icy opal; endure till all things change insensibly before your eyes, you changing with them; till you become as gods, knowing good and evil, and that they are not two but one."
– Aleister Crowley
+ + +
Hecate is back to reading Haunted Wiltshire while I poke at the fire. As much as I try to will the coals and ashes to produce a flame, it becomes apparent that this will not happen without adding more wood. My eyes land on the corner where the wood is usually stacked. The corner is bare.
Deciding now would be a better time to venture outside than after a few more nips from the bottle, especially as Hecate's nips are the standard size shot glasses, which are used to holding alcohol of about half its strength. So I wander out into the night, deciding to have a smoke whilst out there. The first thing I notice is that it's fucking cold. The kind of cold that sears the eyes, as if the moisture there is quickly turning to ice. I pondered for a moment whether this could actually happen, what it would look like to see through a film of ice on the eyeball, then return to the inevitable conclusion. It's fucking cold.
I'm wearing the cloak so really all that's cold are the parts of me which are exposed. I never got the hang of smoking hands free, and as such would never have made it as one of those manly actors from the fifties, cigarette held in between gritted teeth. Besides, the cloak is way too … too … you just can't picture Bogart or Gable in a cloak.
A lot of words come to mind when you come face to face with a man wearing a cloak in the 21st century. A fop. Twee. Pretentious. Anachronism. And it must be said that I'm not particularly menacing. The exception of course is with the hood up. I first noticed this new-found super power when I first got the cloak and was living in Huntington Village, Long Island. That's New York, not the Long Island off the California coast.
I wasn't brave enough to wear it in the daytime, so would take it out for my nightly walks. I didn't have a tv at the time, and one night I saw one through the window of a nearby house, and stood outside transfixed for a few moments. It was at that moment that the owner of the tv came back into the room, and happened to glance out the window. It was at this point that I realized two things concurrently. First, for all intents and purposes, I must look like the figure of Death, wearing a black, hooded cloak, my face hidden in the shadows. Second, that New Yorkers, when looking out their window and eyeing the figure of Death, behave in a rather startled and frightened manner. By the time the startled homeowner had convinced his wife to look, I was gone. I'm guessing neither slept easily for some time afterwards.
My reason for wearing a cloak, aside from the fact that I'm a bit of a fop, twee and an anachronism, has more to do with convenience. One clasp and it's on and you're done. The weight of the thing holds it closed, and it's easy to keep your arms and hands covered as well. But the clincher is it makes photography in extremely cold weather much easier. The Canon 5D Mark II is only listed to work down to 32 degrees, or freezing in other words. So with a cloak, you can keep the camera close to your body so your body heat keeps it warm, there's enough wool to keep a sheep sweating above it, and to use the damned thing all you have to do is throw the cloak open and lift it to your eye.
It also feels right when standing outside on a freezing night in Avebury, looking up at the stars. After all, Hecate and I are both time travelers. We're not looking for the 21st century. We're looking for the past. A mythical past admittedly, not necessarily the minutia of detail that historical reenactors reach for. Instead we simply look to feel, if only for a moment, that we belong to a timeless moment. Looking over towards the tower of St. James Church, feeling the pull of the stones in the opposite direction, one can believe that you hear an audible hum emanating from the circle.
I gathered the wood quickly, made for the house and announced what she was already expecting. We had to, absolutely fucking had to, go out into the circle under the stars.
And so we planned our expedition. We'd need the camera obviously. We'd need a tripod. Didn't have a tripod. We'd need a flashlight. I had a tiny LED flashlight, excuse me, torch as it's known in Britain. We'd need tobacco, a bottle of wine to take along to keep us warm and we'd obviously need to polish off the rest of the absinthe. Hashish would have been helpful, opium even better. But there being no opium dens in Avebury, nor any obvious hashish dealers, we commenced to drain the absinthe.
Absinthe gives an all over feeling of warmth, that permeates it seems down to the bone. Hecate has the most beautiful dark eyes, which in the firelight twinkled as though from the light of a galaxy of stars. Her smile utterly fucking melts me. In short, I was buzzed and considering pouncing, when up she rose and put on her boots. We were moving. When she moves, she moves quickly and I was soon up, unsteady on my feet admittedly, but ready to follow.
Sitting on the stone, moonlight dimly lighting the stage, the woman was little more than a shadow. Even from a distance, it was obvious her shoulders were wracked with sobs, bearing witness to some unsurmountable sorrow. Or could it be fear tearing the shadow woman apart? From down the avenue another figure approaches, cloaked in darkness, a darker shadow moving in the blue black night. Entering the circle and moving quickly towards the crying woman, she sits down beside her, her hand resting upon her leg, a token of affection. A brief exchange of words, noticeable only by the snapping of the woman's head towards the interloper, her gestures of tears are replaced by a violent pulling away, and she's rising, fleeing from the circle. A sudden movement in the shadows beyond the obelisk stone, its great mass lying on its side, and the figure of a man can be seen following her, slowly, deliberately.
The woman left on the ring stone throws her head back and whistles, loud and long. From the avenue comes the shape of a dog, answering her call, its great head and snout nuzzling into her lap. The woman's hands move over its back, its flanks, as though conjuring a spell up from within the beast. The dog spins away and back towards the avenue, the woman slowly rises and follows.
Dr. Edmund Ravenel, Conque Sacrée, The Pearl, Volume 21, 1883
+ + +
True love is like ghosts, which everyone talks about and few have seen.
– Francois de La Rochefoucauld
+ + +
We clung to each other as we passed through the graveyard, lingering a bit, looking in the shadows. There was no robed monk, no lady in white floating among the tombstones, no little boy darting and playing around the graves. There was no moon to light the landscape, just countless stars twinkling in the heavens.
We made our way up High Street and then into the henge itself. The stones loomed dark in front of us, sometimes towering over us, the grass crunching lightly under our feet with frost.
There's no doubt about it. The single best reason to spend the night in Avebury is to have access to the stones after dark. We wandered the circle that night, freezing our assess off and having a wonderful time. Which was easily done as time stands still in the neolithic night of Avebury. We saw no ghosts. The phantom carriage oft heard clattering across the long gone cobblestones of the Red Lion Inn never materialized. There was only the sights, scents and silence of a sacred site nearly five thousand years old to wander freely in. In the darkness, the stones were mountains, dwarfing us and casting shadows of emptiness across the starry sky.
We ended up back where we our journey properly started, back on the ring stone in the southwest circle. The twinkling of the stars were nearly audible there, like diamonds thrown haphazardly into the sky, lingering a moment before falling back to earth. Except they never fell from the sky. In the darkness, the 21st century disappears. Power lines, roads, signs, all signs of the present day disappear when you turn your back to Avebury village. Your sense of distance becomes warped and the henge, huge to begin with becomes a world unto itself.
We could have slept there on the stone. Hell, we could have died there on the stone, quite happily I believe, just two icy bodies discovered in the morning with smiles of contentment and wonder on our faces. But the wine bottle was now drained, and our little fire still glowing back at Churchyard Cottages was calling to us. I took my lady in black's hand and together we walked back to the warmth.
It's not hard to step away from Avebury, whether it's daytime or night. The stones aren't going anywhere, and will likely be right there where they were left thousands of years ago when some unknown people from an unknown time pulled them there and threw them up for whatever unknown reasons.
Avebury is safe now, from over zealous farmers and puritanical reformers seeking to banish England's pagan past. The span of our lives are just a blip in time compared to Avebury's lifetime. We wandered home, two more ghosts in it's pantheon of spirits, still captured and living amongst its secrets.
Author's Note: Information for this piece was obviously gleaned from Haunted Wiltshire, by Keith Wills. It's available around Wiltshire certainly, and also from Amazon.
Buy the book from www.amazon.co.uk by clicking here
Buy the book from amazon.com by clicking here
Next: Chapter Four: Lucifer's neolithic home, Devil's Den stands vigil near the Avebury circle complex
Previous: Chapter Two: A megalithic darkness descending on Stanton Drew stone circles and cove
Real ghost stories and the places that inspired them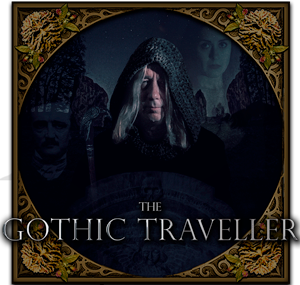 Pick a destination