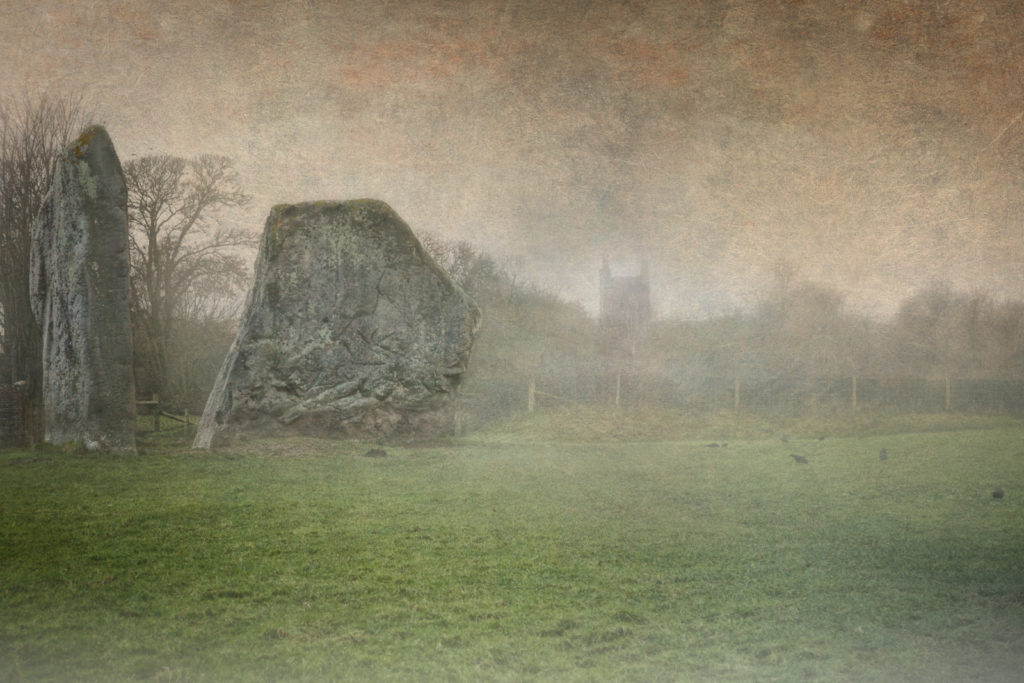 The Cove in Avebury World Heritage Site. Click here to view more images from Avebury or to order a print from the Wytchery
It's about 11 p.m., January 12, 2016. I'm sitting on the ring stone near the southern entrance of the great circle of Avebury henge. It's fucking cold. I'm fucking drunk. Still.
How exactly did I get to this point?
It was a date. Our one year anniversary. A year ago about right this very minute, we were sitting here exchanging rings and speaking of eternal love. We swore we'd come back here every January, rent the same cottage. I came through on that.
The beginning of December my kid got his heart broken. I think it was Christmas Eve that it finally ended with H. A few days later my mom died. A few days after that my computer blew up. I spent those weeks hammered to be honest. I had stocked up on booze for Christmas, but the family was scattered then and so I helped myself. Everyone showed up for the funeral and I restocked. The night H left, the night mom died, the night of her funeral we recorded. Bits of it exist still.. A diary of my trip to hell and what I found there.
On the surface it's mainly a bunch of old English folk songs. But it was as painful as it sounds.
I needed to escape. Even if it was to spend a week in the cottage where I spent my honeymoon, alone. No TV, no phone, no internet. Just a week with my thoughts. Not even a fucking car. For a week I was to be a resident of Avebury. People were afraid for me. I was rather looking forward to it.
There was the anniversary to contend with. It was supposed to be my second night there, but I didn't make a connecting flight and spent the first night in some nondescript hotel on the outskirts of Atlanta, Georgia. Under other circumstances I would love to go to Atlanta. These weren't normal circumstances.
David Bowie died. I don't think I had anything to do with that, but at the time I couldn't be sure.
I knew she wouldn't be there. It's what the final disagreement was over. She couldn't get a babysitter. This was the woman who leapt mountains so we could be together. We'd come to missing our anniversary for lack of a babysitter.
I didn't take it well. Though I thought I was doing the right thing, I ended up really fucking things up. We'd broken up before. This was permanent.
I had planned on taking the bus from Heathrow to Avebury. I thought it would be interesting to experience the bus service. It would also be good to check it out before I needed it to get back to Heathrow at the end of the trip.
Except I threw down another couple hundred bucks to buy leg room on the flight over. Restraint was slipping away. When I landed I looked at the bus schedule. And then arranged for a car to take me to Avebury. Only about $150. He was there in a half hour to pick me up. I ordered a bottle of absinthe to be delivered to the cottage that afternoon.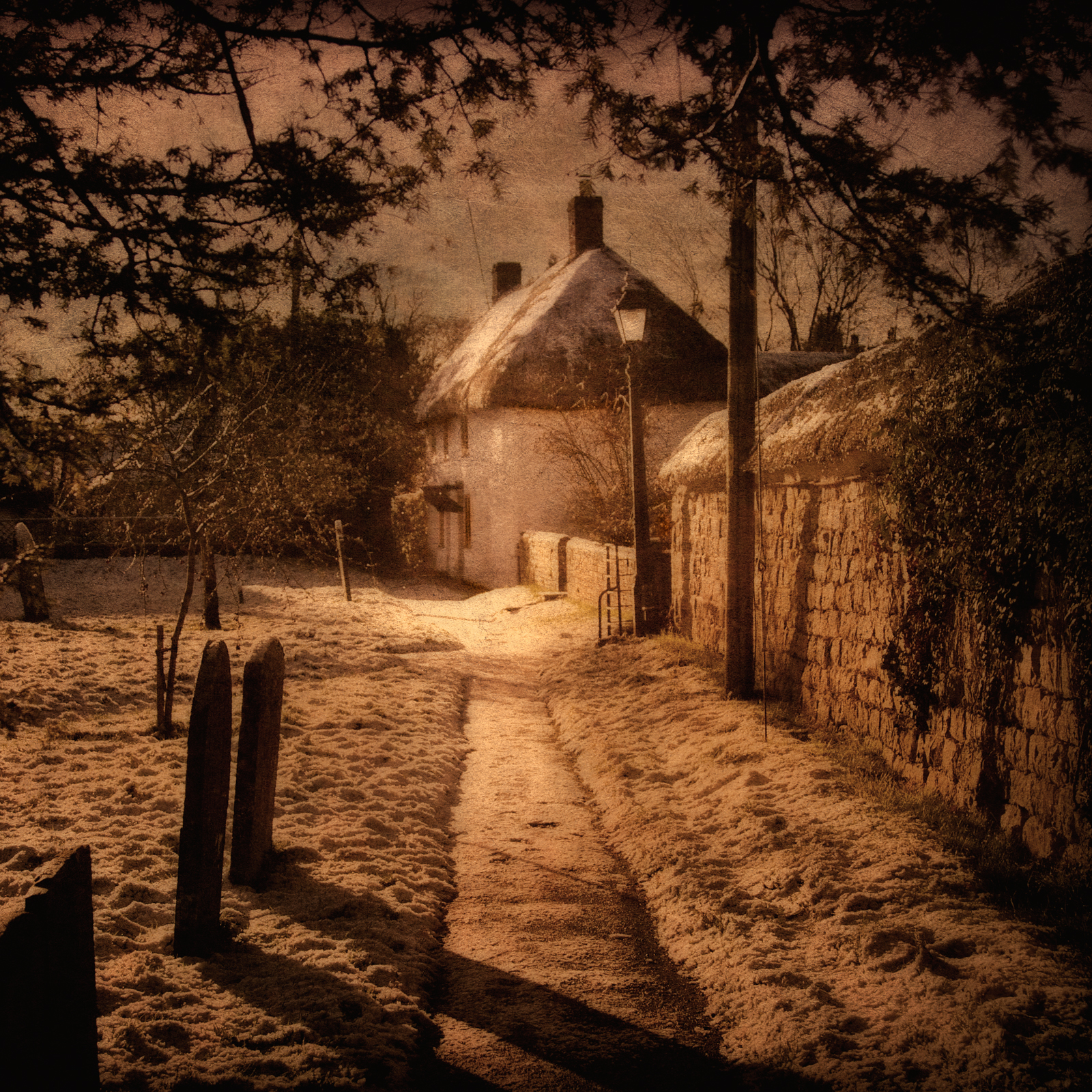 It was late afternoon by the time I had set my bags down in Churchyard Cottage. The memories were thick in there. H and I were ghosts, damned nearly visible. I might have walked the circle once. I might have went straight to the Red Lion Pub.
The Red Lion is the only pub in Britain located inside a stone circle. They had a shelf of various single malt scotches. It was my anniversary. I imbibed.
I think it was a fifteen year old Laphroaig. I was skeptical of it, having had the ten year old before. The ten year old wasn't bad, and I'm not expert. It's just that it was a special occasion, and I needed something with a story. Evidently the bartender had such a story, for he told me next time I saw him I put away half a bottle. He was quite proud of me. I actually made friends that night. I'd been in many British pubs, but usually with someone else. I was on my own and life really wasn't that bad.
It's hard to stay anywhere in Avebury and not be able to stagger home from the Red Lion. It was only about a five minute stumble, tops, and it was even slightly downhill. Duck inside the ancient graveyard and there it is, Churchyard Cottage.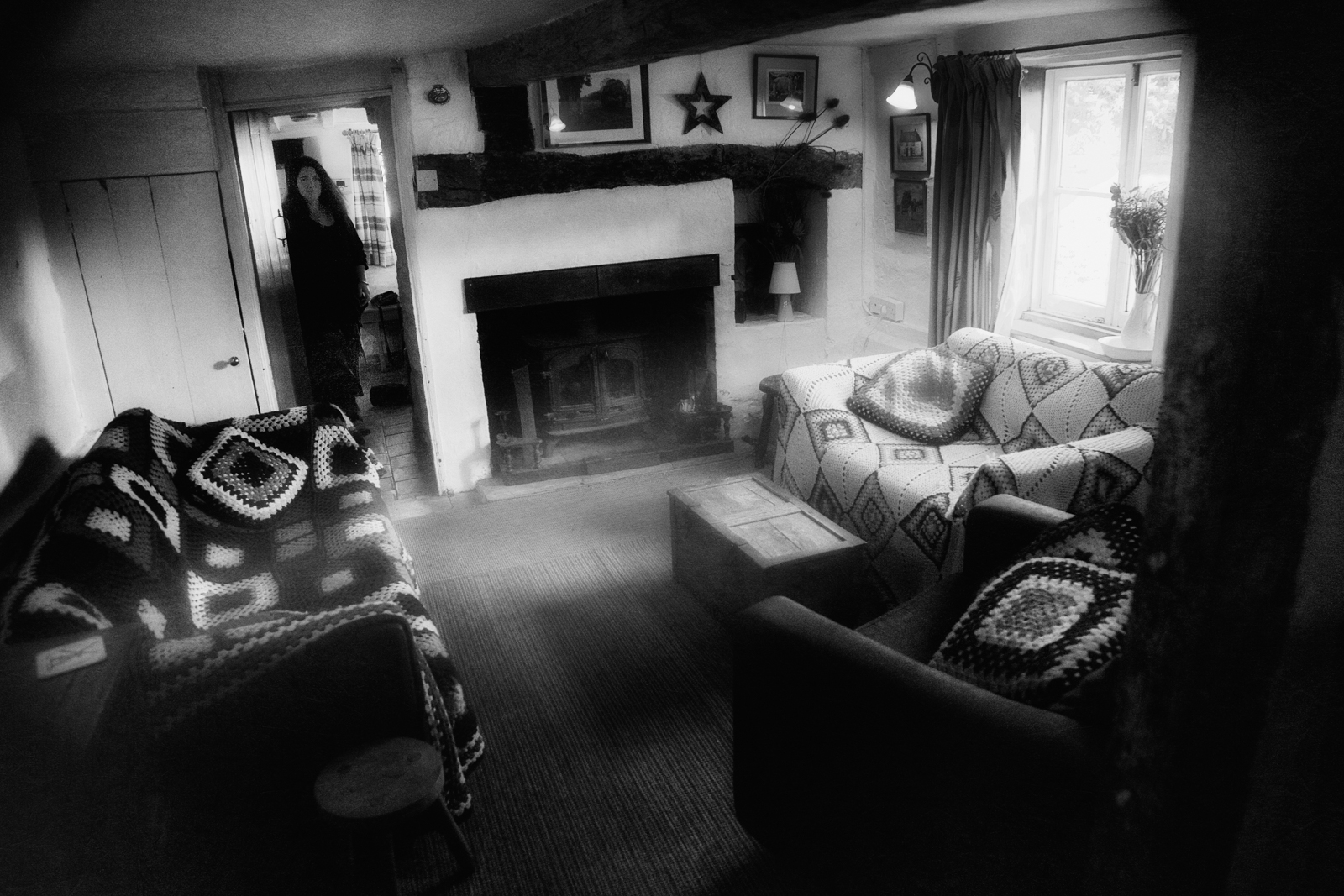 I made it inside and collapsed on the couch. It was a couple hours before my date with the ring stone. Time for a nap. As I lay there, just dropping off, I heard someone call my name from the dining room, and the scooting of one of the chairs on the stone floor. I got up to see who it was, thinking it was someone the landlord had sent around, who had come in the back door.
The dining room was empty. The back door was locked. It was damned cold in there. It wasn't spooks, I hadn't turned up the furnace yet. It was January.
I went back to the couch and covered up with a crocheted afghan. My toes popped through between the stitches. I could have lit a fire in the stove. I passed out instead.
I woke up just before eleven, threw my boots and coat on and made for the ring stone. Last year we were cloaked. In between she burned the cloaks. It was that kind of year.
I don't need to say a lot about it. I'd looked forward to this night for a year. Six months earlier, during the first breakup, in a hotel room in Glastonbury I vowed I'd give this a year. It almost worked. There was an almost perfect week in the Catskills in October with the kids. It actually felt like a family. A weird one, but what do you expect?
Then it was all gone, I didn't know why, I was alone, we argued about it by text message. Oddly enough I could get a signal on the ring stone. And in the graveyard at times. She went to bed. I went back to the cottage and my couch, and fell back to sleep with my clothes on.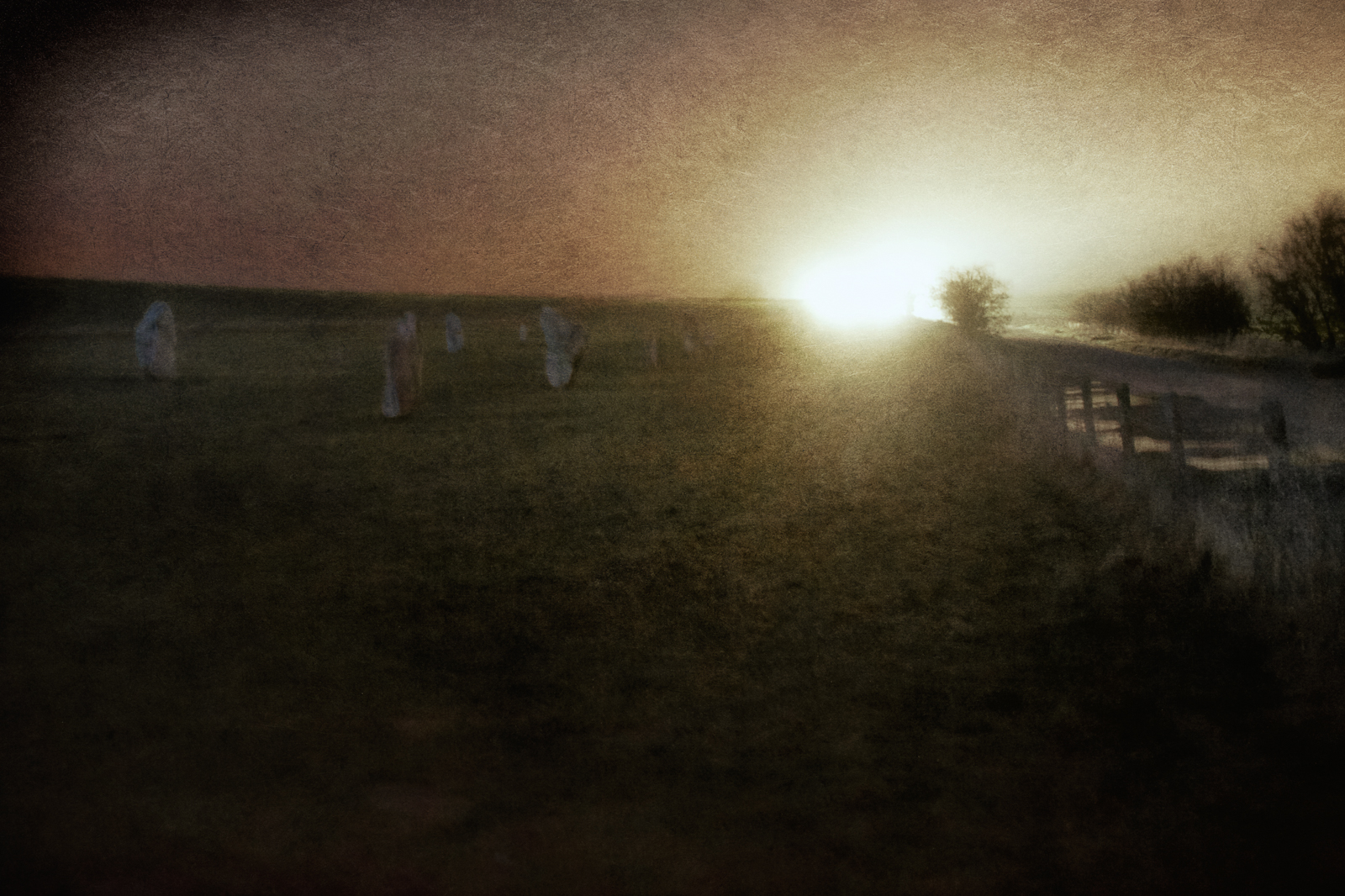 I knew what awaited me in the morning. Someone quite wise made the point, "what happens when you wake up on the day after your anniversary when she doesn't show up. Are you going to just stop loving her?"
I knew the answer to that. It was an arbitrary date. You can't shed love on that basis. It's almost five months since that night. Love has yet to abate.
No, you wake up the next morning and keep loving. It may be a curse, it's certainly a blessing. But regardless, it's what I do, I just do it apart from her now.
I awoke to knocking, both inside my head and at the front door. It was daylight. I stumbled off the couch, lying there left me hunched over, so I didn't hit my head on the beams. I opened the door and was pounced upon by dogs. I was confused. Then I saw H standing there and recognized the over-excited hounds.
It was the day after the day we met, all over again, except this time it was me hungover. We had lunch at the Red Lion, I tried to kiss her. She turned her head. We walked around the henge. We talked. We smiled. We laughed. Then it was time for her to go home and I walked her to her car. She kissed me. I recognized her. We agreed we might see each other again before I left. She drove away.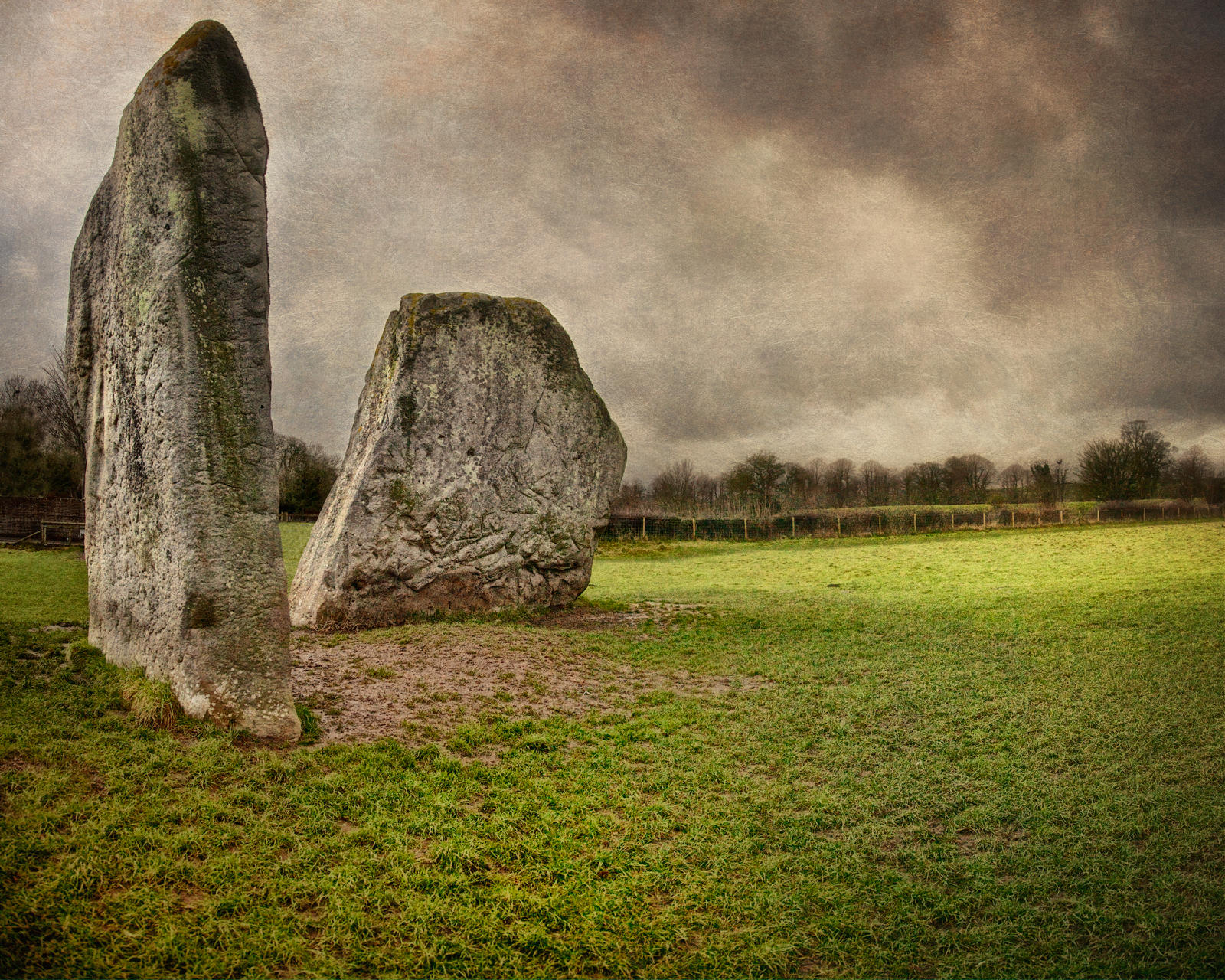 I went back to the cottage to unpack. My absinthe had finally arrived, and was waiting inside the front door. I was thankful. I had blown most of my dining out money the first night there on scotch. I had the feeling I wasn't finished drinking yet. I needed a supply.
I had stopped at the shop earlier that day. Avebury has a shop. One of those particularly British shops which manages to stock everything you need in a very compact space. I got fresh fruits and vegetables, fresh laid eggs, fresh made bread, local cheese and beer.
For some reason I unpacked upstairs, in the bedroom. It had been our bedroom and because of that, I couldn't imagine sleeping in there. But I couldn't imagine sleeping in any of the bedrooms up there. Something up there left me unsettled.
So I went back downstairs to the couch for another nap. No sooner had I lie down, than I heard a dog barking in the dining room. I figured it was H, back again and she'd come in the back door. Except there was no rushing of dogs. No more barking. Just the sound of a single chair scooting across the stone floor.
It was then I remembered the stone floor was covered with a rug.
I started a fire in the fireplace. It was three days before I remembered to adjust the furnace. Instead I fed the fireplace. It was what I needed, to watch the crackling flames. To measure time in the ebb and flow of the inferno. To feel the heat blasting my face as the cold crept up my back.
I nipped at the absinthe. I drank a beer or two. I decided I needed a walk. A nocturnal excursion amongst the stones. It's one of the perks of staying in Avebury. It's a good perk.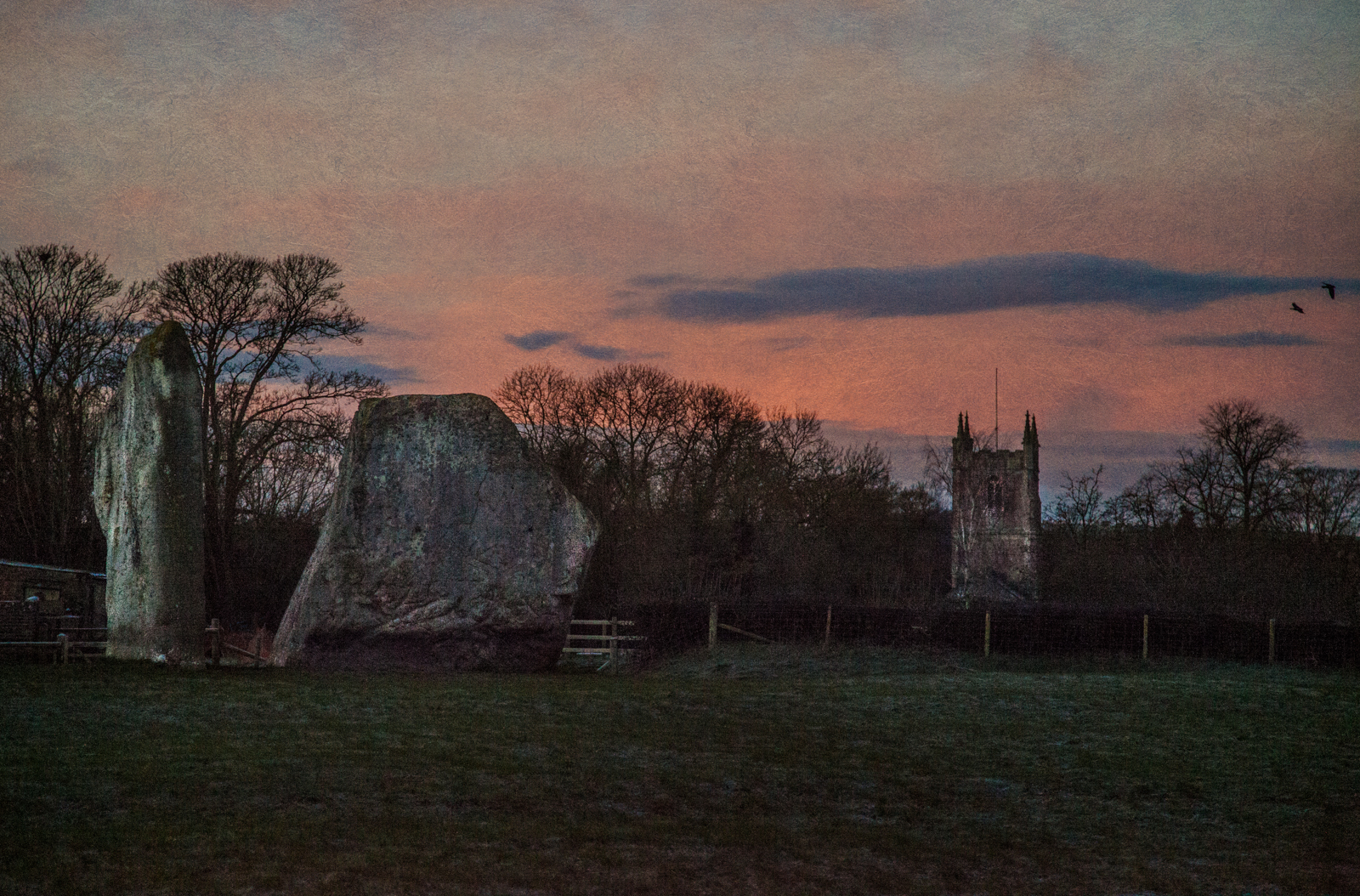 The year before we stumbled, nay, we flew amongst the stones, taking photographs. This year there was no moon. Just darkness. By now I knew my way around, knew many of the stones by name. I could head off in a general direction and find where I was when the silhouette of the stones loomed in front of me.
Like all Neolithic sites in Britain, Avebury is a mystery. A big mystery.
It's not just the two circles within the largest stone circle in Britain. Nor the ditch and embankment which encircles the stones. It's not West Kennet Avenue, nor Beckham Avenue, now lost except for a brace of stones at the far end. It's not the Sanctuary, also lost but remembered with stone markers. It's not Silbury Hill, the largest man made mound in Europe. Look to any high place, be it Baden hill towering over the avenue, or up towards the Ridgeway, a Neolithic road which crosses much of this part of Britain. From the right perspective you can make out Windmill Hill, where they believe it all started. Or the ridge above Silbury Hill, to West Kennet Long Barrow, a magnificent example of a chambered tomb. Then you get an idea of one of the main reasons Avebury exists.
To honor the dead. Their ancestors. Those who came before them. All these landmarks are dotted with barrows, ancient burial places.
There is evidence that they used to take certain bones from West Kennet Long Barrow and hold ceremonies at a place inside the Great Circle called the Cove, just across from the Red Lion. The Cove is now simply two incredibly large stones, in the midst of the larger circle.
Sitting on the ring stone, as is my habit when I need to think. I knew what I had to do.
When someone dies in America, someone close to you, you enter a rabbit hole. It's a constant barrage of questions, plans, people wanting to talk, to share memories. You don't have a chance to process it. You don't have a chance to deal with it.
I cry, I admit it. But I prefer to do it alone. It was my fucking mother, and though it wasn't unexpected, and it was time, I still needed a good cry. My fucking mommy died.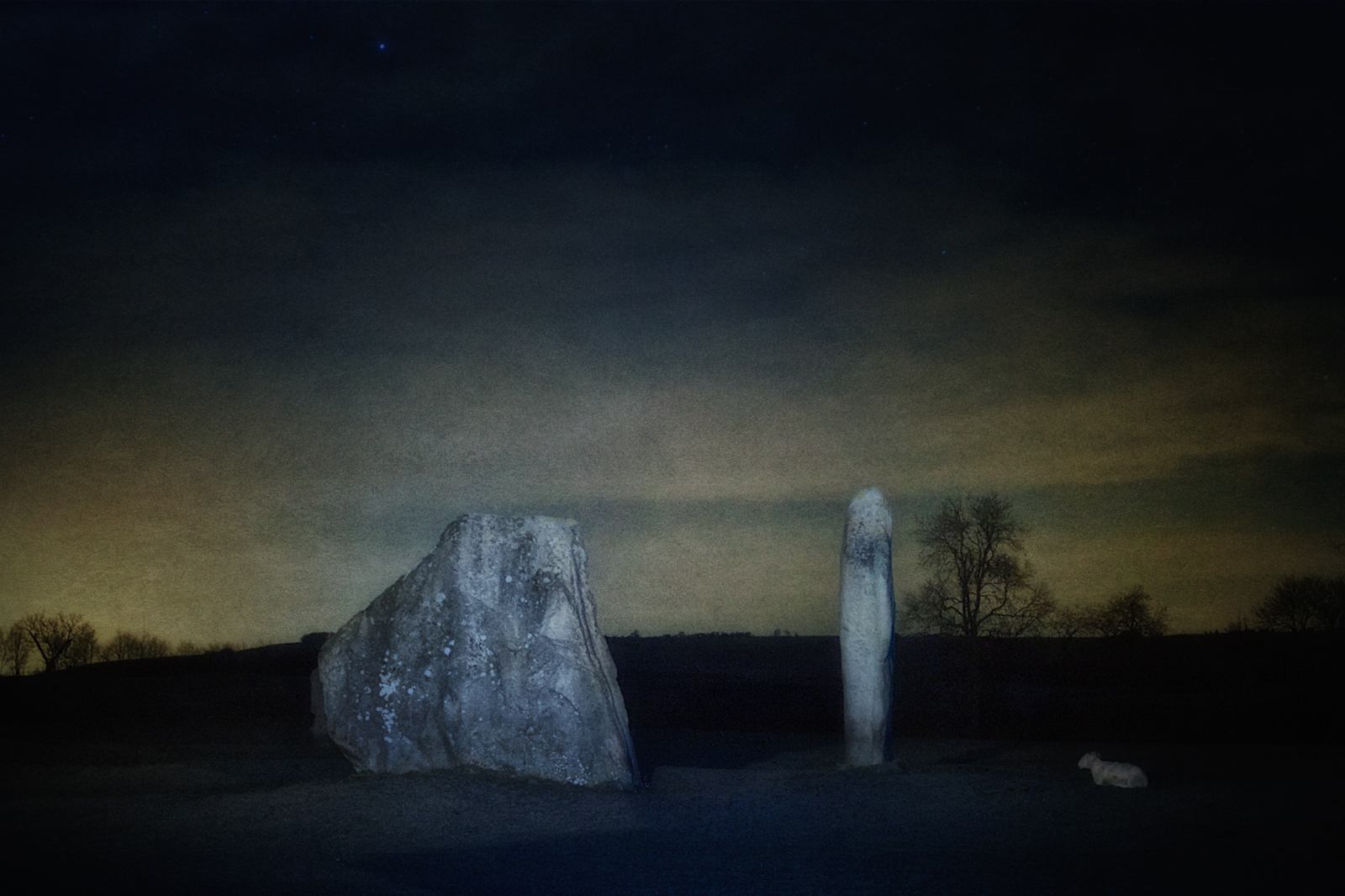 And so I made my way to the Cove. It was pitch black, the stones nearly ice cold. I flatted myself against those stones and let it all go. I don't know how long I was there. Long enough to call up the memory of my sister as well, who died a few years back. I never had a chance to deal with that either.
There in the dark of a British night, in the heart of winter, I carried on some semblance of an ancient rite a few thousand years old. I didn't have their bones, just my mother's scarf which I had tossed in my bag before leaving Illinois. I thought I might wear it. It was black after all. But upon closer inspection I saw it was distinctly a woman's scarf. Good enough for a night without people though.
It eventually ended up with a purpose far more important than I could have realized.
And then the fever passed. The pain felt gone, released. I realized I also wasn't longing for lost love, wasn't feeling the pain of that loss. There were tears for her in there as well. Likely more than anyone else even. I had simply cried away all the pain.
There was nothing to do but go back to the cottage and spend another cold night on the couch. I stoked the fire till the iron stove was raging inside, then covered up and prayed to sleep through the night. I made it till the fire died down, then got up and repeated the procedure. Until I saw light creeping across the sky.
More about Avebury from A Gothic Curiosity Cabinet …
Avebury photos and fine art prints from The Wytchery
Real ghost stories and the places that inspired them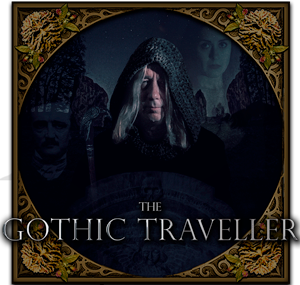 Pick a destination