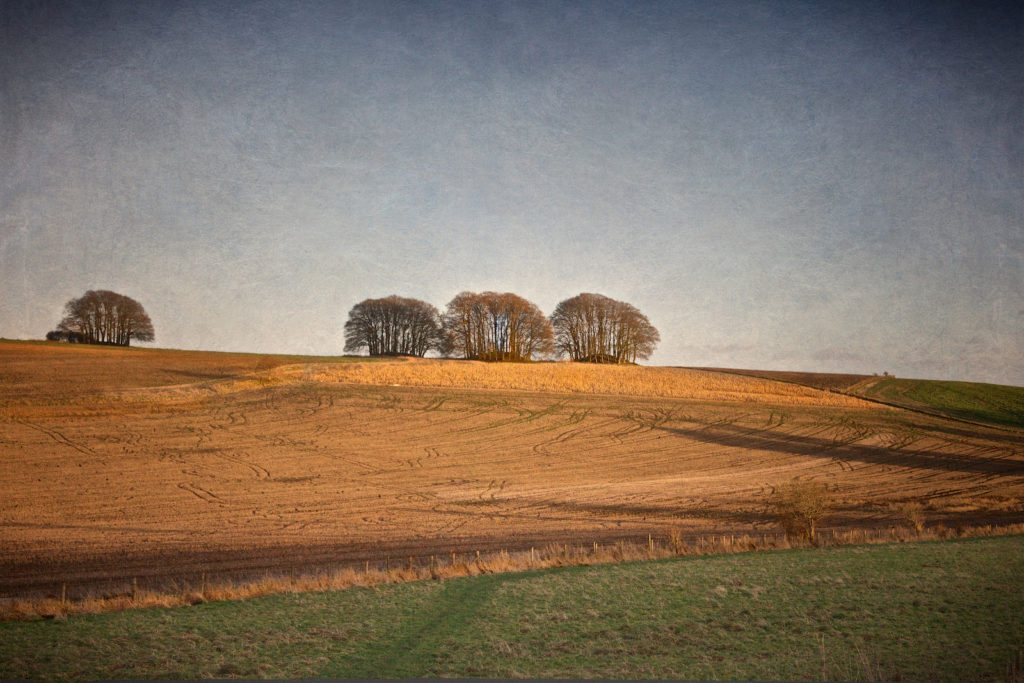 Barrows atop of Overton Hill near Avebury.
Heading east on High Street from the center of Avebury, you find yourself at the beginning of a dirt track leading uphill. This was once the road which led from Marlborough to Bath, and the ruts you see in the mud were made by carriages and wagons centuries ago. Others say it extended further, from Bath to London. The truth is lost to time it appears. Both High Street and Green Street were once part of the Herepath, which was a series of roads created in around the ninth century by the Anglo-Saxons, who were at war with the Danes. These roads connected to even more ancient roads, like the Ridgeway, forming a traveling route which was quicker and more easily secured than some of the more public roads.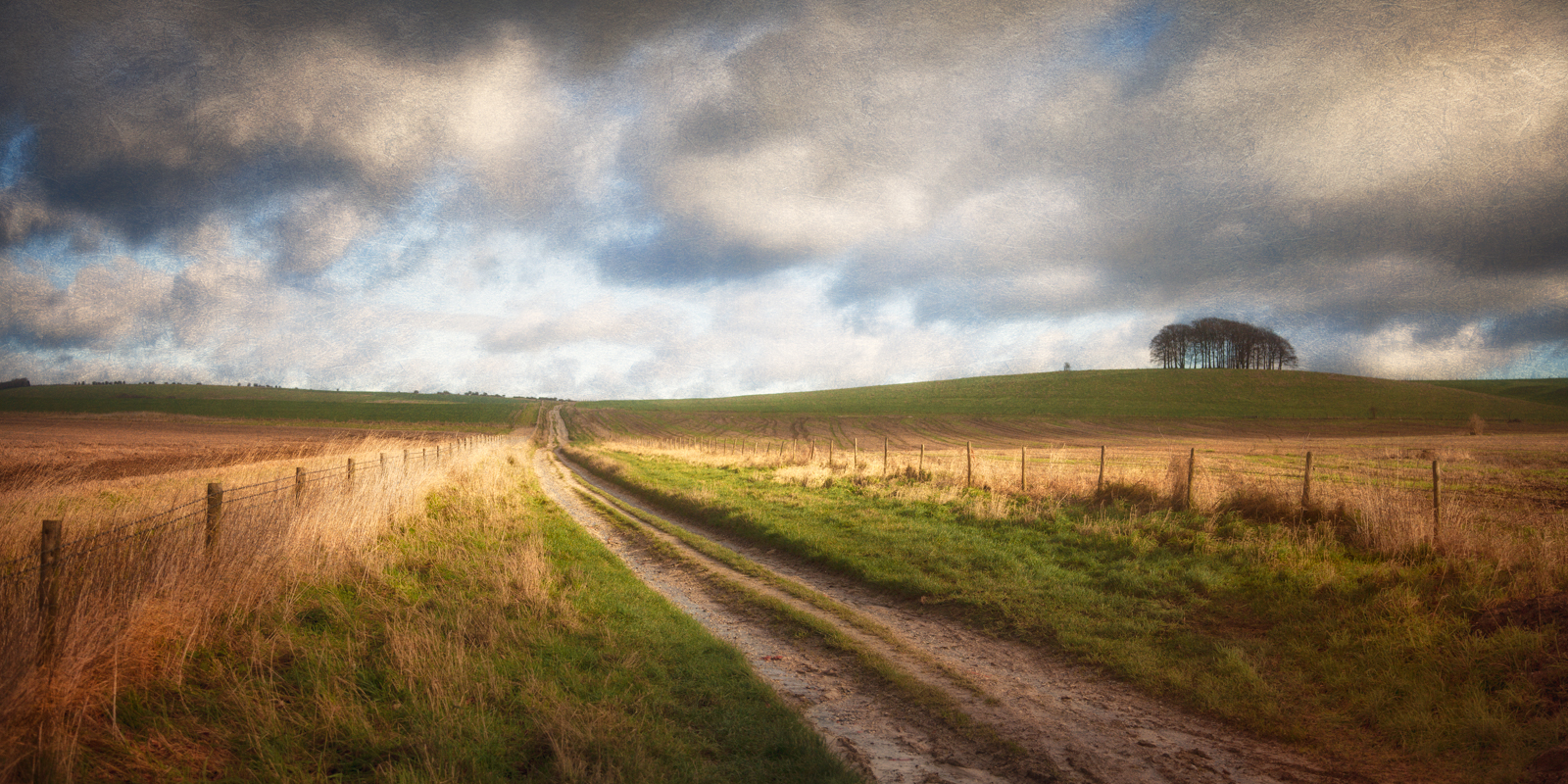 Today it was easy to see why ruts over a hundred years old still exist, as the landscape was essentially a sea of mud and puddly mud. You make a right hand turn on the lane just past the last of the farm houses and essentially, you're running parallel to the Ridgeway which is on the ridge high above you.
Unfortunately for me I saw the first of the bronze age barrows atop the ridge, which pulled me like a magnet. I knew my eventual destination lay up there, so I decided to huff and puff my way up the hill without a path. I was walking off a month or two of hard living, and though not particularly steep, the hill was taking its toll. I heard hooves approaching quickly and for a moment lost myself in time and looked for a horseback rider on his way to Bath.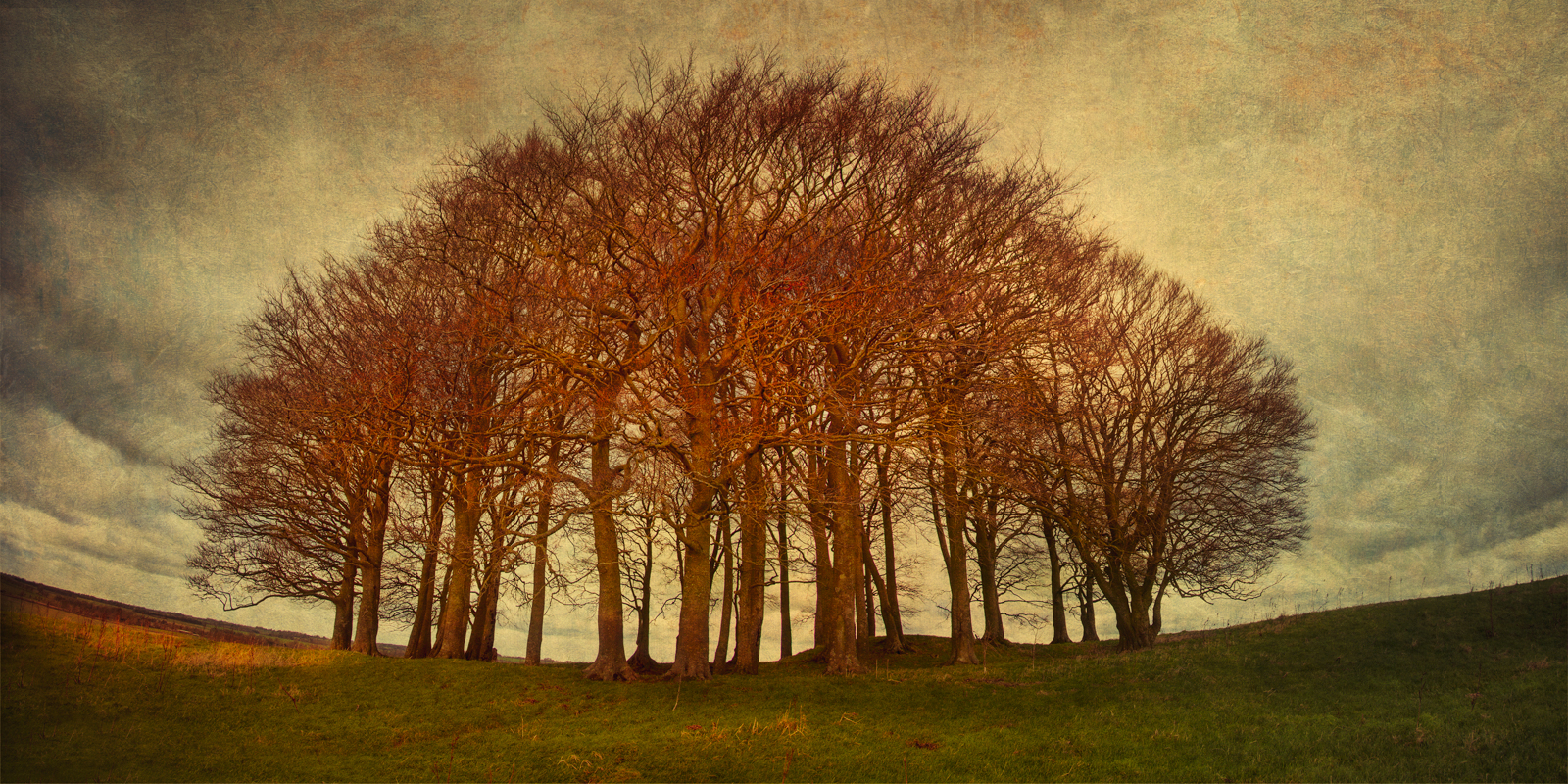 Instead what I saw were deer. Not the large versions we have back in the states, but Muntjac deer, the oldest known species, almost miniature in stature. There were two of them barreling towards me at a high rate of speed, and just before they reached me they split and passed me on each side. I realized immediately that it wasn't menacing behavior. They were playing with me. One contented itself to stand some yards ahead of me, while the other made wide, loping circles around me all the way to the top of the hill, and the first of the barrows I was to visit atop Overton Hill.
Overton Hill looms over Avebury and runs parallel for much of West Kennet Avenue. According to Bob Trubshaw, author of Beyond the Henge, the over part of the name refers to the shape, which is similar to an overturned canoe. He goes on to say that it's believed that the Anglo Saxons had twenty different words for hills, based on shapes. This accounts for similar names for hills that are found all over Britain, all with the same shapes as others which share the same names.
Curiously enough, in Stukely's seventeenth century drawings of Avebury, he gives two hills with the name of Windmill Hill. One is the Windmill Hill known today, while the other seems to be Waden Hill.
From this view, one can grasp the layout of Avebury henge and circle, as well as West Kennet Avenue which snakes its way from the circle. A second avenue, now lost is represented by the road which bears its name. Beckhampton Road. It must have been a more forbidding sight when there were no trees, nor houses, and the henge itself now covered with turf would have been gleaming white chalk. One has to wonder what the ancients must have thought when they first came acrossed it, for it had to be as mysterious to them as it is to us now.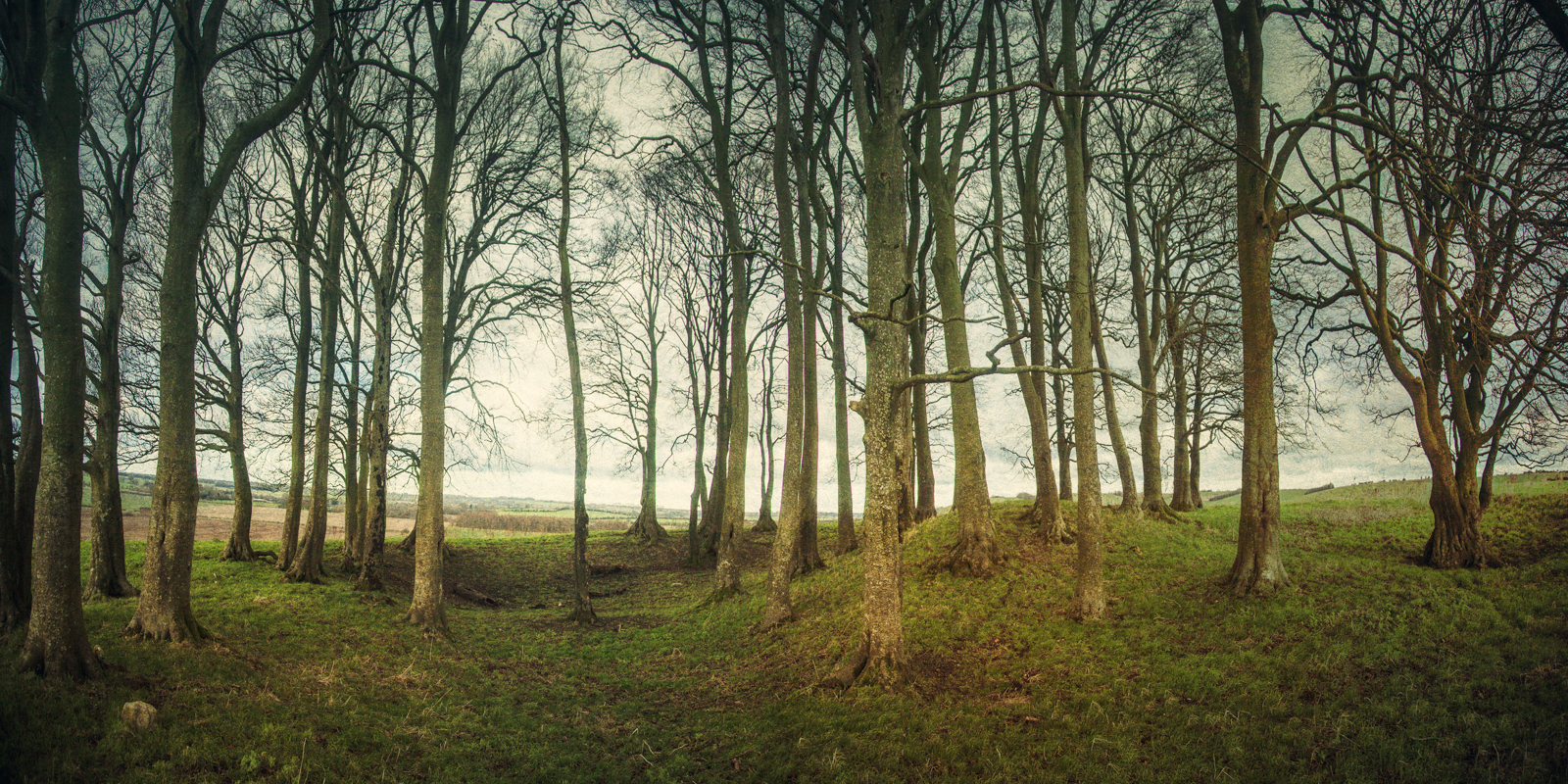 And then I was at the barrow. The trees which cover these ancient burial sites were planted in the 18th century, which give the barrows their nicknames of hedgehogs, as they resemble somewhat the prickly little creatures. Except up close, the small bump which seems so well defined is more like a bowl with a large bump in the middle, the site of the actual burial.
We Americans, if we know anything of barrows at all get it from reading the Hobbit. So even before encountering one personally, we have a feeling of mystery and foreboding built in.
They don't disappoint. Against what we might believe, the barrows post date Avebury circle and henge. Most date from the Bronze Age, rather than the Neolithic, with some even being Roman. The Anglo Saxons later took to burying their dead in existing barrows. Trubshaw believes that these later people believed the barrows were fairly recent, and to bury your dead there was to essentially claim ownership of the area. Ancestry was important to the ancients, even if they weren't your own. You weren't laying claim to a family plot, but to a line of important people, be they chieftains or just the Bronze Age equivalent of prominent farmers.
Wiltshire is local. Much of it is rural, farming is still a major industry, and that way of life lends itself to a distrust of strangers, of foreign occupation and events far away which could interrupt their own way of life. The EU isn't incredibly popular here, and it appears that it was much the same in ancient times. Except for signs of the Roman occupation, one doesn't find a lot of evidence of contact with the European continent around Avebury, dating to the time of its creation.
I entered the little copse of trees surrounding the barrow and felt the enchantment sweep over me. As I had approached the top of the hill, the wind grew stronger. Once I reached the height of the barrow, I noticed the ridge extended further up, with the track of the Ridgeway being another hundred yards or so beyond. Today it was like a wind tunnel up here.
But inside the barrow it was calm, the trees making for a nice wind break. The ground undulates here, I don't know if there was originally an embankment or ditch surrounding the barrow, but I found a nice low spot, rolled a cigarette and had a smoke.
It was then that I noticed something unusual. I was happy. My mother's death had been rough, but it wasn't unexpected, nor unwelcome. She was in a bad place. I had let that go. I was spending the week in what is arguably my favorite place in the world.
I had been drawn to Avebury since I was a little boy. I spent the afternoon here about 15 years earlier, which only whetted my appetite. The most spiritual moment of my life took place in the circle down below me. The night before I was in the Cove, once a trio of stones believed dedicated to the dead, crying away the loss of those I love has been a spiritual moment. There was no artifice about either of those nights – no priest or preacher telling me what to feel, no hymns to artificially lift the spirit. Avebury is my church, it's where my soul feels at peace.
The rest of my life lay somewhere out there, I knew not where. All my plans had fallen through, the home I thought was mine turned out to be an illusion. For the first time I found myself without a home, without a dream to pursue, and nothing to hold me back.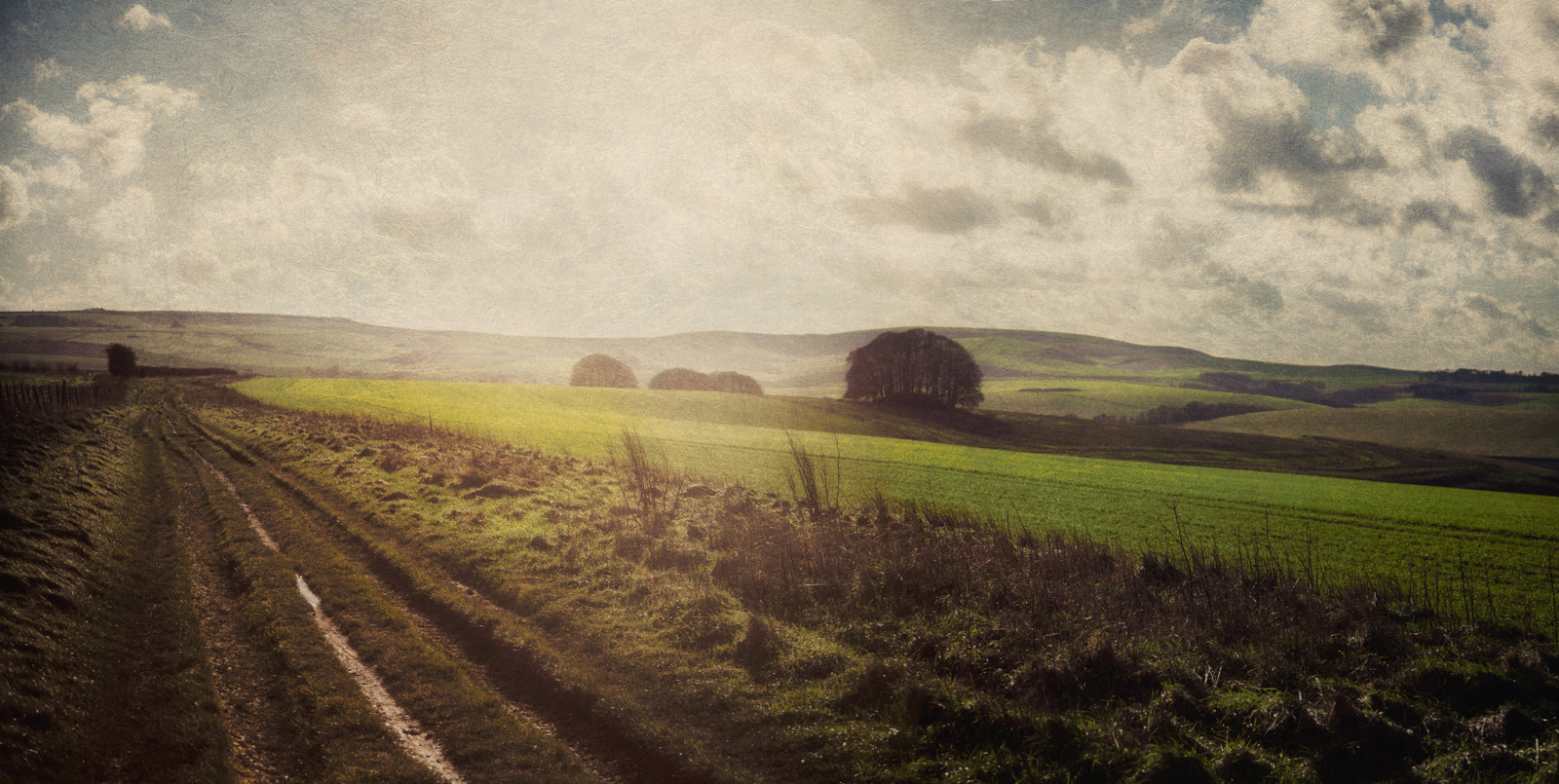 That to me was fucking exciting. So I picked up my stick and my bag and started up the hill to the Ridgeway.
Unfortunately I started in the wrong direction and found myself hemmed in by barbed wire. I didn't feel like retracing my steps. So I began to work out a way over the barbs.
Climbing a barbed wire fence is tricky, particularly for guys. We have bits that dangle, and even if they are neatly tucked away, as mine were now, there's something intimidating about straddling a barbed wire fence. This one was tall enough that I could just do it by standing on my tippy toes. I calculated my strategy in my head.
My deer friend stood a safe distance away and watched disapprovingly. I was sure I heard deer chuckles when not only my pant leg, but coat as well got snagged.
There were rips, but my flesh was intact. And so I made my way to the top of the hill and the Ridgeway.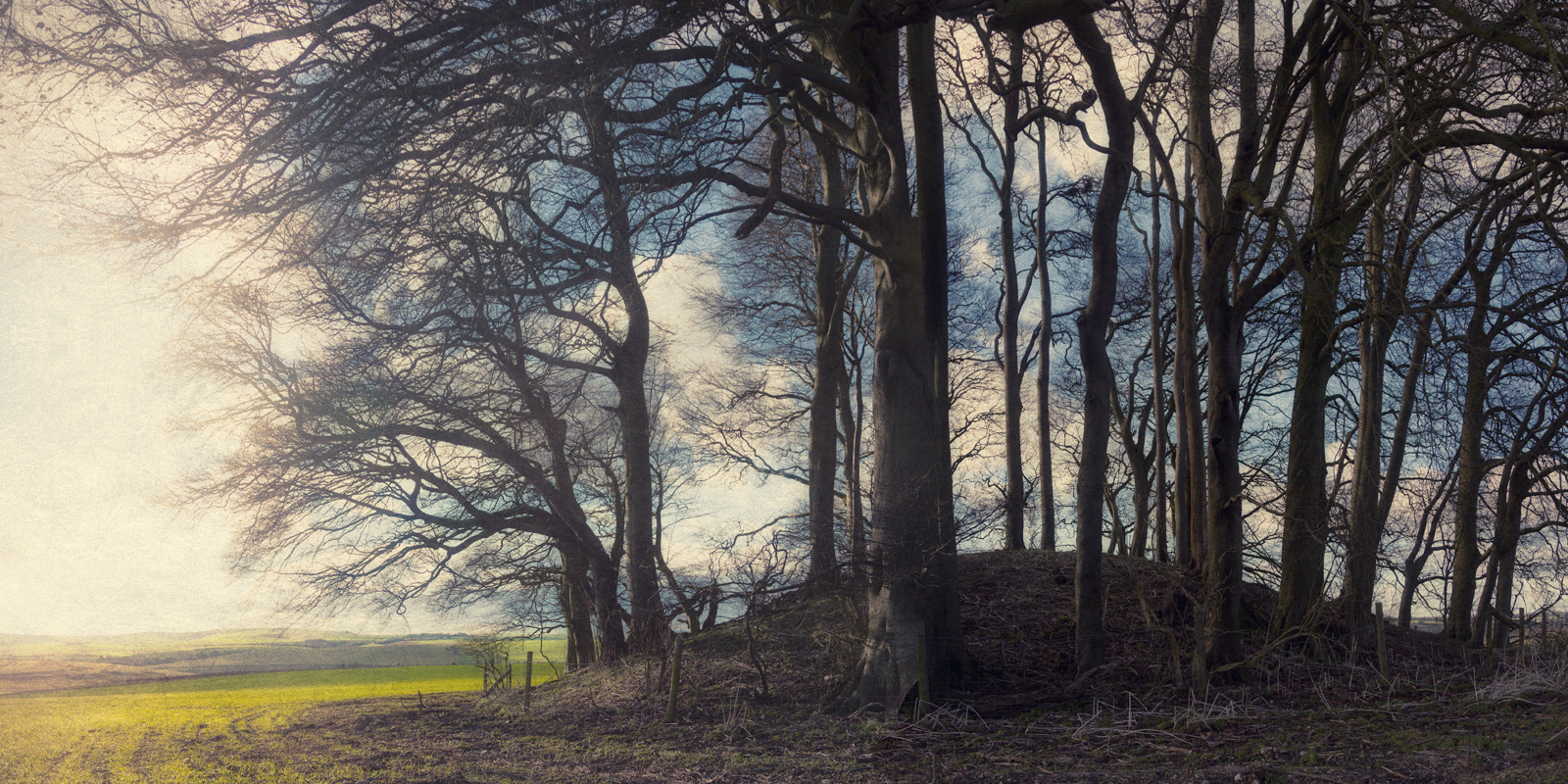 People have walked this route for about four or five thousand years. It follows the highlands for long stretches, which were spread about before me catching the light in magical ways.
To my left was Fyfield Downs, still strewn with rock, where many of the stones for ancient Neolithic sites like Avebury comes from. This stretch of field must look quite a bit like how it did before man came down to haul away the sarsens for whatever purpose their creations served.
There were people up here, like myself being billowed by the wind. But it was exhilarating, and my feet seemed to be moving of their own accord. Sure, it's easy to follow the path. But some just pull you on.
So I continued skipping along the Ridgeway, popping off on occasion to investigate the barrows. Each had a different feel, a different mood one could sense if they were quiet enough. I came to a crossing of the trail, the new one leading downhill, to a particularly interesting looking barrow, and West Kennet Avenue beyond.
I wanted to go on though. There was more to see at the foot of Overton Hill.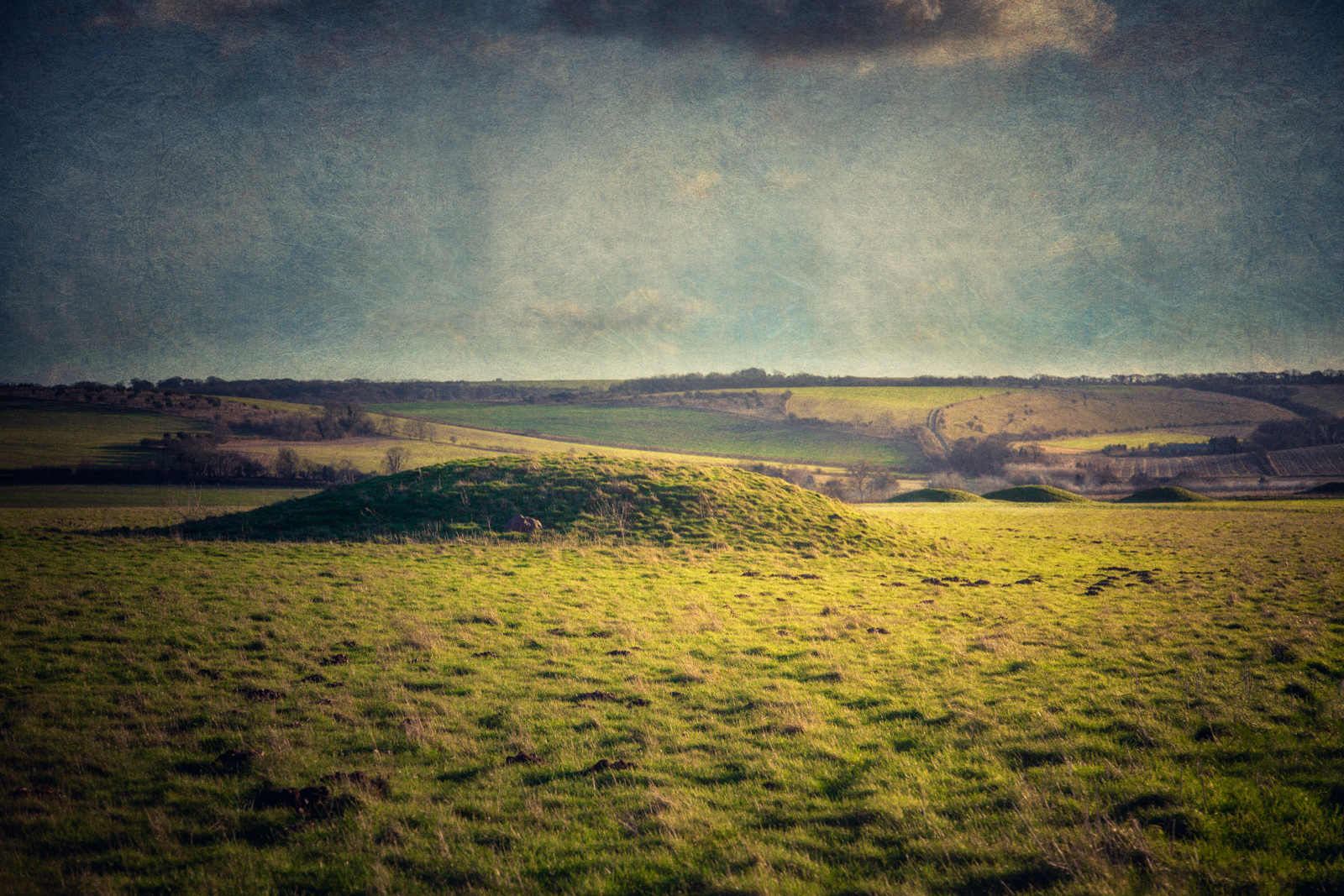 Near the bottom I was able to make out Seven Barrows. There are more than seven, about ten actually. It's likely there were more at one time. There are even Roman burials here. The keen eye can make out the trace of one of the best preserved Roman roads in England. Today it's little more than indentations in the landscape. But the location of Roman burials in drum shaped barrows, at the cross roads of an important road, leads credence to the belief that the Roman burials were quite prominent. And showed perhaps a bit of English custom was rubbing off on their Latin speaking occupiers.
Or maybe the Romans were just wanting to show they had not only conquered the living, but also the dead as well.
There was a small crowd down here … a trio of beer drinking, macho day hikers. A family with a gaggle of giggling children. A couple walking with their arms around each other. I breezed through the crowd and found myself fully in the 21st century, waiting to cross a busy highway.
One wants to be careful here, as the line of site is incredibly poor. If you hear a car coming, chances are you won't be across the road before it tops the hill at a high speed, unable to stop.
But I made it and found myself at the Sanctuary. There were two small circles here, up till the 17th century.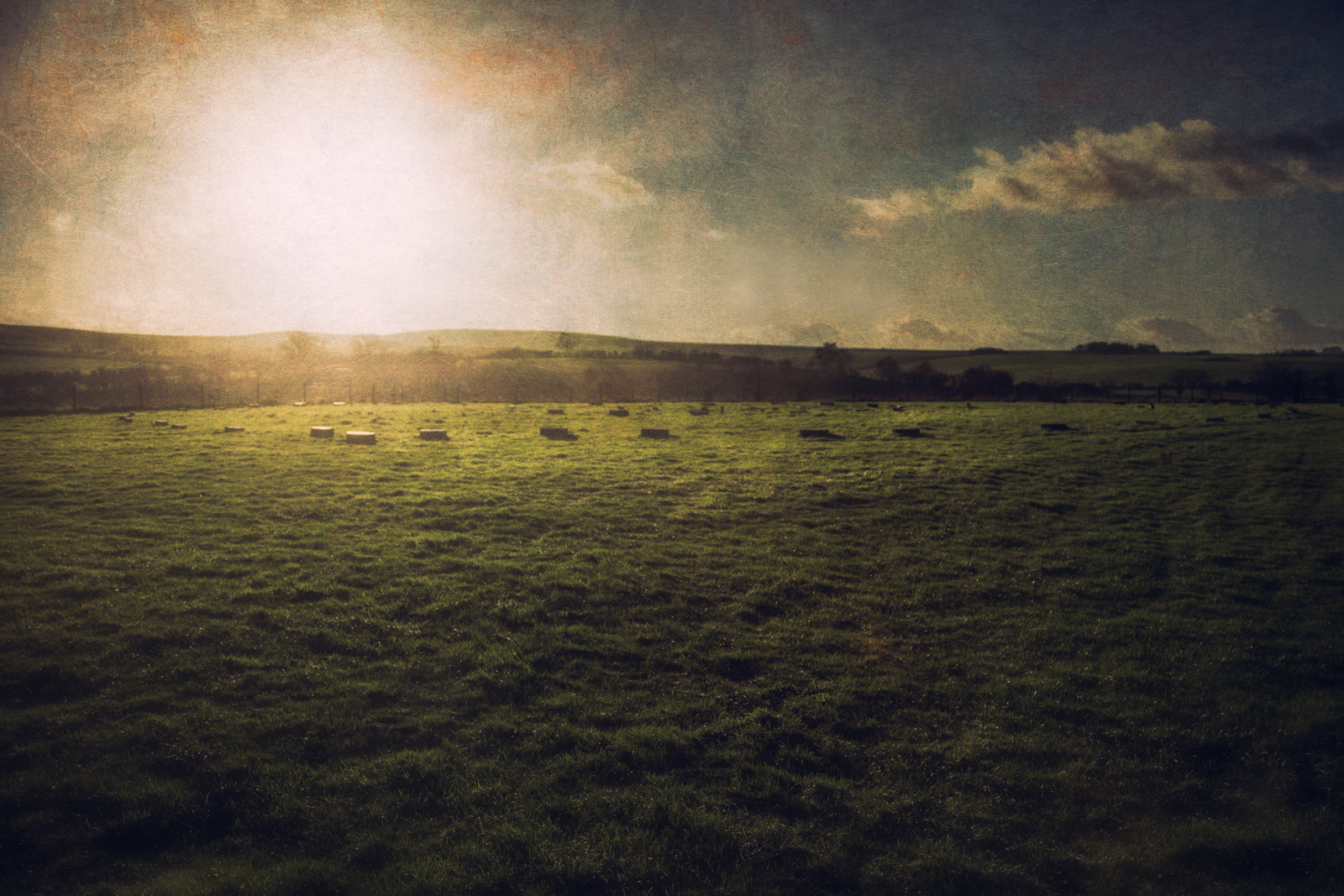 It's thought that West Kennet Avenue culminated at the Sanctuary. Like the rest of Avebury, it's not known what its purpose was. It was recorded as it stood in the 18th century, shortly before its destruction, and showed a large outer ring of stones. There are other stone and wooden post holes in concentric circles within, and it's believed at one time there was a wooden palisade here. There have also been considerable finds of human bones, so it's believed to have some mortuary purpose. The oldest finds date back to about 3,000 B.C., so the Sanctuary predates much of what you see today in the Avebury complex, including Silbury Hill.
Today it's nothing more than concrete slabs showing where post and stone holes once were. The imagination reels, and you can see many versions of history built up before you. But in the end, another car breaks your reverie, whooshing down the highway alongside of you, and you're staring at a field filled with concrete slabs.
It is perhaps Avebury's greatest loss.
So I turned back towards where I knew West Kennet Avenue came out, which led back into Avebury. It wasn't as straightforward as I had imagined and I was walking along the highway, which had no shoulder to speak of.
Finally I came to a turnoff and saw the first stones of West Kennet Avenue. My mood lightened considerably after I was off the busy highway, and as I stepped onto the grass that begins the avenue, I felt safe once more.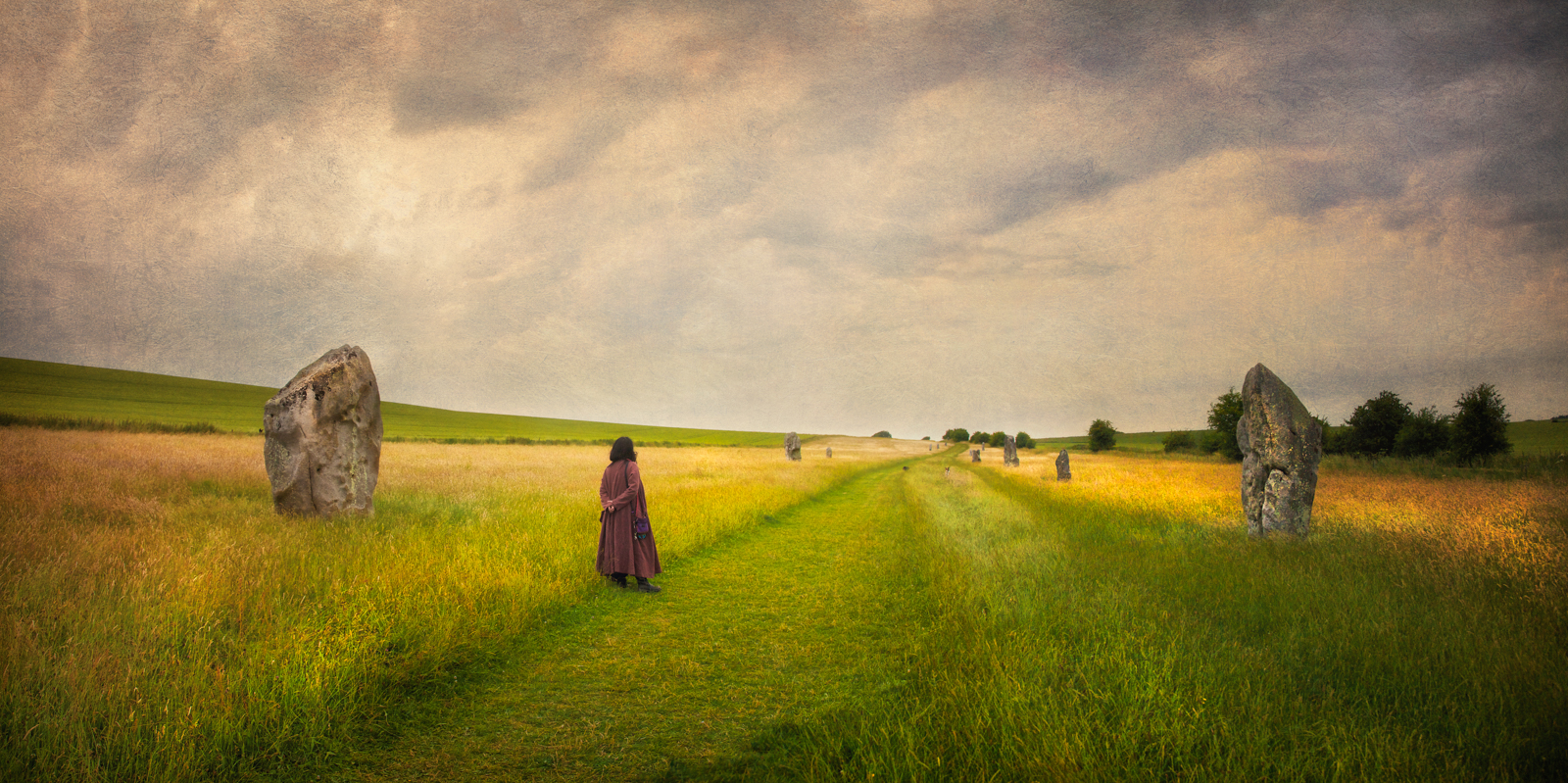 It's a peculiarity of many of the stones at Avebury, that if you look at them from the right angle, you see faces. This is particularly true at sunrise and sunset, which was coming on soon. On that first stone was the most vivid face I'd yet seen. And it was terribly sad. I didn't want sadness and so I banished the thoughts away. It was surprisingly easy. At Avebury I feel I have control of my own mind, my own heart.
Once more my spirits were lifted as I retraced the ceremonial way up West Kennet Avenue and into the Avebury circle.
A friend of mine who lives near here wasn't aware that the main southern entrance to the circle wasn't where the road passes through. And yet by instinct, she always crossed the road and then up the path to the little stand of trees which marks the actual entrance. I'd never noticed that before, until for the first time I traced the route with intent to follow in the neolithic footsteps. It was, and remains still, a processional way, even instinctively. Once I was inside the circle and once more sitting on the ring stone, I realized I was healed.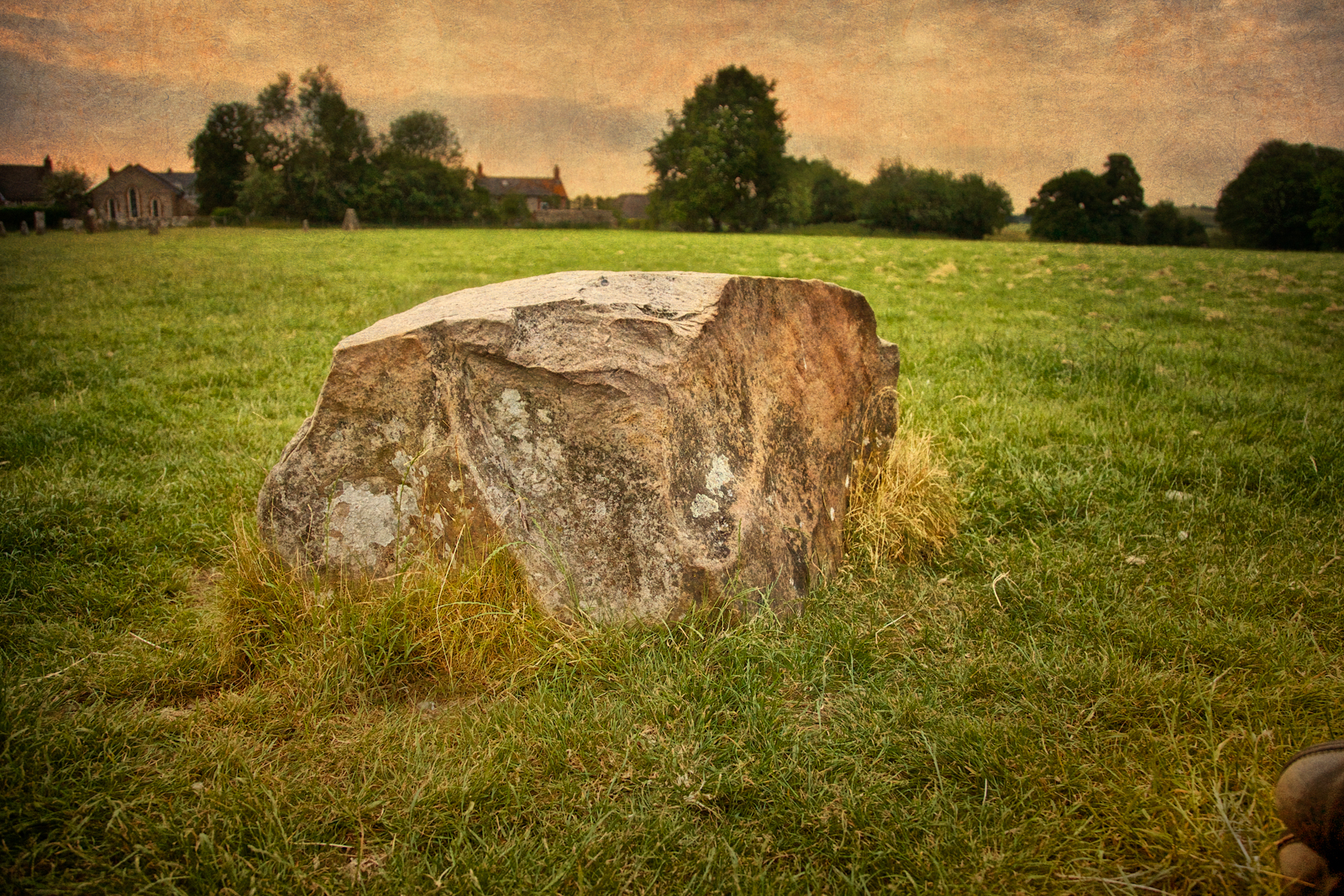 The pain was washed away. I had just had a fucking fantastic day. I was sitting on the spot where the most sacred experience of my life took place, and it didn't hurt. There was no regret either. There was only one thing that could make it better. Night time fell and the lights of the Red Lion were calling to me.
More about Avebury from A Gothic Curiosity Cabinet …