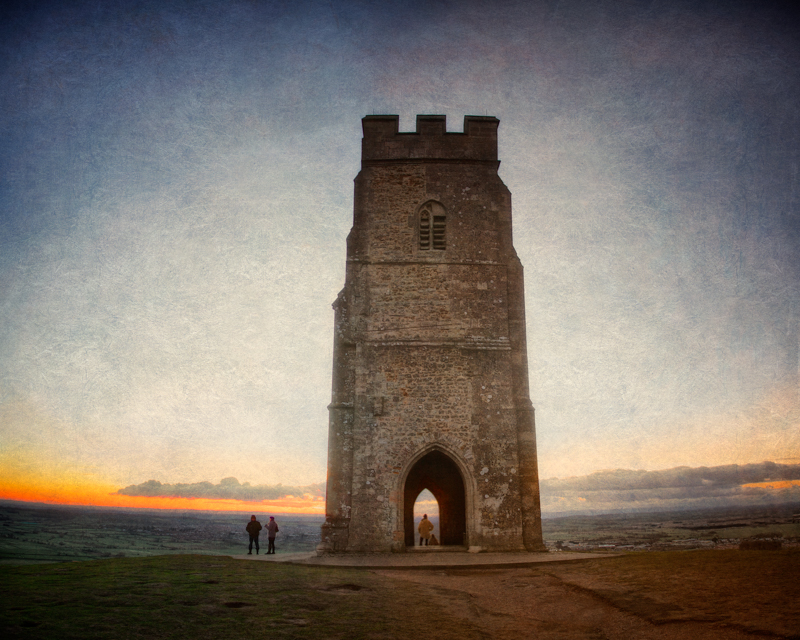 I WALKED THE FEW STEPS back to my room at Berachah Guest House from the White Spring. Glastonbury had worn me down, though after god knows how many days holed up in the George and Pilgrim Hotel, it was nice being out of the center of the village.
Glastonbury isn't large by any account. The center feels like that's all there is to it, aside from the Tor of course. But when I was there previously, a desperate search for a drug store took me into a more modern town which I'd never seen before. It's still small, but there was more here than when I first turned up in Glastonbury about twenty years ago.
From Berachah you have the countryside at your disposal, the Avalon of legends. The countryside lives up to the imagination. Of course there's Glastonbury Tor. At BeracI WALKED THE FEW STEPS back to my room at Berachah Guest House from the White Spring. Glastonbury had worn me down, though after god knows how many days holed up in the George and Pilgrim Hotel, it was nice being out of the center of the village.
Glastonbury isn't large by any account. The center feels like that's all there is to it, aside from the Tor of course. But when I was there previously, a desperate search for a drug store took me into a more modern town which I'd never seen before. It's still small, but there was more here than when I first turned up in Glastonbury about twenty years ago.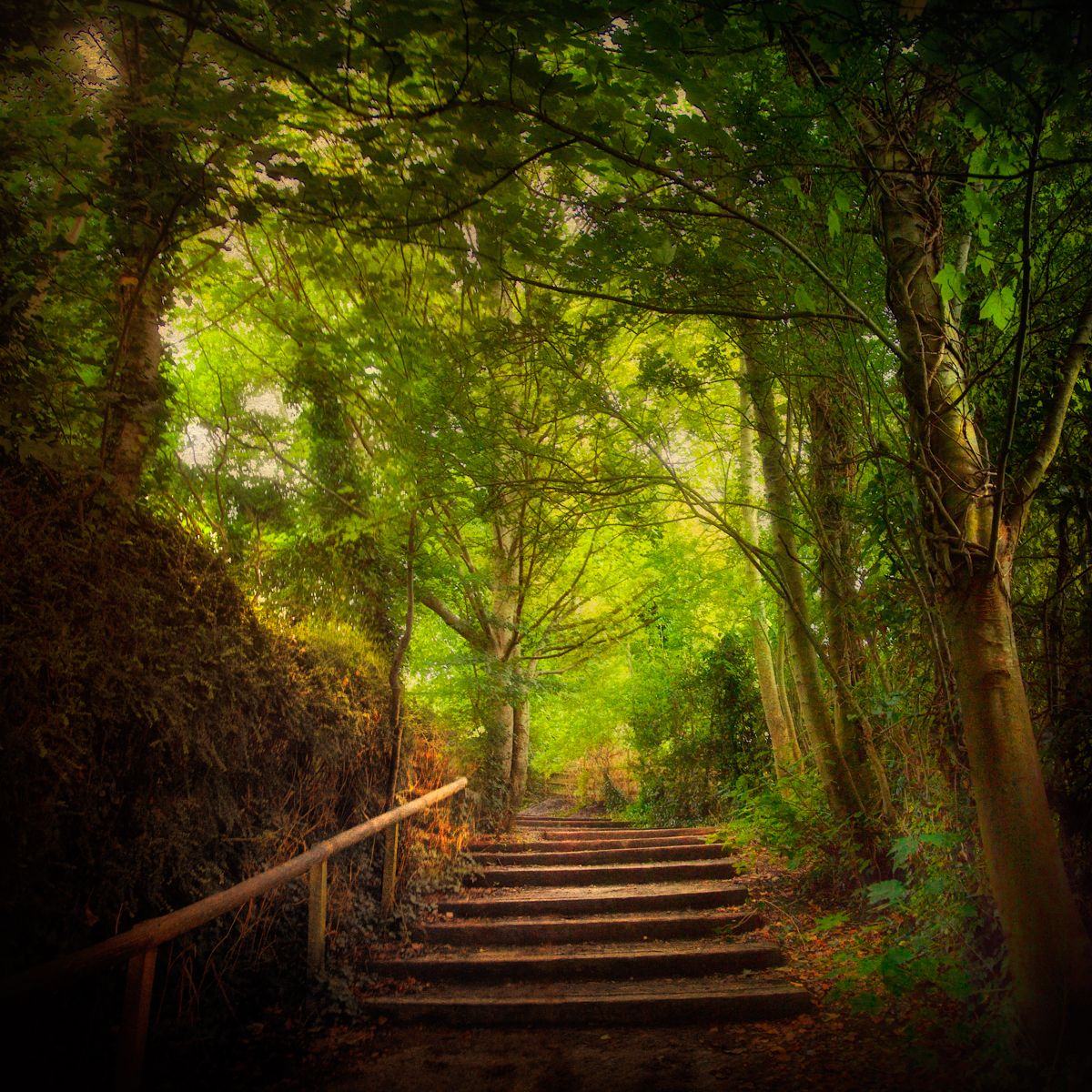 From Berachah you have the countryside at your disposal, the Avalon of legends. The countryside lives up to the imagination. Of course there's Glastonbury Tor. At Berachah you're already on the Tor. Below you lies the Red Spring at Chalice Well Garden and The White Spring.
There was a pub a short distance away, but I wasn't in the mood to eat. I couldn't remember the last time I'd eaten a proper meal, except for the occasional breakfast. I'd consisted mainly on fruit and tea, and didn't see any reason to change now. I'd been carrying around a curiously large cucumber for days, and could chop that up. I knew tomorrow night I'd have fish and chips. And mushy peas. I fucking love the British and their mushy peas.
So I slithered up the steps and into my room. I was a mess. My hair dripping from the White Spring, my coat dirty and with bits of vegetation clinging to it. Mud up to my knees.
Come to think of it, I typically look like this when I travel. Much of Britain is built on an incline it seems. I look around so much I tend to regularly fall on my ass, particularly if there is mud about.
Berachah is so clean and I noticed I'd tracked mud in from my boots. I dutifully wiped them before I came in, and they looked clean from the top after all. I went into my room and closed the door. I didn't even bother taking off the muddy boots – just fell back on the single bed so that they hung off the end and went to sleep.
I awoke an hour or so before dusk, alarmed at how late it was. I sprang to my feet in the reverse order from which I'd fallen, grabbed my walking stick and snuck out the door.
A short walk down the steps, a few paces down Well House Lane and you're at the path up the Tor. There's another path, shorter but steeper which can be found further up the Lane. It might be the proper path even, as it's adorned with historical markers and the like. Don't expect anything like parking at either.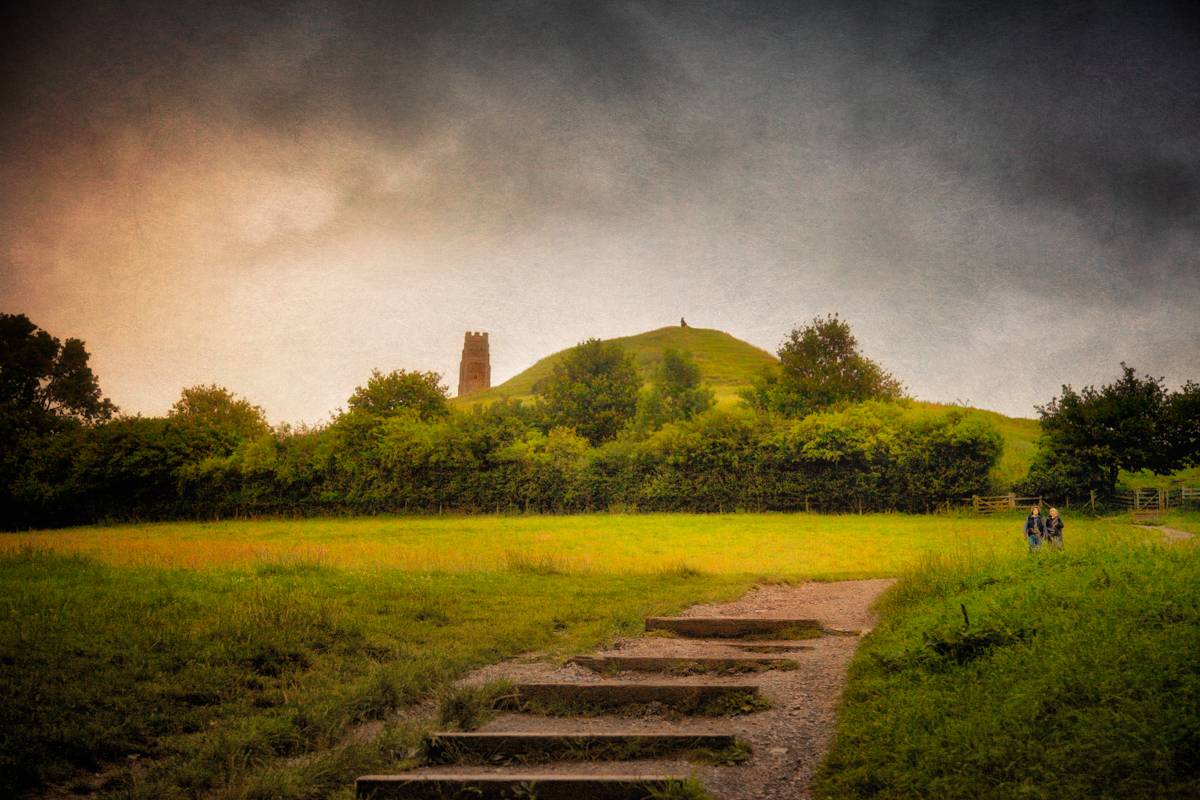 I actually prefer this walk. It's longer, it gives you more of a chance to think. You don't even see the distinctive shape of the Tor from here, so it's not till you're at the top that recognition sets in.
The path skirts the spine of the Tor, the steps built to prevent erosion, twisting and turning ever so slightly as it climbs.
There's a third route to the top, the pilgrim's route, circular and maze-like. I'd love to have tried it, but dusk was closing in.
And something was nagging at me.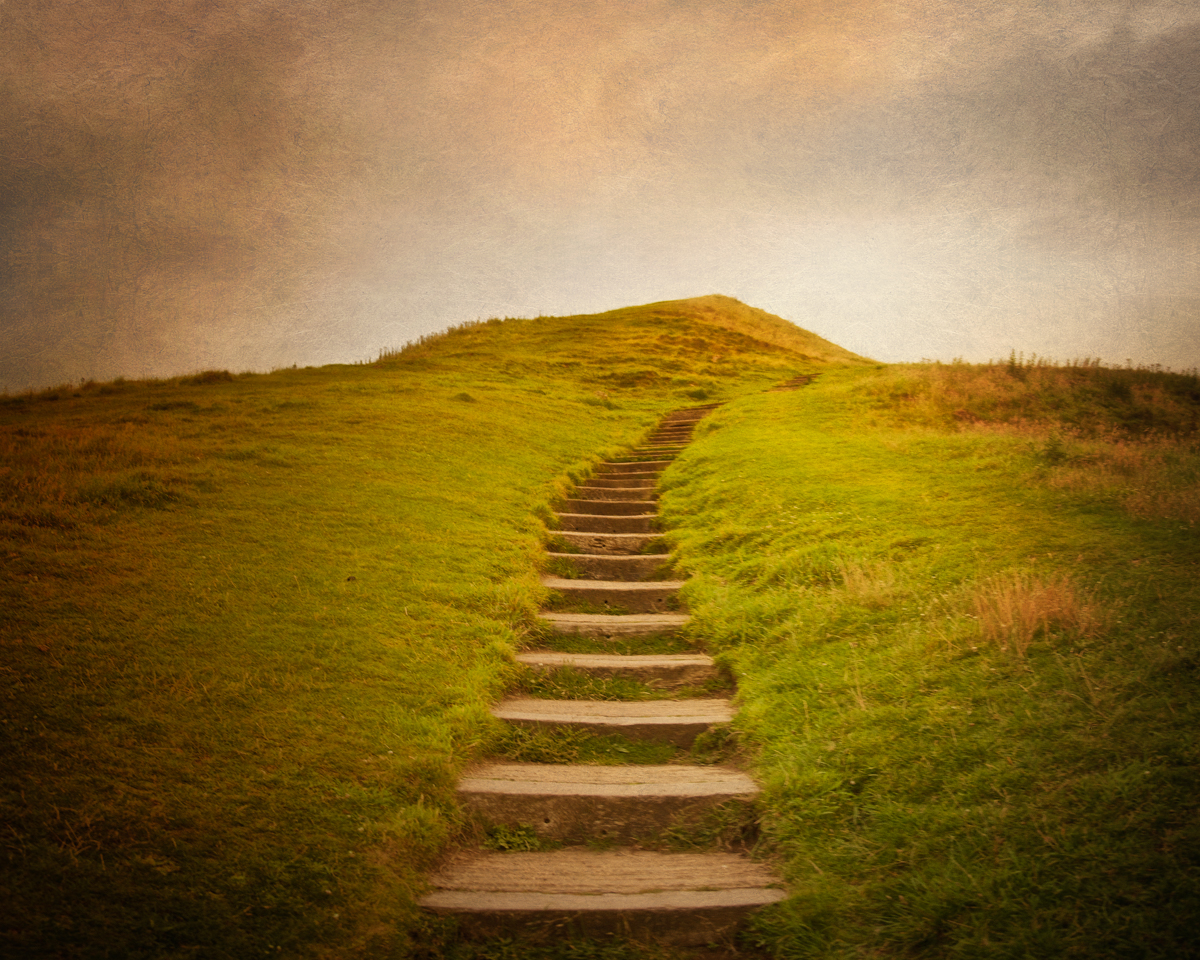 Glastonbury is seeped in mystery, dripping with legends. Is any of it true, or are our perceptions colored by little more than urban legends passed down from the anglo saxons and Victorians? A comprehensive study was done some years back about the historical accuracy of Glastonbury's legends, and the results weren't to everyone's liking.
What they discovered is that most of the historical accounts are in fact, fiction. It's incredibly unlikely that Joseph of Arimathea ever came here, before or after the crucifixion. Which means no holy thorn tree and most damning, no holy grail. And also no visit from the youthful Jesus. So to answer your question Mr. Blake, those holy feet likely never trod in Albion.
The oldest church in Europe is in fact, quite a bit newer than legend would have it, about 700 a.d., which strips it of its title of the oldest. Glastonbury Abbey burned in 1184, (contrary to legend, it didn't burn when Henry VIII ordered it's dissolution 355 years later, so he never watched the flames from the George and Pilgrim either). When it was rebuilt, it was designed to look old, to further the idea of the Abbey being the oldest in Britain, if not Europe.
Pilgrims were a lucrative business, and abbeys competed for their attention. Pilgrims meant donations and other purchases. It meant business for the town. With much of the Abbey in ashes, donations from pilgrims down and money needed to rebuild, the idea was likely put forth about Joseph by the Abbey itself. The grail story actually came from the Grail cycles, and fit well with the legend of Joseph.
Which brings us to Arthur's grave on the ground of Glastonbury Abbey. There might have been a grave there. The Abbey eventually held the remains of two British kings after all. There might have even been the mysterious cross which proclaimed it Arthur and his bride, which later disappeared. But it wasn't Arthur in the grave.
It's believed the king went along with the ruse in part, to convince the native English that Arthur was indeed, dead, and wouldn't be coming back to save them from the foreign invader whose ass and descendant's asses sat on the throne.
Gog and Magog couldn't have been part of the processional way to Arthur's Camelot, as they weren't old enough, even if Arthur had been here. They were part of a man made avenue of oaks, the last two remnants. So in that they add to the Glastonbury landscape a bit of historical fact.
Which leaves what of the mysteries of Glastonbury? This hill, Glastonbury Tor, as well as the White and Red Springs down below. Which I believe is why Glastonbury attracts mystics and all ilk of the spiritually active. I don't have any evidence for this, but I think it's the shape. It's distinctive, even without the ruined tower on top. It's visible for miles and it just looks right.
Like I said, I don't have any evidence for this, but do you have a better theory?
There's no better inspiration to mystical thought than the landscape itself. From the Romantic poets and composers to the tree huggers of today, nature has long been an inspiration to not only pagan thought, but Christianity as well. Much of the landscape around and inside Glastonbury was sculpted by Christian custom and the necessity of supporting the abbey. From the George and Pilgrim Hotel which catered to the pilgrims, to the orchard and gardens which provided the necessities and comforts of life, what you see is very much the result of Glastonbury's monastic past.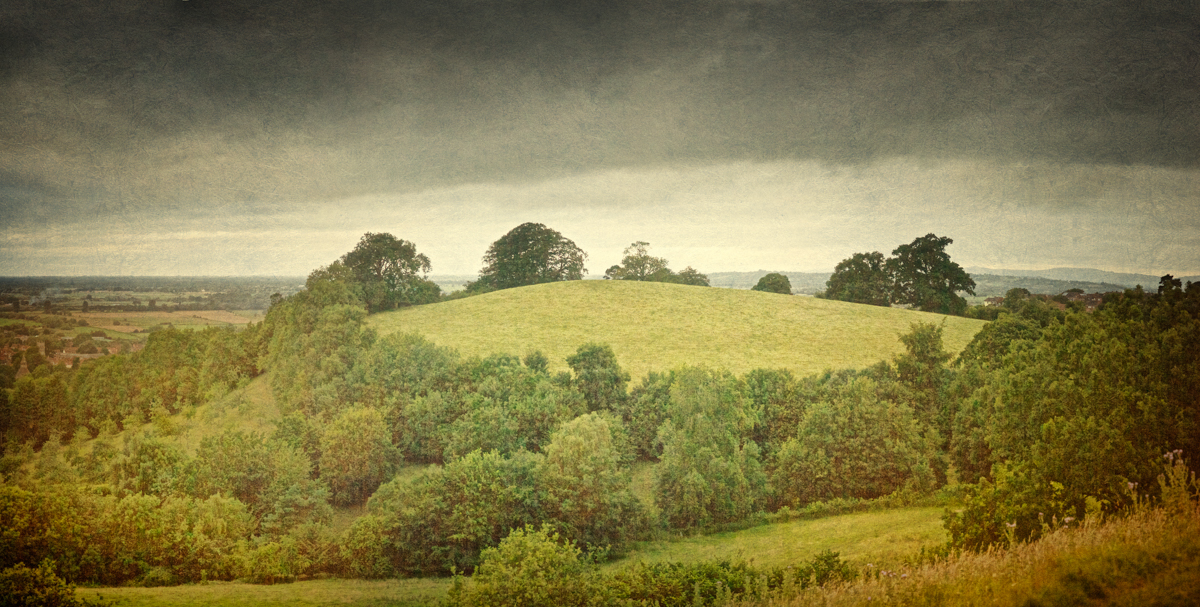 So is the custom of welcoming pilgrims, even to this day, though now the pilgrim is as likely to be pagan as Christian. The tradition of welcoming the sick and infirm stretches back to the abbey as well, and then through the years of trying to monetize the springs, to today where people still come to Glastonbury looking for a miracle.
With that my mood changed. We don't needs legends to fall into the mystic. We just need an open mind and the ability to believe.
Down in a shop in Glastonbury I bought a small card which read "If you don't believe in magic, you will never find it." Climbing the steps of Glastonbury Tor makes it easy to look, and easy to find it. The tower above draws you upward. You stop, turn and look behind you and there's the village of Glastonbury, spreading out below. It's still wooded on the slopes of the Tor, Chalice Hill rises up beside you. If you're like me you're getting a bit winded as you reach the final steps and there it is, the ruined tower of St. Michael. The doors are centuries gone, so you look right through it and out across the expanse of Somerset and beyond.
It's hard to find a walk that easy which leaves you feeling like you're on top of the world. You might not really be on top of the world here, but it does feel like you're at the center of the world around you. That world might stop at the Somerset border, or the waters of the Atlantic surrounding Britain, but if the mystics are right, it might not.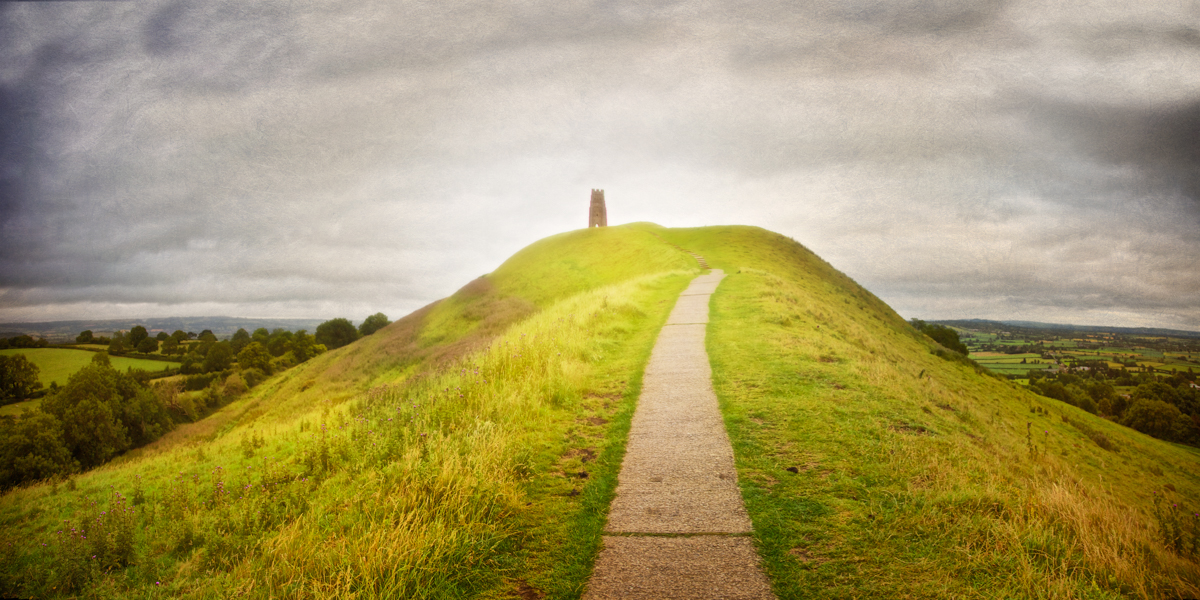 At the edge of the summit is a marker, pointing out the direction and distance of various landmarks. I ignored all those and triangulated the spot on the horizon where my lost love's house lay, on the other side of Salisbury Plain, and dreamt I could see her there. My eyes finally found the spot, and I watched as it slowly vanished, swallowed up in clouds. I felt a shadow crossing my heart as we became separated by mist.
There's an amazing optical effect known as the fata morgana, named after Morgan le Fey, sister of Arthur and a renowned sorceress, where the mist surrounds the Tor, making it seem to rise up from the clouds. I was about to see it from the top.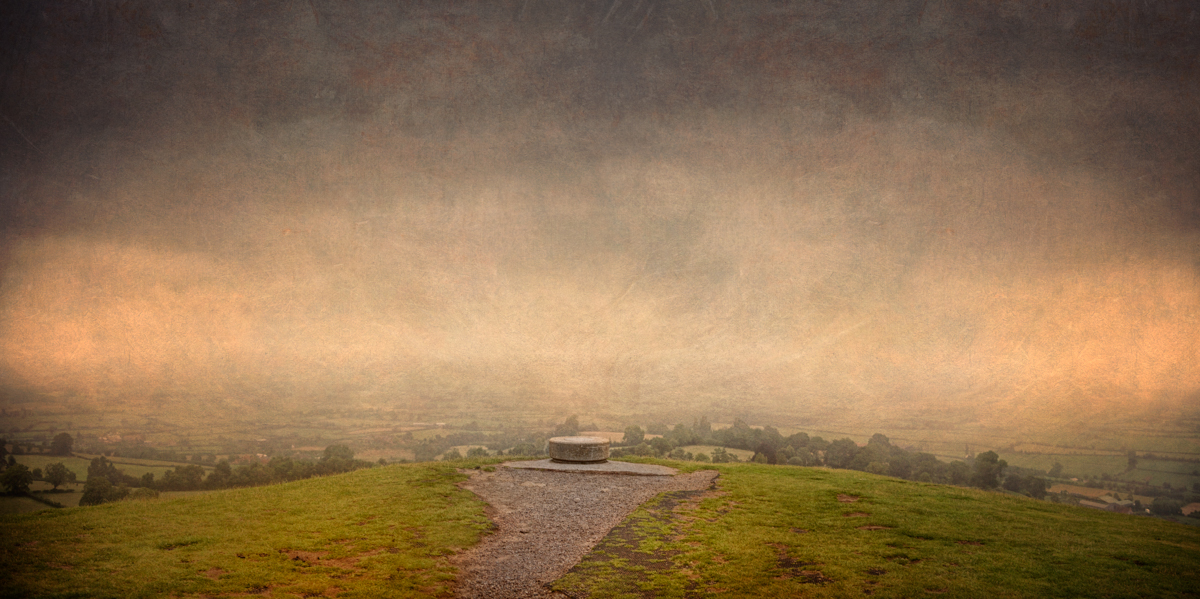 The skies were closing in and the mist was creeping in from the distance across the levels. I was reminded of the maxim, as above, so below, as the clouds seemed to be pulling the mist up from the ground. There were two Italian women inside the tower, prone to giggling and not understanding a lick of English. I didn't understand a lick of Italian. But they did manage to get across that they wanted me to take their picture for them. I obliged and slipped out of the tower.
Outside were two young ladies sitting in the grass, overlooking Glastonbury, smoking cigarettes and drinking large bottles of ale. I went around to the other side and sat with my back to the tower. The wind was stronger here, I wanted to roll a cigarette, but that would have been madness. The sadness which had left was creeping back in. I didn't even want to be here. But I knew I had to be. I didn't know why, but I knew this sunset was important. Even though the sun wasn't visible.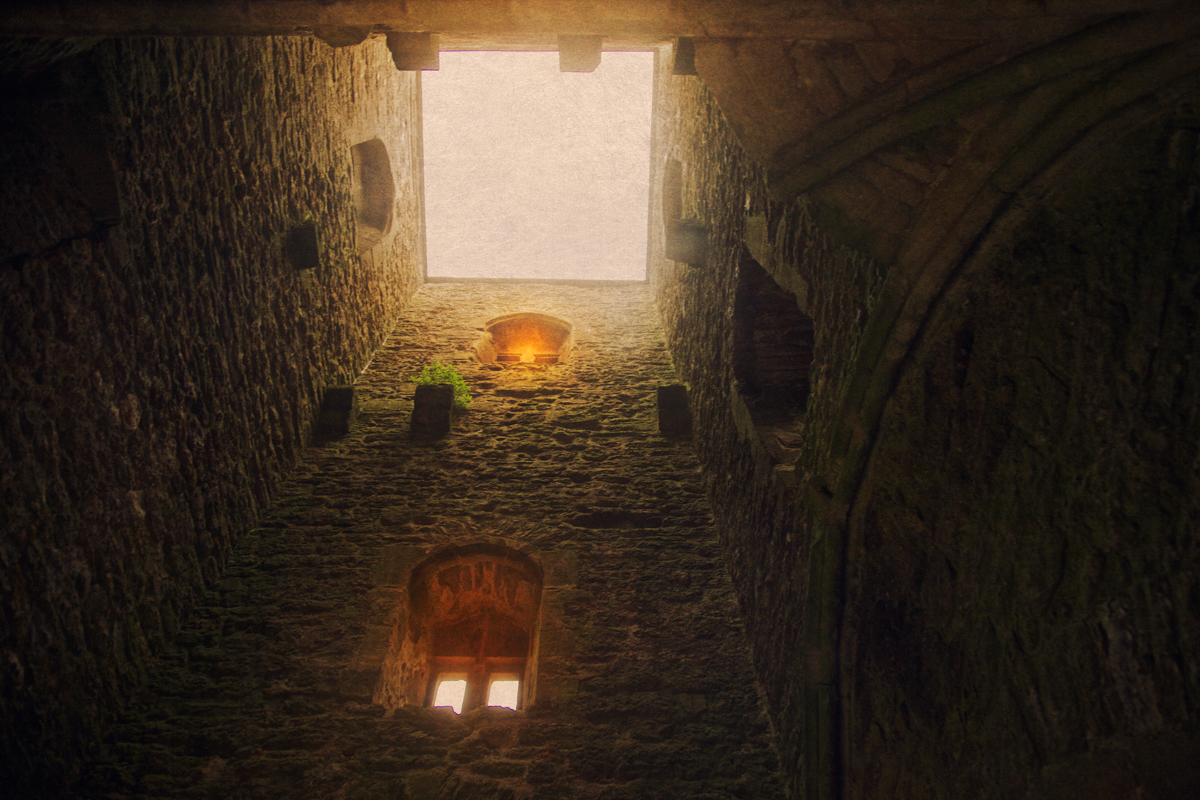 It's tempting to look from the top of the Tor and see the famed Glastonbury Zodiac, where the signs are all supposed to be built into the landscape by ancient peoples. The biggest problem is that in ancient days, much of the area if not most would have been underwater. Add to that the fact that many of the landmarks used to define the star signs only appeared in the 18-19th century, and there's another Glastonbury myth disappearing in the mist around the Tor.
All of this made absolutely no difference. When you stand atop the Tor you feel it. You don't know what it is you feel, but you feel something undefinable. Something enchanted. It's just that for centuries, people have sought to define it, rather than just feel it. So a tapestry of belief is woven around the place.
I've never been there at sunrise. But I've spent two sunsets there, both magical.
Maybe it's because you're so exposed. Maybe it's the wind. I've not been up there without the wind for company. But there's a power to being there which can't be missed. After all, you and the handful of people up there are the only people experiencing that moment, that sunset.
But the wind was harsh and I just wanted to sit, smoke and mourn. The sadness was pouring back in, which was inevitable. The last sunset I watched from here was with H, and my heart sunk.
I went inside St. Michael's tower, fell back into the corner and slunk down to the stone floor. I rolled a cigarette, picked up a piece of broken stone and scratched our names on the floor.
A man and woman came into the tower, carrying backpacks. They were dressed for traveling, casual but quality stuff. They sat on opposite sides, facing each other, not smiling, not speaking. Eventually they took off their packs and went back to staring out the door. Another man came in, older, well dressed as well. He too was carrying a bag, which he sat by the door and walked out into the wind. Two more people came in, also carrying bags. It was apparent they all knew each other, but not a word was spoken.
Still more came in and the tower was nearly full. Someone spoke and I recognized a Germanic accent. Someone else replied, a single word. They looked somber, intent on something. They started rummaging around in their bags, pulling out hand drums, bodhrans. Another had some kind of wind chimes. A woman pulled out sage, lit it and started clearing the inside of the tower. A man did the same outside, circling St. Michael's, the smoke drifting out and merging with the mist.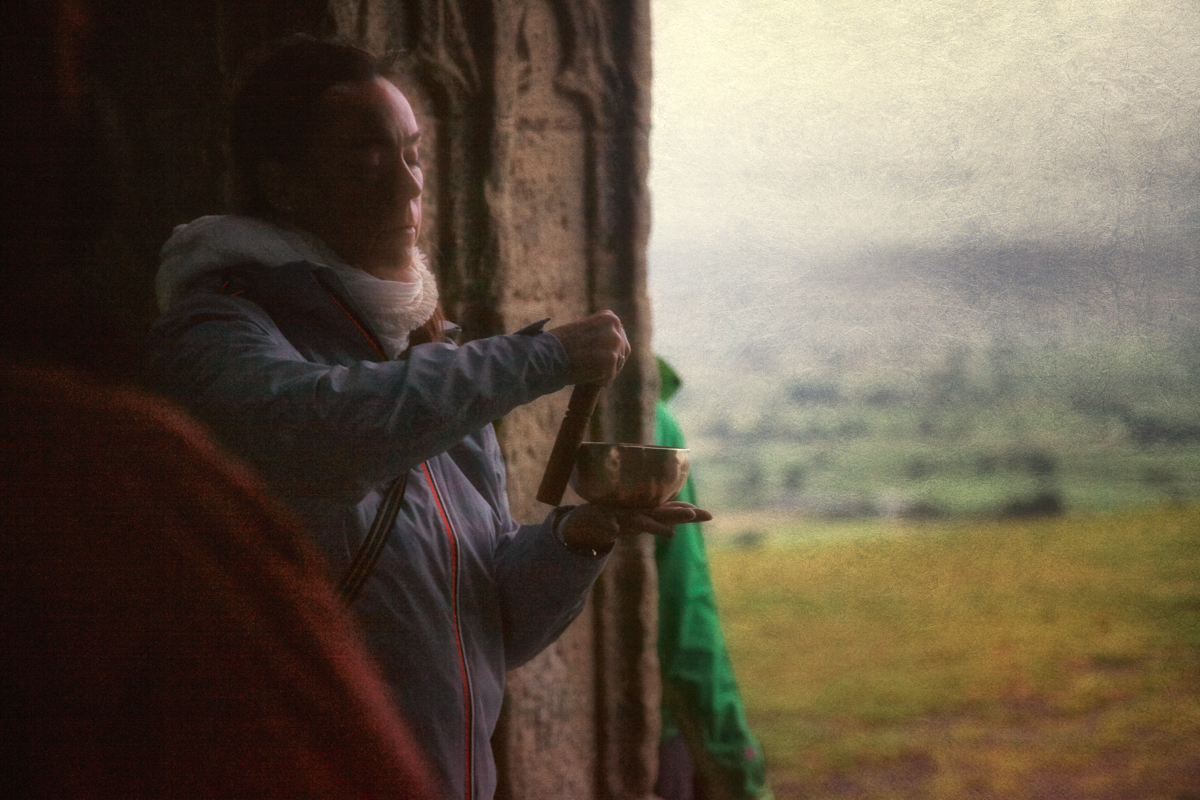 A woman with a Tibetan prayer bowl started a long, low drone. The drums started, softly, slowly. Another woman walked out towards the edge of the summit, put her arms out to her side and stood still. A man walked to her, tapping out a cadence on his drum. She didn't move the entire time, as though in a trance.
Quite honestly, my first thought was I might be a human sacrifice. I've seen a lot of Hammer horror films. I didn't know what was happening, but something was happening. After almost a week stuck in my head, it was nice to have something going into my head besides my own thoughts.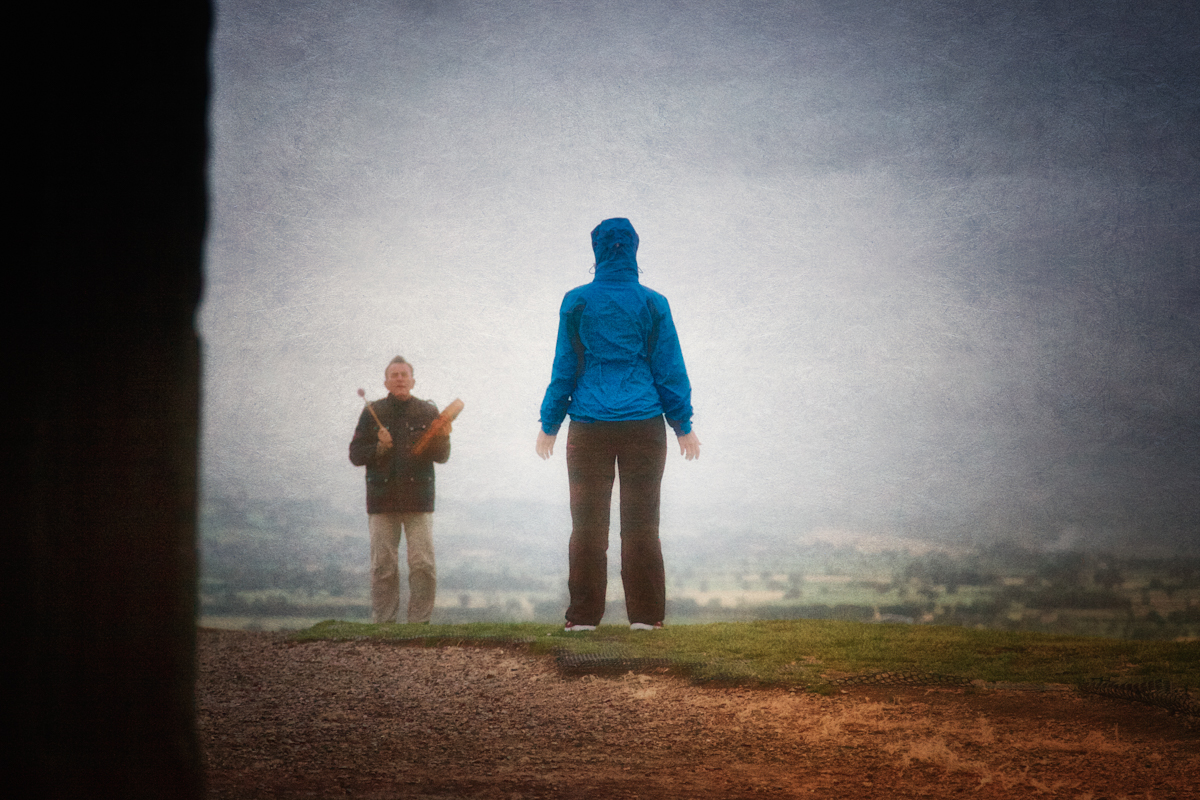 Another person stood in the center of the tower, mimicking the stance of the woman outside. The sage lady came around again. Each had a drummer standing with them. There were drummers at all four points of the compass. There was chanting. I looked around, expecting Christopher Lee to pop up at any time.
They weren't staying in any single position, so I got up and wandered outside the tower. The two ladies drinking ale were now sitting with their backs to the tower, looked a bit freaked. I looked out into the distance. Except the distance was obscured by mist now. The tor was nearly surrounded, the lights of Glastonbury like lights on an ocean liner off in the fog. I went back into the tower, sat down and inexplicably, started crying. I tried keeping my head down, but it was impossible to hide, and even more impossible to stop. It poured out of me and when I thought it was about to stop, it would start up again.
You dear reader could be forgiven to think I cry at the drop of a hat. I don't. Typically I cry at beautiful things.  There are times I feel like I have trouble expressing emotion. It's easier to write it than show it. But I had something worth crying over.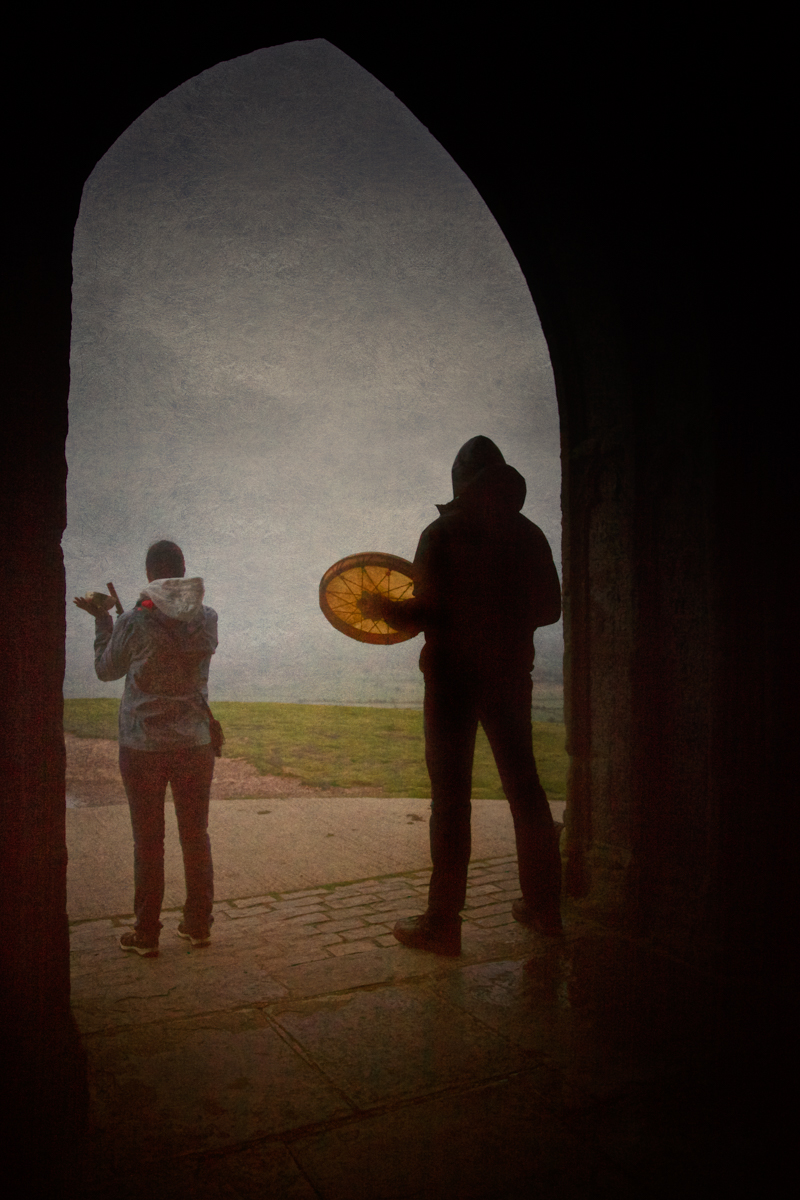 I can't say how long this went on, the music and chanting growing in intensity. It would wane, only to rise again, louder and stronger than before. The drums echoed inside the tower, the drone of the prayer bowl circled high over head and out through the ruined roof, merging with the clouds. Eventually I felt the tears drying up and the pain slipping away again, as the music once more wound down. I looked around at this strange company and smiled. I felt something close to happy.
Back outside I saw that the mist was thinning a bit. The sky which had been a mass of clouds earlier was breaking up as well. Over Glastonbury one cloud glowed strangely red, floating over the village and off towards the darkness. Most of the company was now outside, watching the cloud as though it had been summoned, and was now being banished.
The tension which had been palpable was breaking up as well. Hushed voices could be heard, people were hugging. A short lady with dark hair who had been standing to my right turned to me and asked, "how did you like it?"
"It was amazing," I answered. "What was it?"
Turns out the group was a bunch of professional types, everything from doctors, lawyers, accountants and an expert on sacred places, all from Germany, Austria, Poland. They were traveling Britain for a couple of weeks, seeking out places like the Tor, and essentially all doing their own thing. There was no structure to it really. But together it came together to create magic.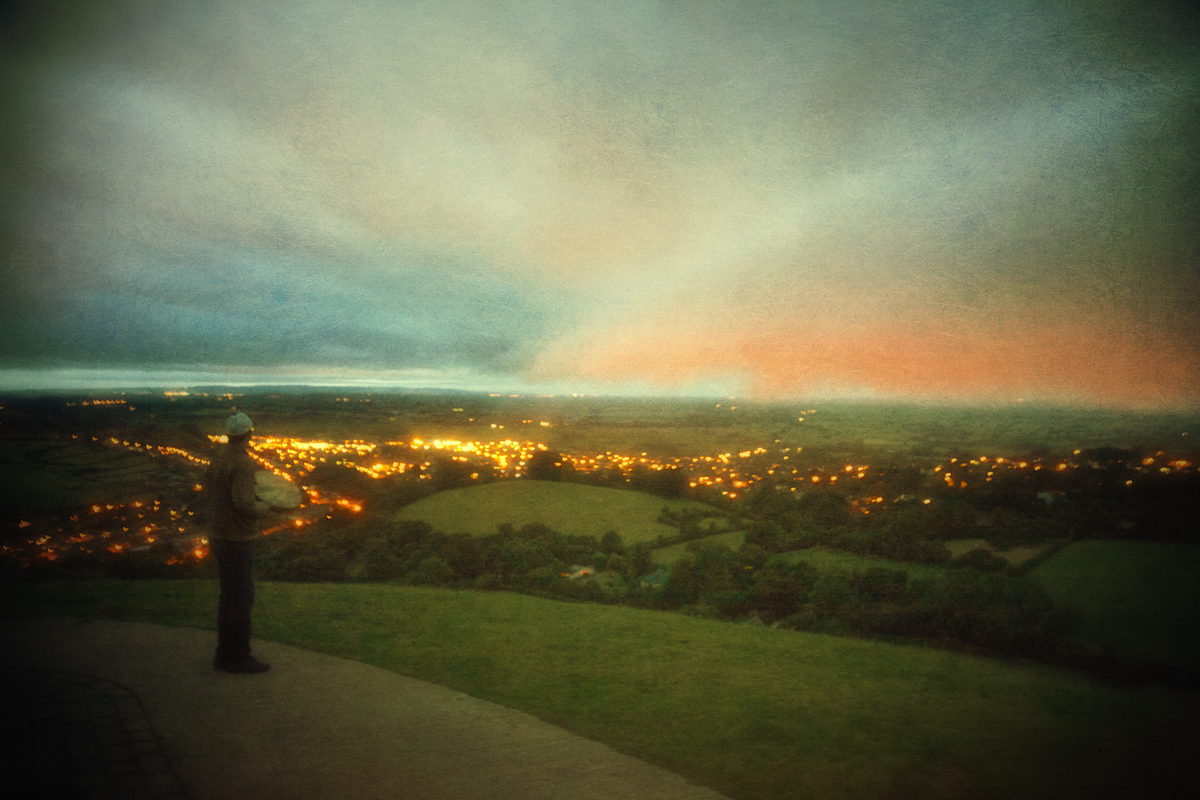 Eventually they packed up their stuff. It was dark now, flashlights broke the ancient spell of the Tor. I declined their invitation to walk down with the light, said a few fond farewells, and stood watching the red cloud float away in the distance, wondering just what the hell it was.
But it didn't matter really. There was likely some logical explanation for it, some way to debunk the magic. I didn't want a logical explanation. I didn't want any explanation. I just wanted to watch and wonder.
That's the secret of the Tor, and the secret of Glastonbury as well. You can debunk one legend, only to have another spring up in its place. Even if you debunk them all, you can't banish the feeling that something on this conical hill, something bubbling up from the depths of the earth below, something about the very ground is both sacred and haunted. Something ancient and unexplainable exists in Glastonbury. And whether it lies partially obscured in an alternate universe, or only exists in the hearts and minds of those there, it's infectious and real.
And so I turned and started down the steps of the Tor in the dark, ready to leave Glastonbury the next morning, perhaps for the last time. A new person.
+ + +
I realized something that evening. I didn't summon that group of people up there. Our paths met. Their instruments didn't summon the mist to surround the Tor with us on top. And when the mist cleared and the lights twinkled on below us, the mist wasn't carried away on the fading notes of music. All our paths just converged to create this moment.
That's what magic is, when paths collide and something beautiful is created. It felt like for the first time since I saw her that my eyes were in focus.
I was on Glastonbury Tor, it was just after dark. I'd found myself in the midst of something like a pagan ceremony. It was a sacred ceremony, one could say that certainly. The woman asked if I liked it. We talked. We spoke of loss and how you can go on.
She had recently lost her loved one of many years. Cancer. She said life keeps going. She sees people in war zones she said, children who have lost their parents. Parents who have lost their children. She said her pain pales in comparison to that. At least she was able to spend years with the person she loves.
She said she had a present for me. She went to her bag, came back and pressed a card into my hand. It was too dark to read it so I tucked it away till I was back in my room.
Finding my way down Glastonbury Tor in the dark was like descending from heaven.
I get back to my room, I remember the card and pull it out.
"If you don't believe in magic, you will never find it."
It was the same card I had bought a day earlier. Since I had first met my love, these things happened again and again. Synchronization. The Hindu believe it's a sign you're on the correct path towards enlightenment. I still give her credit for it. I'd never have noticed the card to begin with if not for her. She's the one who made me believe in magic. Before I just wanted to believe.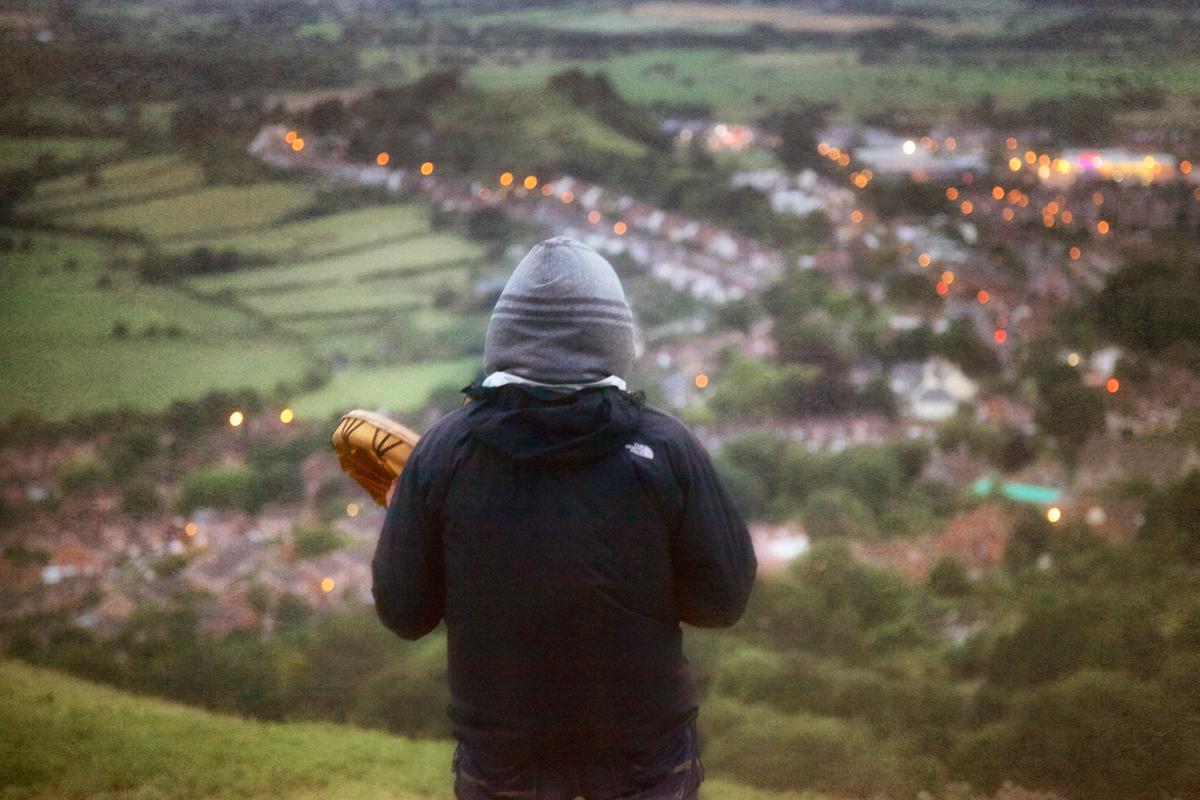 I was talking to my kid when he was younger. I tried to explain to him that magic is real, but it requires a shift in your perception.
You're in the forest, you get bit by a poisonous snake. You come across a decrepit cottage. You knock on the door. A bent old woman answers and you tell her your plight. She invites you in. There's a cauldron bubbling over the fire. She adds few ingredients. Then she takes a snake like the one which bit you and squeezes the poison from its fangs into the mixture. She dips and hands you a cup. She says "drink." You have no choice. It's foul, but it works. You live.
Or the same scenario. But instead of a cottage you go into the emergency room. You tell them what happened. They give you an injection of the snake's venom. You live.
One is witchcraft, the other is medicine. 
Magic has become so commonplace that it's taken for granted now. What would have been witchcraft 400 years ago is now science. Or at worst, folklore.
My Granny Bert was a notorious witch. She'd deny it if she was alive to say it. But it's true. From planting potatoes, to when to get a tooth pulled … it all depended on the signs. She didn't even need a Farmer's Almanac to read the signs. At one time those signs would have been witchcraft. It was hidden knowledge that others didn't have. By her day it was common knowledge.
Now it's folklore. Quaint and probably in most cases, not very accurate. Which is what cursed a lot of witches. Women who received that title were nothing more than wise women, or cunning women as they were called, or men as well, who knew how to fix things. Illness, a cow which wasn't producing milk, a wife who wasn't fertile. As long as her potions worked, she was safe. It was when they didn't work that it came back to bite them on the ass.
Or more dangerous, was when they needed money desperately, and gave in to those who came searching for a love potion, or an abortion.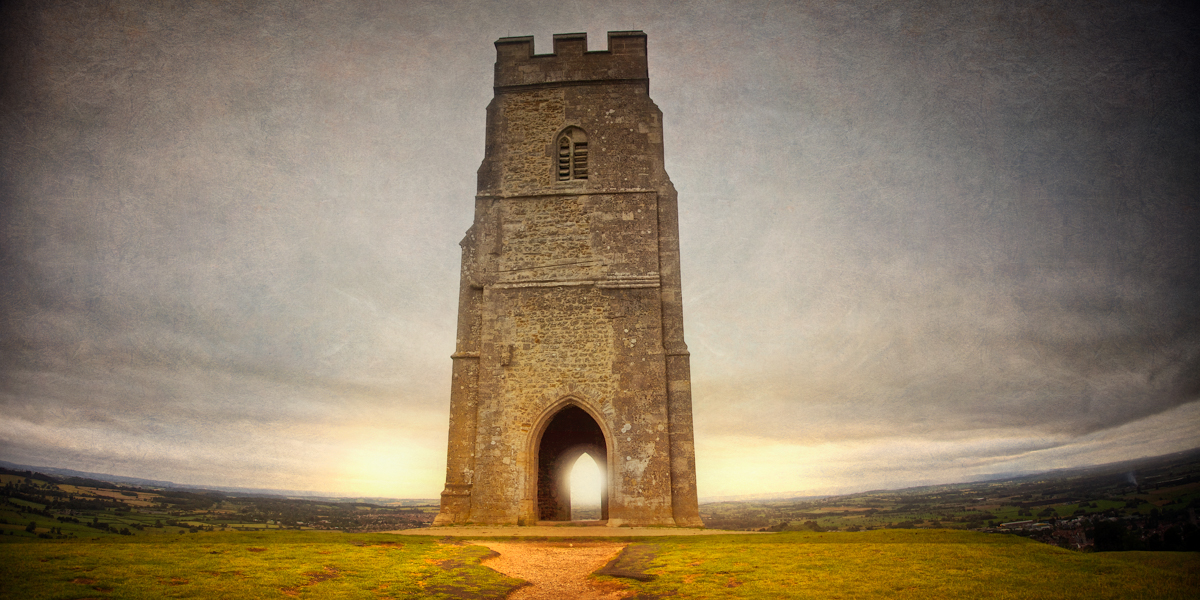 Now that kind of belief, that the old woman in the woods has secret knowledge is quaint. We like to think about it. We read books, we watch movies about it. We like to believe that in Salem there were witches. But we can't believe. Those beliefs are too dusty and science demands our attention.
Or can we? I had a magical adventure with my beloved that by all rights, never shouldn't have happened. But it did. I can choose to see it as something enchanted that came into my life and turned things upside down for the better. I can choose to believe, or I can be choose to live a grey life. 
All it takes is believing.
Now nearly two years later, many of the changes I went through in Glastonbury stuck. I'm still seeing things from a magical point of view. I'm still relying on faith when it comes to matters of the heart and soul. It's not that I dismiss logic, but I don't put all my eggs in a rational basket now. 
I've got Glastonbury to thank for that.