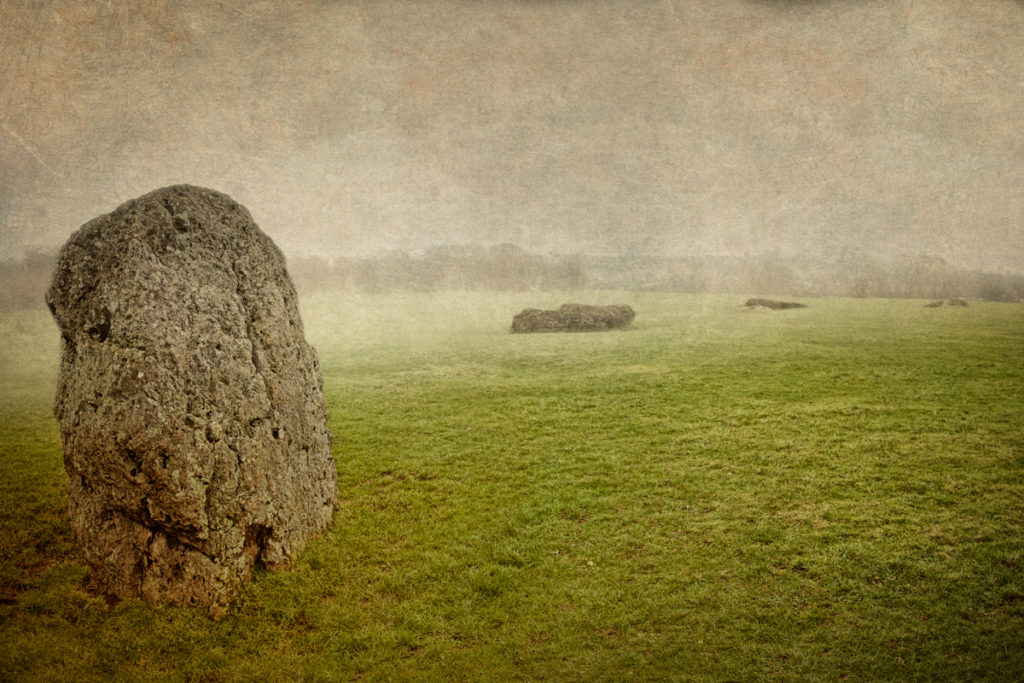 "There among the stones they committed unspeakable acts. On the stones, against the stones. Their cloaks barriers to the storm of nature that raged around them, they were thrown aside and as two beasts they met in the circle in rut, in heat, in pure primal desire. It was a ritual of sorts, a wedding if you will. It was two spirits entwined in the moonlight, two shadows dancing across the face of the moon. It was at once awful to watch – the clawing, the tearing, the ripping of flesh yet at the same time delicate, tender and poetic. And as they cried out in their feral screams of completion, they became like stone, locked in place for all eternity. "
Dr. Edmund Ravenel, Conque Sacrée, The Pearl, Volume 21, 1883
+++
"And that's why it's impossible to count the stones at Stanton Drew?" H asked, her head whipping to catch a glimpse of my face before putting her eyes back on the road.
"Absolutely," I replied. Because whenever two people go out into the circle to rut, two more stones get added to the circles. Hell, the cove is actually a ménage à trios gone horribly wrong."
She smiled and I love her smile, particularly when viewed from the side. When she's driving there's an expression on her face, almost dreamy and I can see her as she must have looked twenty years ago. I don't know why, I just can.
It's a little over an hour from Avebury to Stanton Drew stone circles and cove, which lies in the Chew valley, about six miles south of Bristol. And it's a beautiful road, swinging north of Bath, the mountains in the distance, perilously close to the Cotswolds proper. Being here, now with her feels like being on top of the fucking world.
Avebury lies in what is often referred to as the west of England. To be more specific, the southwest. The island of Britain isn't as clearly defined as our regions in the United States. It's too old for easy labels. Too often different tribes, peoples, kingdoms have redrawn the borders. So it's not unusual or incorrect for someone to describe the same area with different names.
People who aren't from there tend to think of England as the island, which isn't true. It also pisses off the Scots, which is the northern part of the island of Britain, and the Welsh who inhabit the western bit. England is what you have left.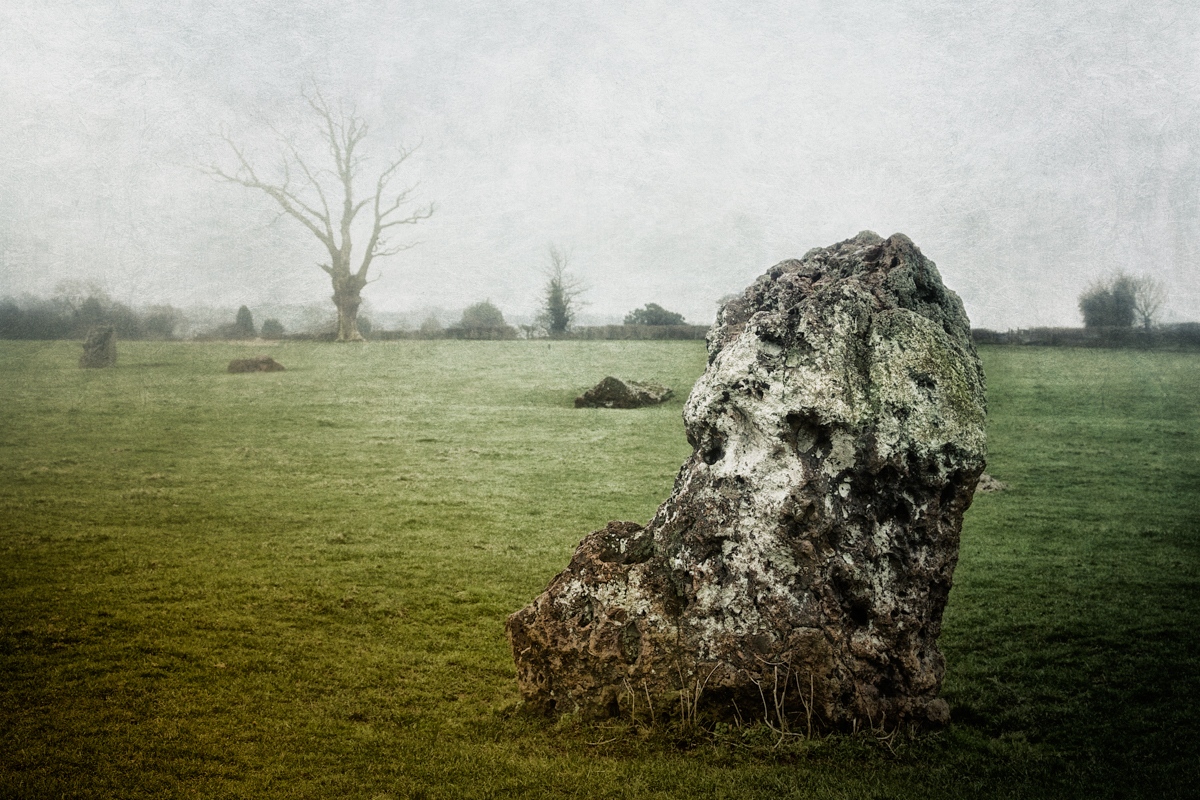 "So there was a wedding, and they were having the reception in the field behind the village. There was drinking and dancing and nobody seemed to be feeling any pain whatsoever. About that time the clock chimed midnight … evidently the guy whose job it was to rang the bell didn't get off for the ceremony. So the fiddler packs up to go home, as he won't play after midnight, because it's now Sunday, and the Lord's Day."
H eyed me suspiciously. We're still driving however and thankfully she doesn't take her eyes off the road for long. Because we're on the back roads of Somerset now, looking for Stanton Drew stone circles, and the cove beyond.
I continued, "So the bride who is stinking drunk by now, says 'by god I'll find a fiddler if I have to go to hell to get one.' And about that time another fiddler arrives, whips it out and gets to it. Faster and faster he plays, and the revelers are whipped into a frenzy, and by daybreak, all have turned to stone where they danced. The bride and groom are the two stones known as the Cove, which is over by the church, with the priest, who got blind drunk and passed out being the stone laying at their feet. And that's why it's called The Fiddlers and the Maids. The fiddler of course, being the devil."
She chimed in, "except the other fiddler escaped. They found him cowering in terror the next day."
"So you knew the story?"
"I looked it up online. It's a good story, you should write it."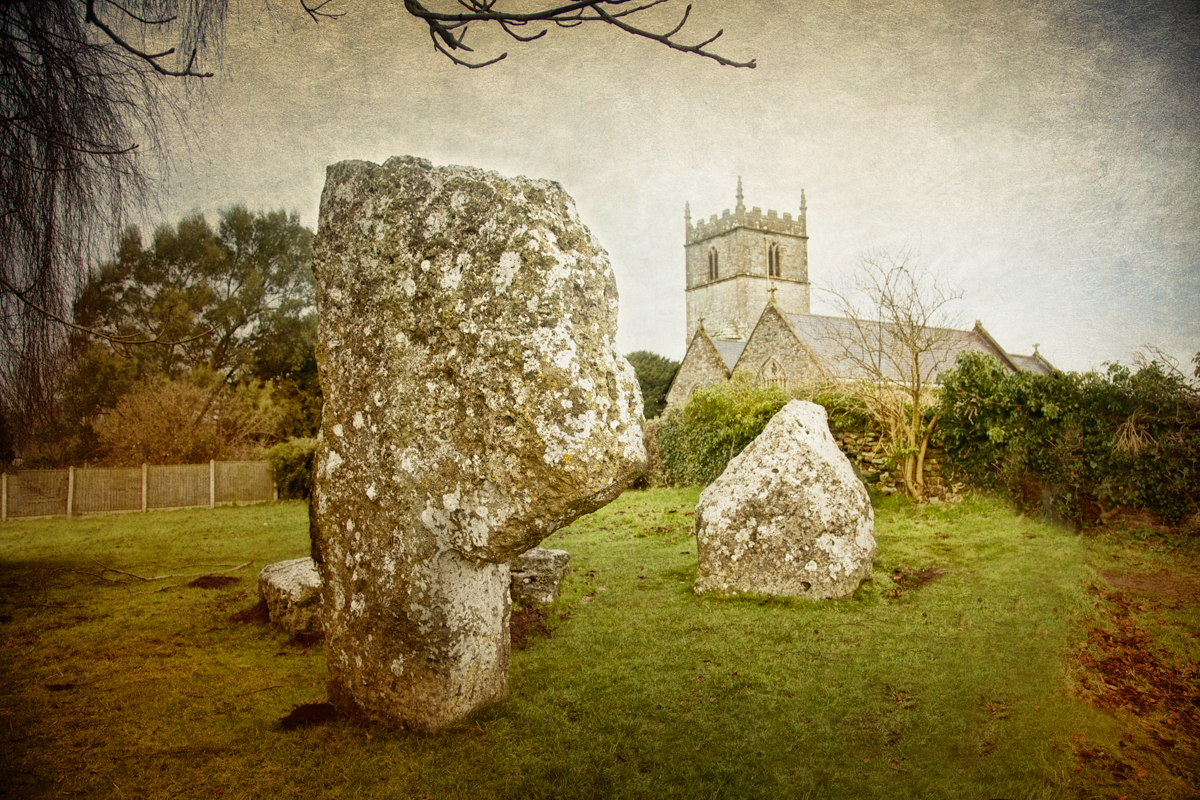 The "remains" consist of three contiguous circles. The first is of considerable area, and is marked out by twelve large stones, only three of which remain upright; a smaller circle of eight stones lies just beyond; and a third circle of eight will be found farther away in an orchard on the R. The two larger circles have each a few scattered stones thrown off as a kind of avenue. Standing apart from the circles is a curious group of three stones huddled together in a garden abutting on the churchyard, from which they can be easily seen by looking over the W. boundary wall. These mystic rings probably had the same origin (whatever that may have been) as that of the more famous circle at Avebury in Wiltshire, with which they should be compared. The proximity of Maes Knoll is comparable with that of Silbury Hill.
From Somerset, Wade and Wade, 1929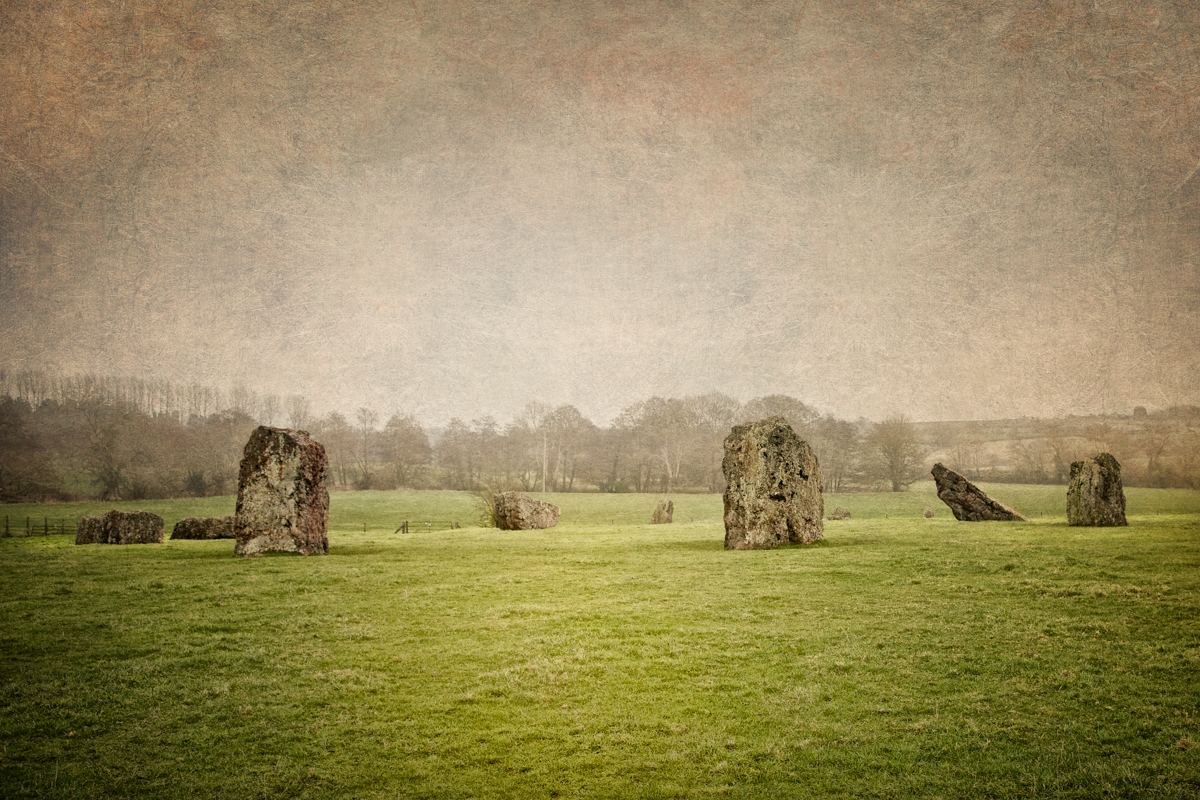 +++
The great circle at Stanton Drew is the second largest stone circle in Britain. Only the outer circle at Avebury is larger. One of the curiosities about Avebury is that prior to Aubrey's discovery in the seventeenth century, very few people knew it was there. It seems inconceivable that a site that large could lay unnoticed on an island as small as Britain.
It can easily be seen why Stanton Drew lay unnoticed, except for local legends. Even today it's been very poorly studied. It's not a particularly easy nor scenic route much of the way either. The village of Stanton Drew is relatively charming, somewhat picturesque even. H wasn't comfortable here, and I did agree that the name of the village pub, The Druid's Arms helped cast a bit of a pall over the place.
But in truth, it's really a charming pub. But as country pubs go, it can feel like a closed society. Which is only natural. This is home for the people you see in there, and you're just popping in and out for a quick one, taking a tour of the circle and moving out of their lives forever.
The rain didn't help convey a cheery atmosphere either, or mist or whatever you call the spray that seems to blow across Britain much of the time. On the edge of town there's a small parking lot, a box recommending a one pound donation, and a sign saying no dogs. Which irked Stan and Lyra to death, as they'd have to sit in the back of the car and wait for us. They haven't known me long, but they know when I take the camera it's not likely to be quick.
H was ahead of me as usual, making sense of the layout before I was even within the main circle. It's not as impressive as Avebury, as most of the stones at Stanton Drew are fallen, and most are smaller as well. It's hard to make sense of it the great circle right off, but slowly it starts coming into focus. The large group of fallen stones was the avenue that leads to the northeast circle, which is smaller but easier to grasp.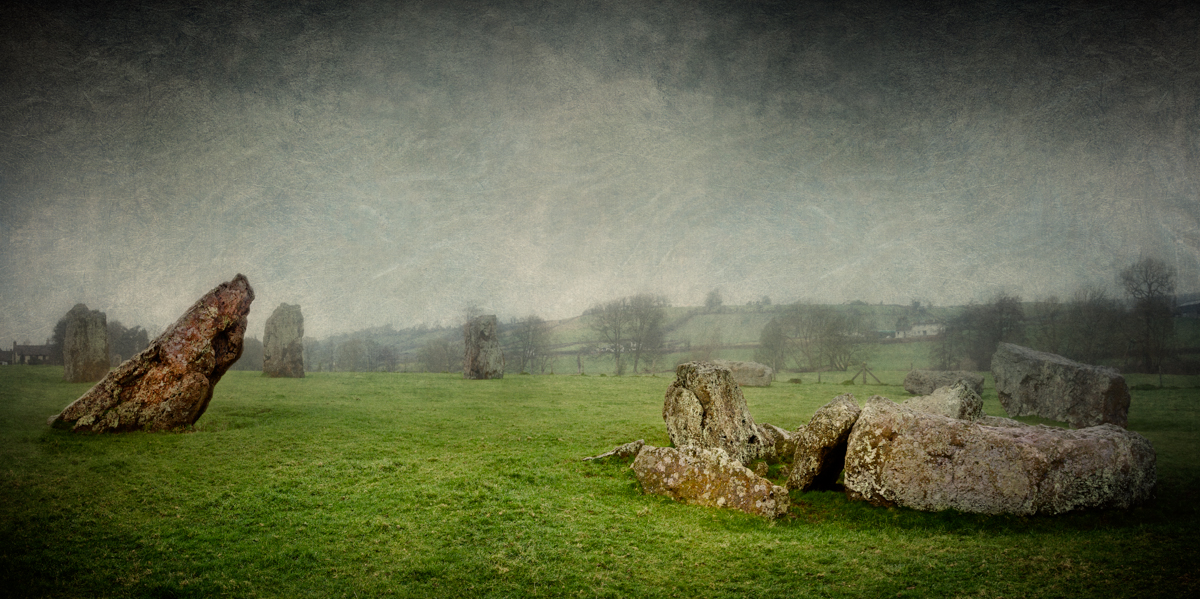 At Avebury I felt overwhelmed, exhilarated. At Stanton Drew I felt intimidated, uncomfortable and somewhat lost. Avebury feels like a church. Stanton Drew feels like a graveyard. Or as H said, unsure why or how she defined it, "it's a horrible place."
The Stanton Drew circles, as well as the cove and entire complex is thought to have been used for funerary purposes. Today it's a muddy graveyard. Tourists have been coming here since the seventeenth century. I told H my theory … "the story of the fiddler and the dancers have to date to shortly after Aubrey wrote about the place. Which was what? 1664. Or even Stukely who wrote about it in 1776. Sometime between those two dates the story was likely invented, or at least modified to make it more hip to current musical tastes, to help bring in more tourists. Because get this, and you should be impressed, the fiddle wasn't well established in Britain till the 1660s. Which would have been contemporary with the publication of Aubrey's description of the place."
I beamed.
"Well done," she said. Still gives me a thrill to get a well done. I feel like a dog getting a pat on the head for bringing back a stick. Then she added, "of course it could just be they changed to instrument from an earlier legend to fiddle."
"There is a local legend that Camelot lay in Camerley which isn't too far off." H continued, "Camelot was thought to have been built with reddish stones, as was the stone that Excalibur was pulled from. As the stones at Stanton Drew have in some cases at least, a reddish hue, the legend grew up that the site was erected to commemorate one of Arthur's battles. Which is just fucking silly of course."
H was on a roll now. "It's either late Neolithic or perhaps even early bronze age, which means it's like Avebury or most of the other stone circles. In addition to the avenue which led to the northeast circle, there was another one which led down to the river Chew. There's also a large stone across the river, which people used to say was thrown by a knight from the top of Maes Knoll. What it really means is that the whole complex was much larger than what you see now. There was an embankment and ditch, as well as pits and postholes within the great circle. It's thought that part of the purpose was astronomical …"
I interrupted, "archaeologists would likely say where I determine to take a piss is astrological as well."
She ignored me. "It was really quite complex. There were nine concentric circles of pits within the great circle, and more pits near the center. It's possible that the pits were for large wooden posts which could have supported roofs even, so it would have been quite impressive when it was all put together."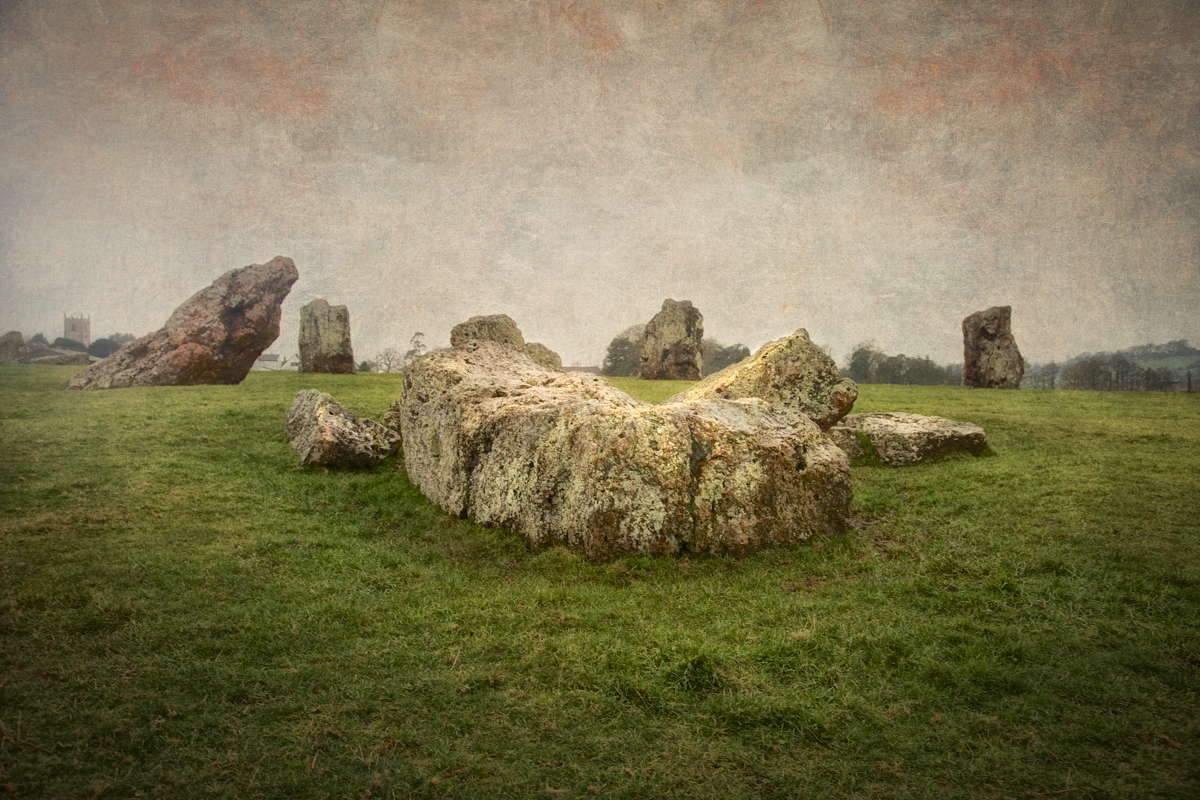 Except it's not put together now. Stonehenge is tamed. Avebury is fractured. The Stanton Drew stone circles are broken. The avenues are a heap of pushed over stones. It's like a jigsaw puzzle which has been taken apart, but the design on each is abstract, and there are no sharp corners on the pieces, only curves. It's nearly impossible to put back together. Which is likely just an illusion since most of the stones are lying down. In fact, many seem to have fallen exactly where they stood, and lay undisturbed for centuries. And unlike Avebury which has been picked in places to pieces, the great circle at Stanton Drew still contains 27 of what was probably 30 originally.
Nowhere at Stanton Drew did I feel this more than at the southwest circle. It looks more like scattered boulders than something which once had form. My mind couldn't raise the stones and see a pattern.
The Stanton Drew circles are a lonely place, and for the first time ever I found myself happy to not be alone at a site like this, thankful for H's presence. We always hear about how churches are built on pagan sites. But here the church stands between the village and the pagan circles, like a sentry. Except the church looks no less oppressive, and in some ways more so.
I can see how the connection with Arthur came about. Out of a little more than 50 stones, 47 of which survive, with most being recumbent, or lying down. With the mist closing in, the place took on the look of a battlefield, where nearly all were lying dead on the field, with just a few still standing. If by some strange quirk of fate, these stones would have been to commemorate Arthur's victory, it wouldn't have been a battle. It would have been a mutual slaughter.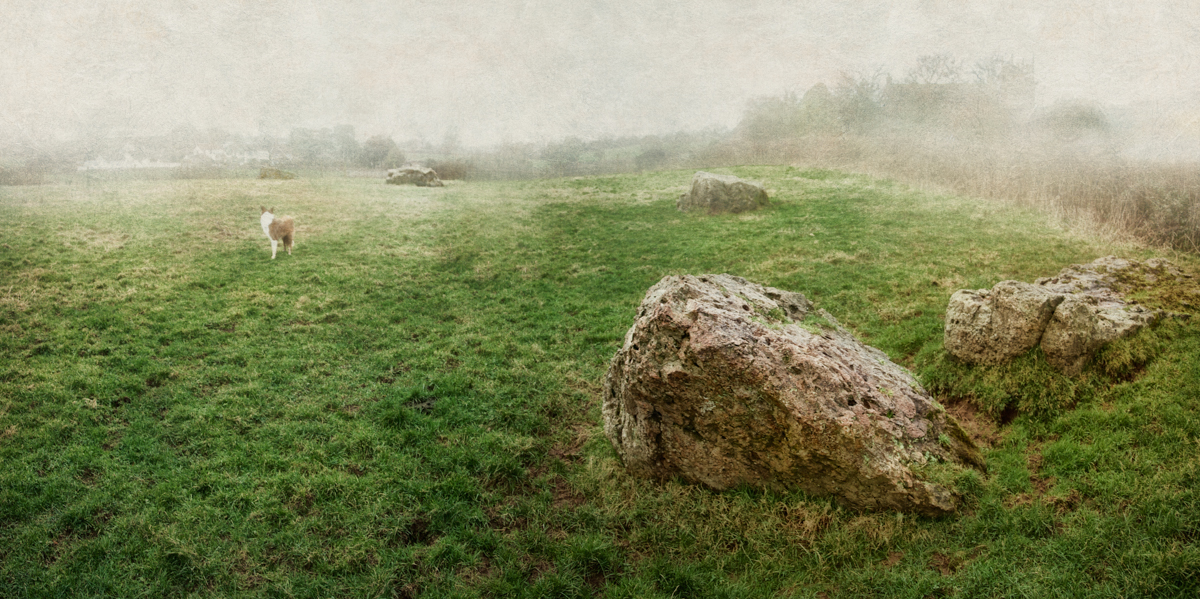 And yet many have found the place beautiful. It's believed that the designer of Bath's Royal Crescent, one of the architectural wonders of the west of England, took inspiration from the Stanton Drew circles.
Once upon a time I fell in love with Ireland. It was a two week trip and I spent a week there. The natural beauty overwhelmed me, the friendliness of the people made me feel at home. Then it was to England for a week and I had to be honest, I found it more beautiful than Ireland. It's a different kind of beauty, more tame in places perhaps. More orderly.
But it felt closed to me for some reason. The people weren't as friendly, more reserved as you find in the stereotypical Brit. I'm from a small town in southern Illinois, I even speak to cows when I walk past.
It was the landscape that first drew me to Britain. But it was this woman at my side that called me back. We've spent our lives trying to time travel, to see back into the past, so it's no surprise we'd find ourselves walking the circles together at Stanton Drew.
Britain is an ancient place, and at Stanton Drew it truly is possible to go back in time. The landscape there smells ancient even. When you've got five thousand years of history stacked on top of each other in a single place, the lives that passed through here are bound to stain the fabric of time.
The stains we saw were dark, menacing and even horrible. It's possible that when the wind blows from a different direction, the stains will show another side of Stanton Drew. Even in the darkest of places, the sun eventually shines.