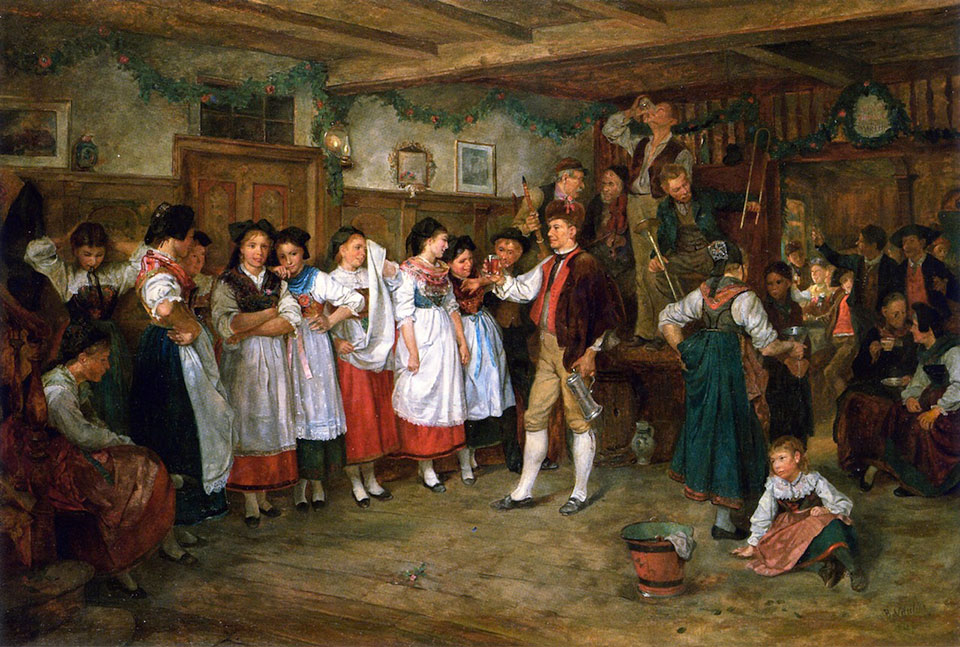 Scotland doesn't lack in songs about being forsaken in love. But according to Ewan MacColl, who recorded the song I Courted A Wee Girl in 1956, typically the hero shrugs it off. "In this curious little song, however, the jilted lover, after attending his ex-sweetheart's nuptials, just lies down and dies"
The song made the rounds of the British isles. The Irish claim it as well, and we got the melody in all likelihood from the Sligo based Dervish. It's been in circulation since at least the end of the seventeenth century. The British do it as well, and the first known written version of it comes from there. Sandy Denny does a nice version as you'd expect. Pete Seeger was singing it in the states ages ago.
I Courted A Wee Girl is a heartbreaking tale. It's also known as "The False Bride," "The Week Before Easter", "The False Hearted Lover", "The Forsaken Bridegroom" or "Love Is The Cause Of My Mourning" or "The False Nymph".
It was Coming up on Christmas about three years ago, might have even been Christmas Eve. That's the way my kid remembers it. He just got his heart broken for the first time. And not in a traditional manner. It was so horrifying it made my head spin. Not to be outdone, I followed him and got jilted as well. I could drink, and I did, but he was thirteen. Going on a bender wasn't an option for him. I had a thought in there that there was a lesson to be learned from this. When you're in pain, put it into your art. Our usual partner in this wasn't around, so it was just me and him.
I don't remember much of it, I don't remember much of anything till well after the new year. We did a lot of recording those weeks because the shit kept raining. I do remember him playing the bass part, he sat facing a corner, and I could see his shoulder shaking from crying. We had to do it in pieces obviously, but most of it was first takes. That's not something you can rehearse.
So it worked I'd say. This is the most pathetic, heart wrenching song we've done. It got worse before it got better. But we got this as a souvenir of a couple scars.
A note on the video: It contains scenes from Erich von Stroheim's The Wedding March from  1928.
I Courted A Wee Girl
I courted a wee girl for many's the long day,
And slighted all others who came in my way.
But now she's rewarded me to the last day;
She's gone to be wed to another.
The bride and bride's party to church they did go.
The bride she rode foremost she put the best show
And I rode behind, my heart filled with woe
To see my love wed to another.
The bride and bride's party, in church they did stand,
Gold rings on their fingers, a love hand in hand
The man that she's wed to has houses and land—
He may have her since I could not gain her.
The last time I saw her she was all dressed in white;
The more I gazed on her she dazzled my sight,
So I tipped her my hat and bade her goodnight.
Here's bad luck to all false-hearted lovers
So dig me a grave and dig it down deep,
And strew it all over with primrose so sweet.
And lay me down in it for no more for to weep,
For  love was the cause of my ruin.