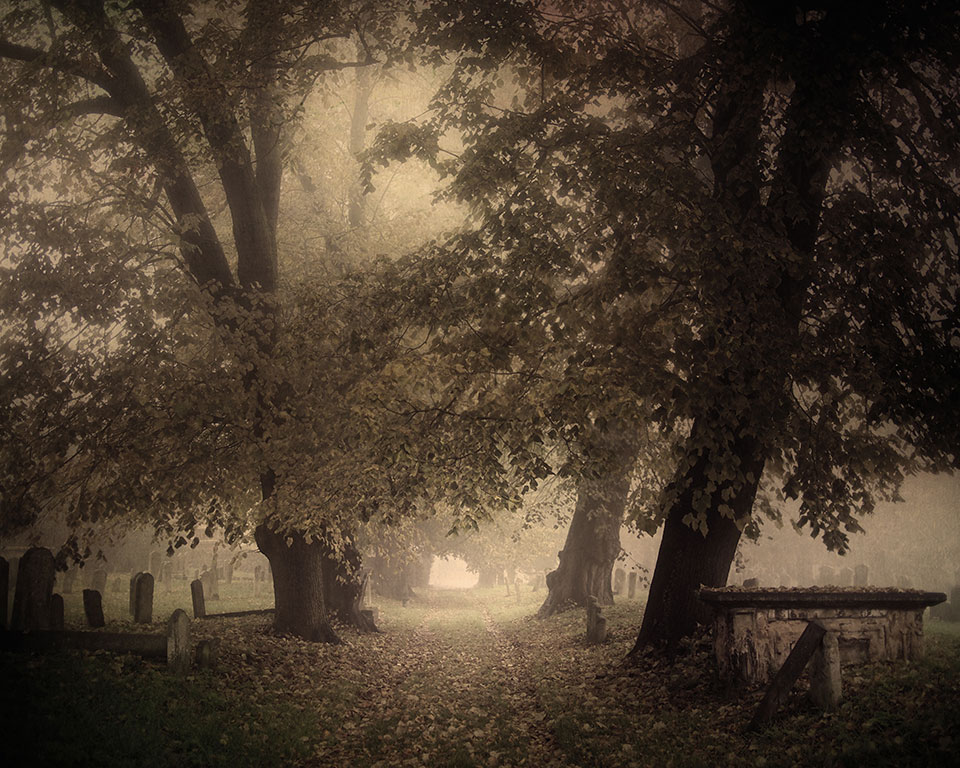 St. Mary's Church Burial Ground, Bury St. Edmunds, Suffolk, Great Britain. Cate Davies, artist
THE NECROPOLIS … CITIES OF THE DEAD. Today we tend to avoid them, whistling past the graveyard at night to keep death away.
In America, during the early years we kept our dead on the outskirts of town, or even in the country, because let's face it, death can be a messy and certainly smelly business. We learned from the European experience the pratfalls of burying in the city center. There's nothing like a small shifting of earth sending decayed corpses into the street to put you off burying the dead in town.
The nineteenth century in the United States saw the evolution of graveyard into park. Graveyards held art installations from famous sculptors, fabulous gardens designed by some of the world's leading landscape architects, and people gathered in them. Concerts weren't uncommon, no were more family outings like an afternoon stroll or picnic.
Click to learn more about graveyards as parks and the evolution of the cemetery
I saw Cate's photos of graveyards online, excuse me, churchyards, and was following her work before she knew I existed. I'd leave an occasional comment, but the one that caught her eye was "looks like a great spot for a picnic."
I never managed to capture the gloomy mood she snapped away with alarming regularity. I didn't have the mist on my side.
But I had the moss. On Edisto Island in South Carolina, south of Charleston lies a collection of small churches and churchyards. Spanish moss drips from the trees and there's a similar feeling of peaceful gloom hanging over them.
In the graveyard of the Edisto Presbyterian Church stands the Legare Mausoleum, home to a tale of premature burial that can make your skin crawl. The tale is worthy of Poe, and you can't stand there and not imagine the poor young lady's plea for help inside, with nothing but the wind to hear.
Click to read the story of the Legare Mausoleum
I haven't checked in with Ms. Davies about her graveyard habits of late, but I still visit them. This fall I lay with a headstone for a pillow and counted the leaves as they fell from the trees, reliving a memory with every one.
A lot of amazing things happen amongst the dead, and if you're quiet enough, or noisy enough perhaps, you might even hear them rattle their chains. It doesn't necessarily mean they're disturbed, they might just enjoy your company.
Click here to get a better view of Cate Davies' St. Mary's Churchyard in Bury, St. Edmunds, Great Britain. Or to purchase it if you like.
Click here to view or purchase Legare Mausoleum
View a specially curated gallery of graveyard, gargoyle and tombstone images from The Wytchery